This blog post is part of a series featuring how photo organizers use photos in their own personal projects.  We hope they inspire you on your photo organizing journey. Photo Organizer Marci Brennan of Past Present Pix  shares how she brought a long lost box of her family's 35mm slides back to life.
The Discovery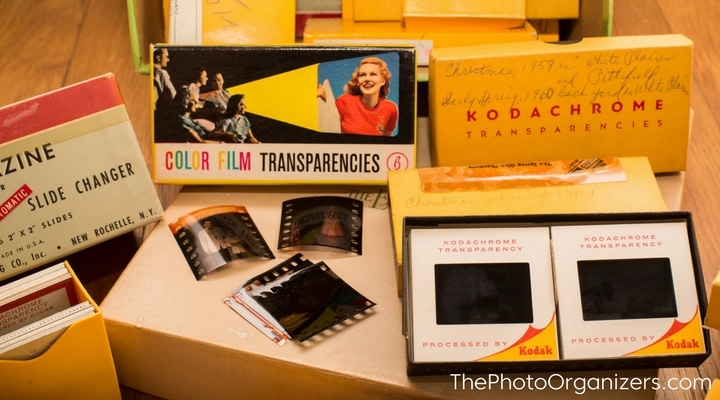 Last summer while visiting my mother-in-law with my husband Chris, we discovered a forgotten box hidden in the coat closet. It was filled with hundreds of Kodak 35mm slides, beautifully preserved in small cardboard packages. They were labeled in neat script, noting family holiday celebrations and summer vacations. The dates ranged from the 1950s – 1970s. Chris and I had been puzzling about a Christmas gift for his mom, and now we had our answer! The slides would be given new life via a photo book and slideshow. We "borrowed" the box, knowing no one would notice.
Back in our home studio, we spent several afternoons scanning on our flatbed. We decided the slide show would feature a majority of the images. The photo book would display the best 80. Chris's dad passed away 10 years ago so this gift would be especially poignant – many of the images featured him or were shot by him.
The Process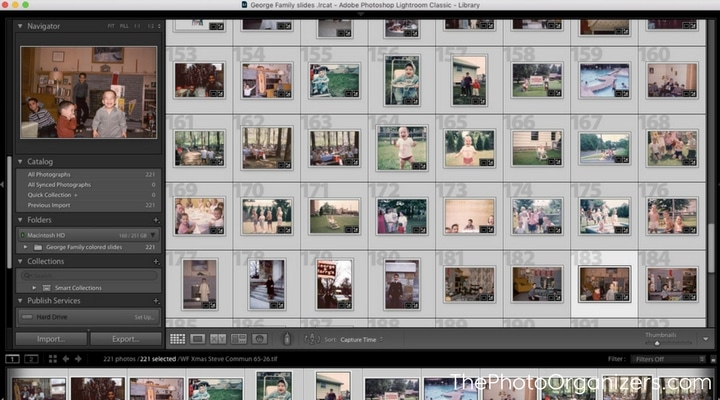 Once scanned, we imported the images into Lightroom and began editing. We created two folders – one containing everything and another for the images that would be printed in the photo book. After color correcting and tweaking between Lightroom and Photoshop, we narrowed down the images again. The book production came first, as it would take longer.
I had done a few inexpensive photo books using consumer-facing businesses. While I was pleased with the quality and price, I was anxious to use Miller's Lab as it receives high accolades from both APPO members and professional photographers. Additionally, I purchased Pixellu's SmartAlbums2 software for designing, which I was eager to try.
The most challenging part of the process was the book layout. Some images naturally fell into place, while others took some back-and-forth comparing.  But it was delightful to see the slides, freed from their boxes, as printed images on a page. All the slides of Chris and his brothers as children, along with the cars, vacation spots, Easter outfits and Christmas décor through the years were preserved for posterity on paper. I kept thinking of how Chris's youngest niece and nephew would react to seeing their dad and uncles at their age, happily playing with each other, and not a mobile device in sight.
Once we had a satisfactory layout, next came choosing the best paper and cover material for our project. We were our own clients, but with Champagne tastes and a beer budget! After some research, we chose Miller's press paper and linen hardcover album in a horizontal 10 x 8 book. We uploaded the layout to their software and sent it off. The book was at our doorstep within 48 hours and we were thrilled with quality of the product.
The next step was the slideshow. By this point, the images were edited and ready to go. We played around with the Photos slideshow options on the Mac – ultimately choosing to use the "Classic" theme for its simplicity and clean presentation.
Christmas day arrived- show time!
The Results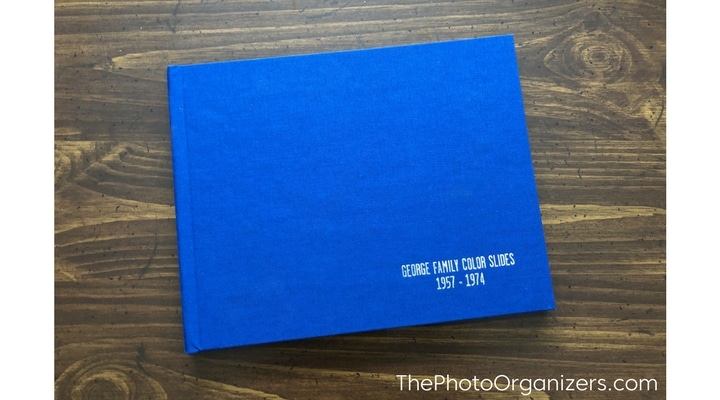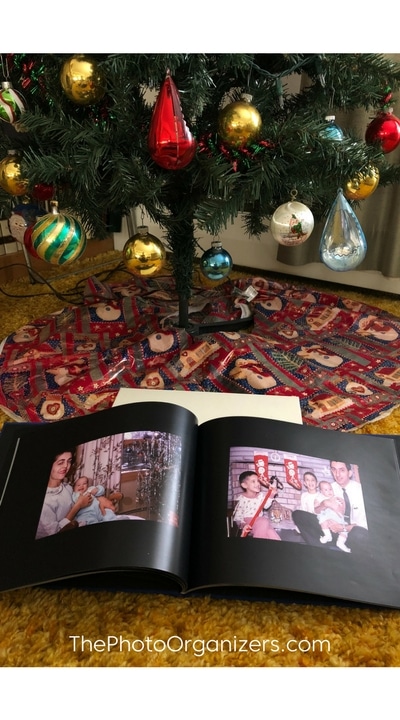 The slideshow was a hit. Chris narrated while family members chimed in – and the peals of laughter, amusing commentary and tears of joy from our audience were the perfect soundtrack. The book was a hit as well. The younger kids couldn't stop looking at it. Chris's mom was deeply moved and completely surprised. Other adult family members were delighted and impressed. Orders for copies were placed with us and promises of more slideshows were made.
The Conclusion
While my business offers scanning, photo books, and slideshows to clients, I hadn't previously created any for myself or family. I can now highly recommend them as unique, bespoke gifts for any special event. What better way to give new life to old photos- especially old media such as 35mm slides. I encourage everyone to explore these options of getting old analog images out of their boxes and back into our lives in a tactile, deeply satisfying way.
---
If you need help organizing and preserving your lifetime of photos, videos and keepsakes, find a photo organizer near you at the Association of Personal Photo Organizers.
Don't forget to grab your copy of Photo Organizing Made Easy: Going from Overwhelmed to Overjoyed from APPO founder Cathi Nelson.
---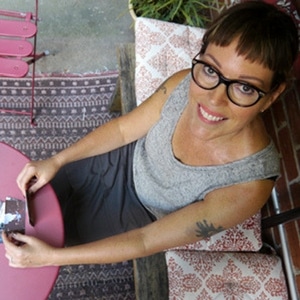 Past Present Pix was created after I realized the mental toll that my disorganized personal photo archive was taking on me. As a veteran of the photo licensing industry, I had the privilege throughout my career of working with some of the world's best image collections and photographers, yet rarely had the time to review, edit, and curate my own collection. After joining APPO, I leveraged and developed the skills needed to best organize my archive with accurate keywords and metadata for quick access. I now offer the same service to others, working closely with my husband Chris, a videographer, photographer, musician, and owner of Chris George Productions. Together, we can craft custom solutions for every photo collection.
---