When cleaning out your parent's home after a death, don't let all those boxes of family photos be a burden; instead, follow the advice of personal historian and professional photo organizer Dawn Roode of Modern Heirloom Books and allow them to help you heal.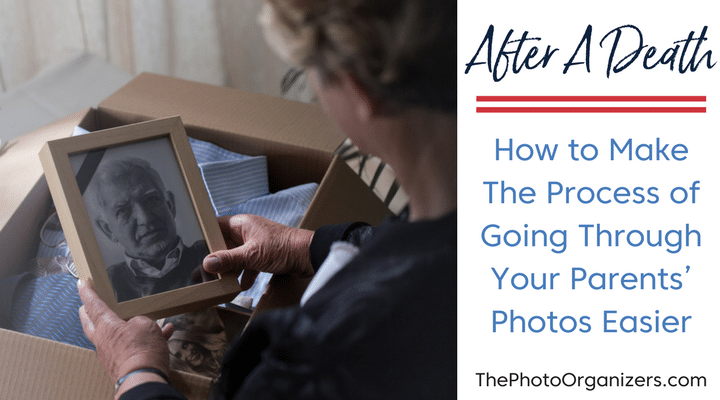 When I sifted through my mother's belongings upon her death, my son was just 3 months old, and I had little help. I would strap him into his Baby Bjorn while I folded clothes from my mom's closet, wrapped china in bubble wrap, and achingly stuffed her intimates into a big black garbage bag. While the decisions of what to keep, what to discard, and what to donate weighed on me heavier than the baby on my back, it was going through her more personal belongings that I found most challenging.
The old-fashioned albums of faded photos, the scrapbooks of mine and my brother's school years, and the myriad keepsakes—from her college graduation certificate to her personal letters—held tons of meaning. And yet at the time they felt like a burden.
Everyone's journey of grief is unique, so the time it will take you to feel emotionally prepared to tackle the job of sorting through your loved one's things is not easy to quantify. Know this: It will get easier. Be patient with yourself. And above all, allow yourself space to mourn.
When the time is right, it will be easier, but not easy.
1.  Allow space for healing after a death.
Holding onto a photograph and listening to its stories can be healing. Savor the moments when a picture brings your loved one to life for you. You are not procrastinating, you are grieving. It can be helpful to go through boxes of old photos with a sibling or friend, someone to listen to your memories—or to share their own with you. Hearing others talk lovingly of your parent—especially when you discover something new about them—is a true gift. So set an approximate timeline for yourself to finish sorting through their family photos, but build in some time for lingering over those that speak to you.
[bctt tweet="After the death of a parent, don't let those boxes of old #photos be a burden. They are your legacy. @heirloombooks" username="photoorganizers"]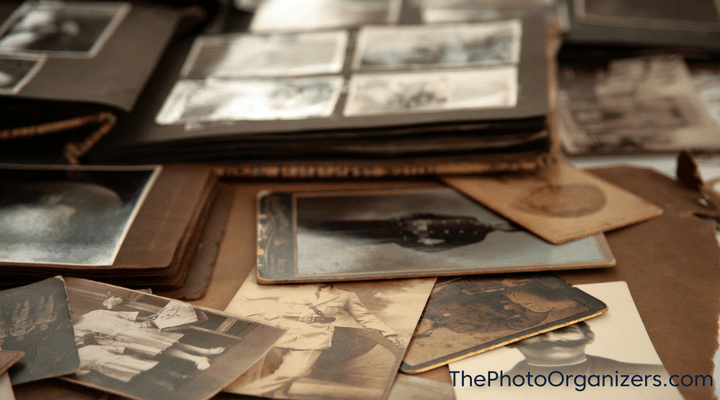 2.  Forgive yourself for throwing away photographs once considered precious by your parent.
Unless your parent was himself a professional organizer or genealogist, chances are his collection of photos is as messy and overflowing as most people's. Just because he saved 10 pictures of the dog under the Christmas tree doesn't mean they all hold value (remember when the local 1-hour photo developing storefront offered free doubles?).
You may want to use this handy ABCs of Photo Organizing to help you decide which photographs to keep and which to trash. However you make those decisions, though, know this: It's okay to get rid of your loved one's things, including family photos.
Memories live on regardless of a person's things. Your parent or other loved one chose to surround themselves with objects they loved, things they found useful or beautiful. It is not your responsibility to take all their stuff into your home. Guard their memories instead—and cherish those photographs that elicit memories or document family history in a way that you and the next generation will truly appreciate.
As Joshua Millburn of The Minimalists said upon his decision to let go of his mother's belongings—including her boxes of family photos (which he scanned): "I don't need Mom's stuff to remind me of her. There are traces of her everywhere. In the way I act, in the way I treat others, even in my smile. She's still there, and she was never part of her stuff."
How will you dispose of them? Give to an artist who may create something lovely from your loved one's images? Recycle them to protect their privacy? Allow your children to use them in crafting projects? There is no wrong answer.
I recommend first checking in with extended family members to see if any of them are into genealogy; they may want to scour your parent's archives for photos that help enlighten the family history (not that you're likely to toss the weathered black-and-whites showing your parents' earliest history, but…). If there's any chance that the old photos you don't recognize hold stories that someone else might know, hold onto those at least for a while. You might be surprised by the memories and knowledge that distant family members (and old neighbors) hold—and you'd surely regret not having the photos to jog their memories when the time comes.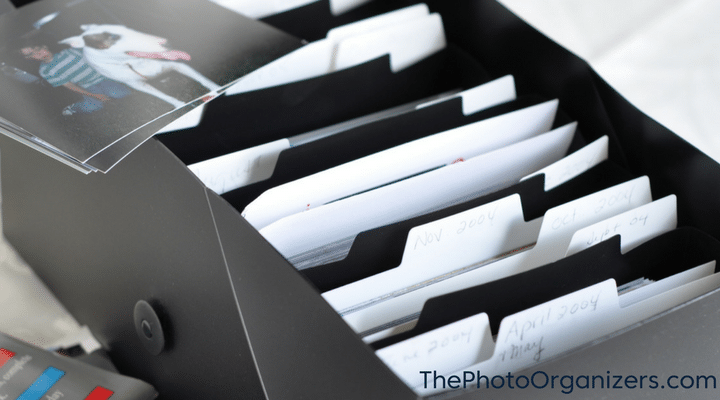 3.  Organize those photos you choose to keep so they are easily accessible.
There is a certain charm in discovering a box of random family photos, for sure: That anticipation of wondering what photographic gem you might unearth is wonderful. But how much better to be able to access that very photo you are remembering right NOW? To know just where it is, and to be able to easily find it and share it?!
Purchase an archival storage box and sort your photos as you go through them. By labeling the groups thematically—birthdays, San Fransisco, early childhood, maternal cousins, etc.—you will be able to find whatever photo you want the next time you want to share a tale or just reminisce.
The more precise you can be with labeling, the better (especially identifying details: Who is in the picture? When and where was it taken). Imagine that one day someone else will discover your archive of pictures; then leave for them a truly useful archive, one that holds meaning and values organization.
4.  Honor your loved one's memory through the most meaningful photos.
Forget about trolling Pinterest boards for creative ideas. Now is not the time pressure yourself with unrealistic expectations. Instead, choose the photographs that hold the most meaning for you and frame them, period. Having a few special pictures within sight at home and at work can make you feel closer to your loved one.
You may want to have a particular few scanned and retouched to eliminate scratches, patch tears, or restore fading sections; this way you can enlarge smaller photos, as well. But if you are short on time, just do it! Get frame recommendations and inspiration for how to go about framing your beloved photos here.
5.   Help others heal by gifting them with photographs that may hold special meaning.
Not only is the process of remembering enjoyable, but it is also healing for those who are grieving. What better gift could you give another than the evocative power of a photograph of someone they loved? If you want to give the same photo to multiple people, digitize it so you can share with each of them.
Whether you email the pictures or give them a physical memento of remembrance, know that what may seem like a simple gesture to you is likely to be a treasured gift by the recipient.
6.   Manage disagreements with family members over who gets what after a death.
It may be harder to deal with who gets Dad's watch or Mom's quilt. These days it's so easy to scan photographs that every member of the family can access digital photos and make their own prints at any time. Here's a quick primer to help you manage the process:
Quick Scans
To capture framed photos or others that you may need quickly, whether for a memorial service or for sharing online, use the Google PhotoScan app, which efficiently digitizes images and eliminates glare from glossy photographs or from the glass in a frame. Easily accessible from your phone, the free app is easy to use and makes sharing via email or Google Photos a simple task.
Long-Term Digital Archiving
For those who have thousands of photos, both in boxes and across computers or other devices, contacting a professional photo organizer to help is a worthwhile endeavor. When multiple family members are involved, you can split the costs and decide upon how to best catalog your loved one's photos so each of you can access them. A professional can help you scan, organize, and archive your photos into one cohesive library. Especially when you are overwhelmed with grief and the demands of handling a loved one's estate, outsourcing this important step in preserving your parent's memory can feel empowering.
Handling Meaningful Originals
That scalloped-edged black-and-white from 1950 with your mother's handwritten notes on the back will certainly hold more meaning to you than any scan. And, of course, only one person can hold onto that.
Why not gather your siblings and any other close family members who may have an interest in those prime originals for an evening of storytelling? You can scatter the most important photographs you have sorted, and let everyone use them as prompts for sharing memories of the loved one you have lost? Another opportunity for healing, this gathering may also help each person identify which images hold the most personal meaning for them—and allow them to see how special certain pictures are for others in the room.
For more on dealing with your family's legacy of photos, you might like:
The Photo Legacy You Leave Your Kids
Leaving A Legacy: How to Find The Perfect Gift for Father's Day
Leaving Your Family's Legacy: My Father's Postcard Collection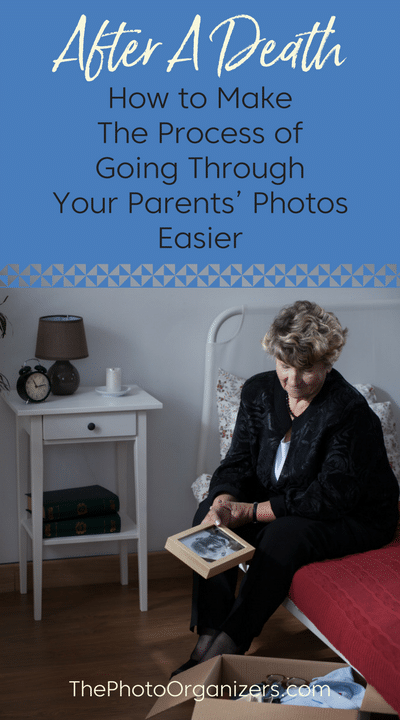 ---
If you need help organizing and preserving your lifetime of photos, videos and keepsakes, find a photo organizer near you at the Association of Personal Photo Organizers.
---
Dawn Roode is a personal historian & professional photo organizer in New Jersey. She founded Modern Heirloom Books after working for more than two decades at lifestyle magazines including Vogue, Harper's Bazaar, & Vanity Fair. The first legacy book she created was in honor of her mother, who passed away suddenly when Dawn's son was just three months old. Today she lovingly creates bespoke coffee table books that incorporate family photos & stories gleaned through personal interviews, using her magazine experience to help others preserve their memories beautifully.