After updating your iPhone to iOS12, you might have played with the new Screen Time settings and been appalled by how long you're on your phone, wasting time. Maybe you've already made some adjustments. 
Now, let's see how you can reduce your screen time, even more, using the Photos App more efficiently with new and faster ways to find the photos you're looking for. Before looking at search in detail, let's look at the reconfigured tab bar for context and see what's different.
The Photos Tab Stays the Same with iOS12
No major changes here, all your photos are displayed in the order you have taken them (or chronological order). The small difference is that the titles Moments, Collections and Years don't appear at the top of the screen any longer.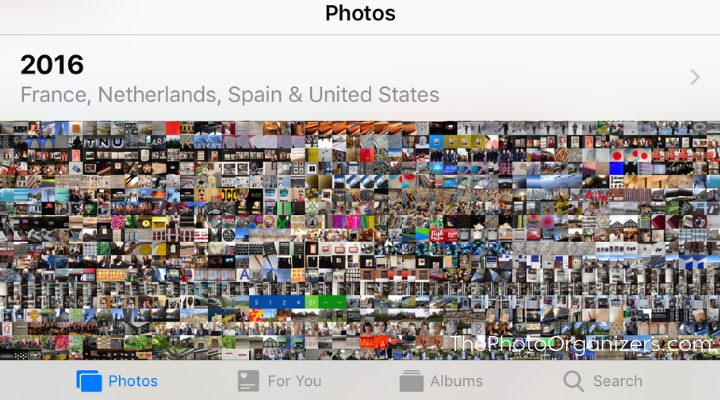 The New For You Tab Now Includes Memories and Shared Tabs
This new tab now includes your Memories, your Recently Shared, Featured Photos, Shared Album activity, and Sharing Suggestions. The Shared tab from iOS11 Albums tab is gone.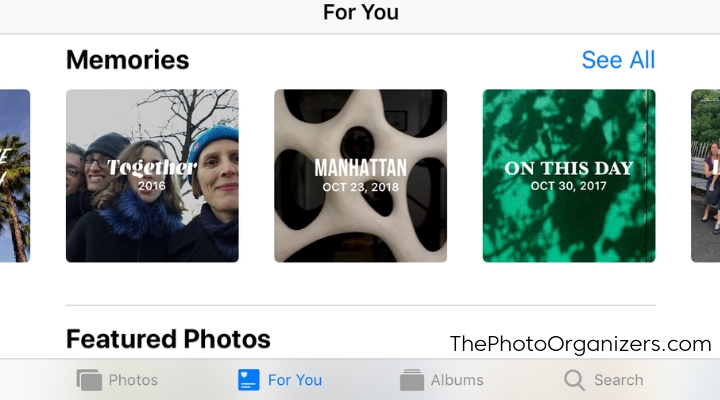 Shared Albums Activity sums up activity between you and friends and family you share albums with. Tapping "See All" displays details vertically.
Recently Shared as before, shows photos you've recently shared if any.
Featured Photos uses an algorithm that regularly shuffles through your collection to select your best photos. 
Memories are now rolled into the new For You tab. Although not a new feature, Memories is way underused. Memories come and go as time passes, so be sure to save them if you like the collected and curated slideshow Apple has automatically produced—what a treat! Instead of showing three almost identical photos, Apple's AI selects one photo of the three. Tap the ones you like best, select "Add to Favorite Memories" in the pop-up menu accessed from the three dots at the upper right of the screen to save them.
Sharing Suggestions will prompt you to share your most recent photos with the people in them. Tap the next button and you can select people in the photos via a displayed list (you can also share with others who are not in the photos), and they will be sent a link via text message. 
Effects Suggestions On the iPhone X, XS, or XR, new photo effects are suggested for a "live photo" you've taken. For example, you can activate the loop effect to transform a live photo into a motion loop (you can apply effects to any live photo you've tapped on in your collection by swiping up on the photo). 
[bctt tweet="Looking for a specific picture? Apple Photos + iOS12 make it much easier! #photos" username="photoorganizers"]
A Redesigned Albums Tab
Instead of scrolling through your entire collection in the Photos Tab, go to Albums to dive into groups of photos that you have either gathered yourself or in albums that have been automatically grouped for you.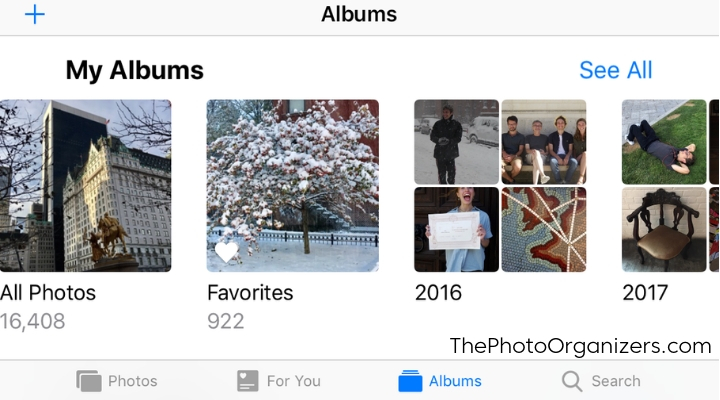 My Albums now comes at the top of the list. The "All Photos" album shows your photos by date imported. Favorites appears next to it which is easier to find, and next to Favorites, all your own Albums are displayed.
Scrolling down you can view Your Shared Albums. (Note that your activity shows up in the For You tab)
People & Places will appear below. Pro tip: add names and heart your immediate family so they rise to the top. 
Media Types created by default are displayed last with the introduction of blue type to accent that you can't change them.
Pro tip: If you happened to you have mistakenly taken too many screenshots with the iPhone X, this is the place to go and delete at once.
Other Albums are now strategically placed at the end of the screen since they are less important than family for example. It includes Imports — photos imported on your Mac from a different source such as a camera card, along with those that are Hidden and Recently Deleted.
The New Dedicated Search Tab
Since we now have thousands and thousands of photos on our phones, Apple has realized how important finding the photos you're looking for has become and has brought enhanced search functionality front and center. You can now search your photo collections with two different approaches. Both are powerful and eye-opening once you see them work.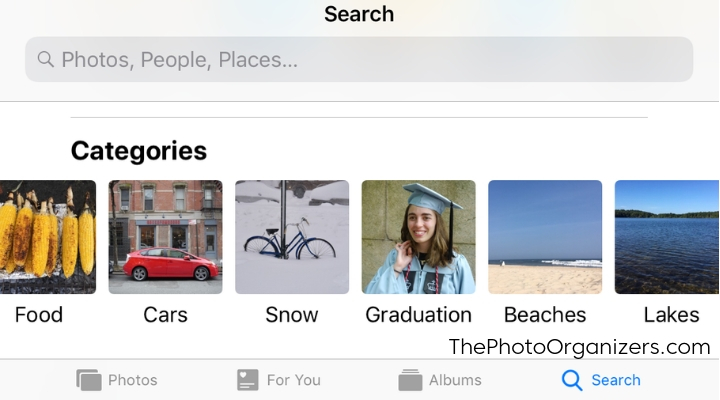 When you first tap on the search tab, you can select photos from several broad categories of photos displayed, such as photos groups, people, places that Apple has pre-selected from your collection to get you started. They will appear first as Moments where photos are broadly grouped by AI such as Trips, Dining, Winter, Museum Visits, etc. Scroll down to view your photos arranged by People and Places (which also appear in Albums).
Scroll down more to find the new Categories. Your everyday subjects will be grouped together as Food, Snow, Graduation, etc… all of this because Photos has scanned and indexed all your photos earlier on. Take this categorization with a grain of salt though, AI has gotten better but still has its limits. Interestingly, every kind of dog seems to be cataloged (separating poodles from terriers), but a wheel can be read as food since it is round like a plate.
People together will be displayed under Groups, usually you and who you are with most often in your Photos. 
Recent Searches appears last after all other categories. 
Trying To Find That One Photo On That One Special Day?
Search by existing groups can be great if you want to search broadly, but what if you want to find something really specific and not already grouped by Apple? Now Photos has finally gotten sophisticated enough to search for a specific date! This is really big!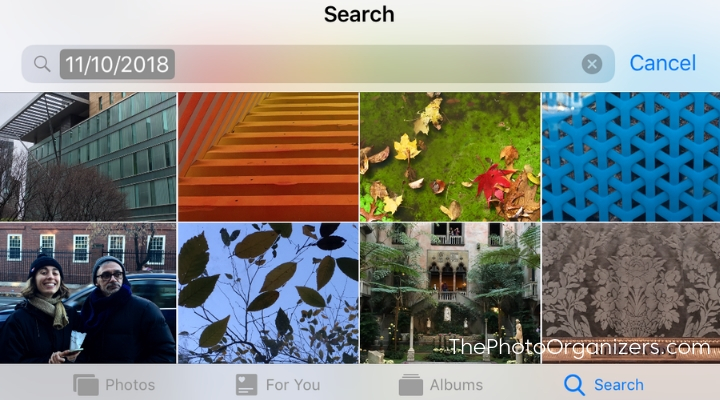 You can even ask Siri to find a holiday —"Hey Siri, find all photos from Labor Day," —and all your photos from that day will magically appear. 
But here comes the most exciting improvement: you can now search with more than one parameter! Enter any combination of people, location, date or another category in the search text field to find a precise collection of photos. Start to type and suggestions will appear below. Tap to refine and get what you need. To make a change in the search field: tap to select and delete. Also, anything that appears as text on an Apple map such as a park or a business can also be searched.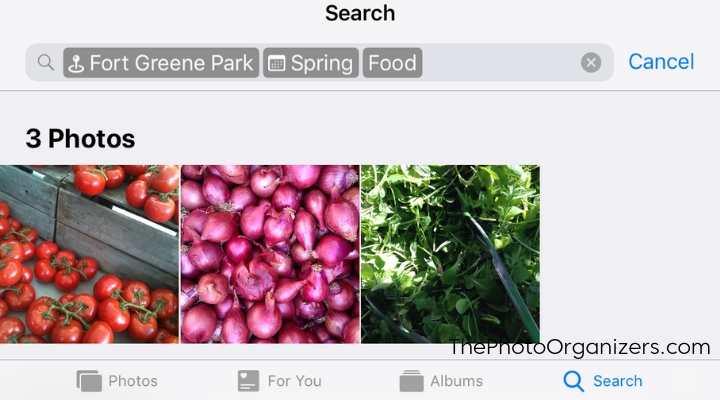 Happy Searching!
After you've found all your great photos, you may end up spending even more time on your phone enjoying past memories. But no worries, in Screen Time —Apple's app that keeps track of the time you're wasting on social media, Apple categorizes the time you spend in the Photos App as "Creativity" so I guess that's OK!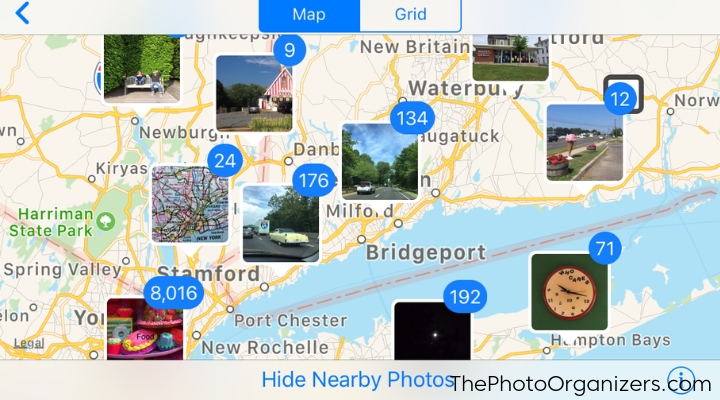 ---
---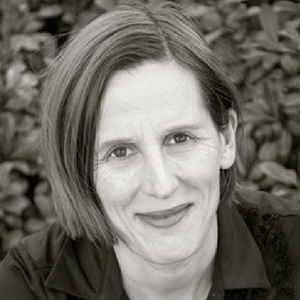 After a 30 year career in publishing as an illustrator, Isabelle Dervaux uses her artist's eye and sensibility to help busy New Yorkers tell their family stories; empowering them to organize, rediscover, and curate their digital photo collections to pass along to the next generation. Isabelle is a regular speaker at libraries, private organizations and mom's groups. She is also a certified member of APPO and an active member of NAPO.
---