When you are sorting out hundreds, maybe thousands of photos in Apple Photos, working quickly is essential. Knowing keyboard shortcuts saves you seconds that add up to minutes and hours. Keeping your hands on the keyboard rather than mouse clicking through pull-downs from the menu bar lets you breeze through the work. If you already use ⌘C and ⌘V for cut and paste in a word processor, you will have no trouble learning these. Let's dive in!
Bonus: Many of these keyboard shortcuts work in other applications, too.
First, Find Your Photos!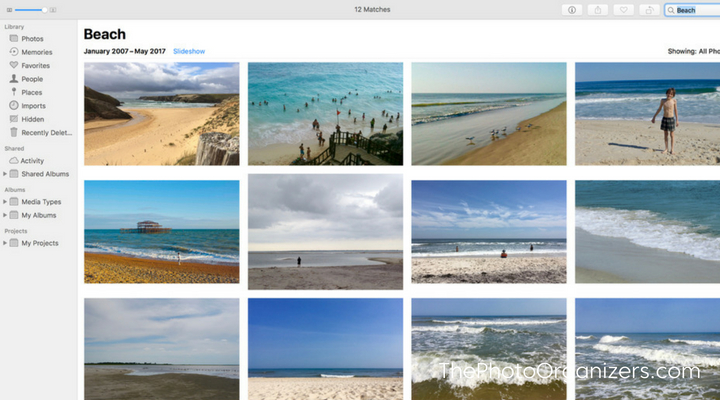 To find a photo, use ⌘F to place your cursor in the search box and type. Faster still: you can ask Siri to help you. For example, say: "Show me pictures of last year" to see all of your previous year's photos or "Show me pictures of the beach." 
Scroll with your trackpad to view photos rather than hunting for the scrollbar. To move to the previous or next photo, use right and left arrow on your keyboard (hold arrow down longer to go faster).
To jump to your first photo in Photos or Moments view, use Fn+left arrow, (on your iPhone, tap on the time at the top of the screen). To go to the last photo, press Fn+right arrow.
Adding Metadata (It's Easier That then You Think)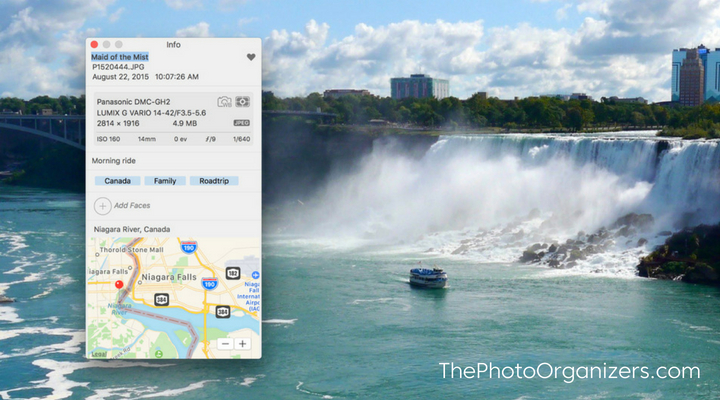 To show the photo information, press ⌘I to access the metadata. Once there, you can add a title, a description or any keywords that will help you search for it later on. 
Keeping that window open and on the side is a good habit because it helps you see if the image has a duplicate and should be deleted.  If you suspect two photos are duplicates, confirm that the filenames and size of the two files are the same to be certain (In the case where the file sizes are different, always delete the SMALLER version).
A Faster Way to Delete
On your iPhone or iPad, slide your finger on multiple photos at once instead of selecting them one by one. If you have the iCloud Photo Library enabled on multiple devices, all the changes you make on your phone will sync with all of them.
On your Mac, a faster way to delete pictures is to press ⌘Delete. This key combination is your photo decluttering friend. If you just press delete alone, the pop-up alert window will ask if you really want to delete adding needless delays and steps to this repetitive task. FYI, this tip works for deleting any file on your computer. 
To delete many adjacent pictures at once, click the first photo of the group you want to delete, hold down the Shift key and select the last photo and then press ⌘Delete. Voilà, all selected are in the trash! To delete a group of photos that are not adjacent to one another, select each photo while holding down ⌘ and then hit Delete without releasing ⌘. 
If you select a photo in a digital album you have created, pressing ⌘Delete will also delete the photo from your Photos collection library. If you only want to remove a picture from the specific album just press Delete.
But be careful: ⌘D stands for duplicate, not for delete! It is easy to get confused and do the opposite of what you want. In that case, or if you have deleted too soon, you can always press ⌘Z to undo the action.
Quickly Select the Best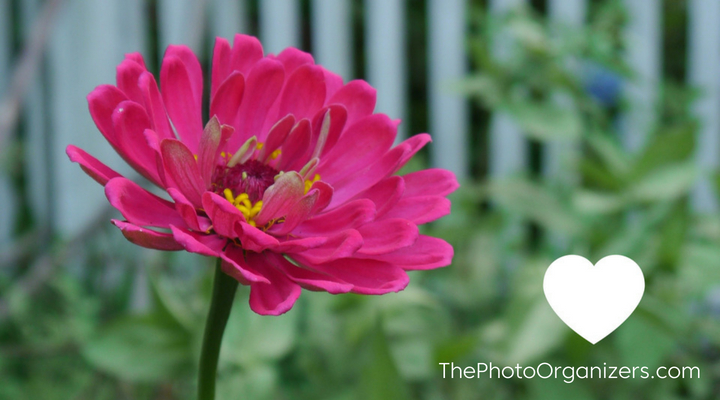 This one isn't intuitive, but it's a secret timesaver: to favorite a photo, tap on the period key rather than hunting for the heart button. Apple will gather all of your favorited photos automatically in a Favorites album. You can use this Favorites album as a source to create a "Best of 2018" photo album. Select the images you want to include from your Favorite images album, press ⌘N and name your album "Best of 2018."
Editing: The Final Touch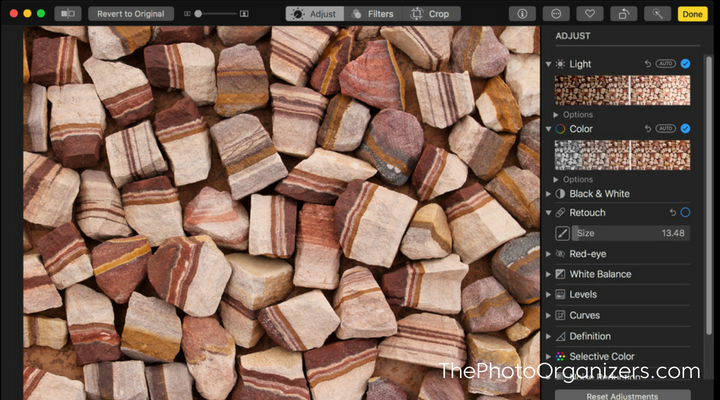 To rotate photos quickly, without entering the Edit mode, use ⌘R (counter-clockwise) or ⌘Option+R (clockwise).
To zoom in on a photo, pinch open or double tap on the trackpad, or simply tap the letter Z on the keyboard. To enlarge and reduce stepwise use ⌘ + and ⌘ – (Plus and Minus signs).
Even your best photos can use a little something extra to shine. Instead of clicking on the magic wand to enhance your image, use ⌘E to give it an extra spark. 
For more complex edits, simply press the Return/Enter key to access Edit Mode. If you need to quickly crop your image to fix your composition or straighten the horizon, press the letter C. 
Once you are happy with your choices, press the Return key again to save your edits and you will automatically exit the Edit Mode. Done!
Going Further with Keyboard Shortcuts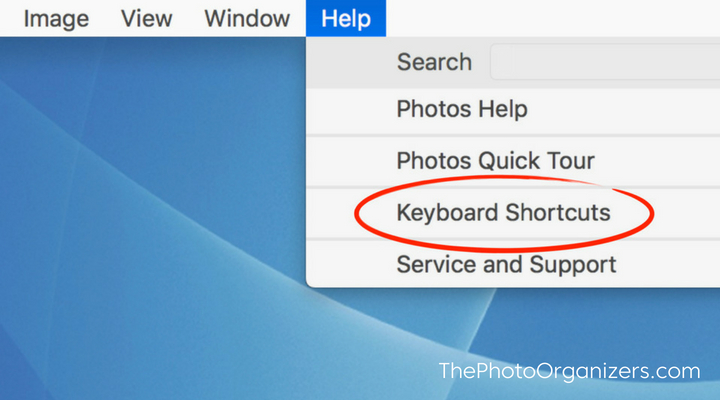 Once these shortcuts become second nature, you can learn even more by going to "Photos Help", [Shift⌘?], and select Keyboard Shortcuts from the drop-down to access an extensive list of shortcuts and trackpad gestures you can use with Photos." To discover the shortcuts that you can use Mac-wide, visit Mac Keyboard Shortcuts.
One more thing: If you bought a new computer recently, the symbols for Control and Option are now (at long last!) printed on the corresponding keys like the Command key. Happy culling and decluttering!
---
---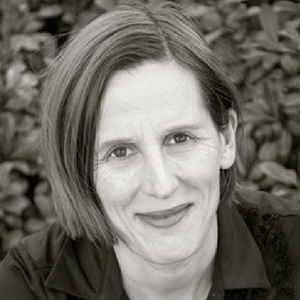 After a 30 year career in publishing as an illustrator, Isabelle Dervaux uses her artist's eye and sensibility to help busy New Yorkers tell their family stories; empowering them to organize, rediscover, and curate their digital photo collections to pass along to the next generation. Isabelle is a regular speaker at libraries, private organizations and mom's groups. She is also a certified member of APPO and an active member of NAPO.
---