Christmas is a time for traditions. Have you ever created a tradition? If not, make a photo calendar for your in-laws and parents and poof…instant tradition! How so, you ask? Just try not giving them a photo calendar the next year.
After playing hit or miss with the photo calendars for a few years, I formulated a system and have been making photo calendars for my in-laws, parents, and husband every year for the last seven years.  Four years ago, my sister-in-law was visiting and noticed the nondescript wall calendar in my kitchen. "Where's your photo calendar?" she asked. Now I print four calendars every year; one for each my in-laws, hubby, parents & kitchen.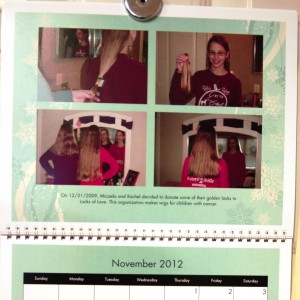 My system? Beginning Thanksgiving weekend, I make two calendars and print two of each. My husband and his parents get the same pictures with captions personalized for each. My parents and I have the same pictures, but again I personalize the captions for the audience. Costco allows me to add special notations on the days of the months and even saves the dates I used previously so I can import them into the next calendar. (It takes me longer to update the birthdates of my in-laws, their nine children and seven spouses, twenty-eight grandchildren, and fifteen great-grandchildren, than it takes to select pictures and write captions for all four calendars combined!)
There are many good websites and software packages available for printing a 12-page photo calendar. Once you've created an account with one of these sites, create a new album and upload a couple dozen pictures that represent the last year of life in your house. Make sure your pictures are of high pixel count and not blurry. This is especially important if you plan to print just a single picture opposite the 8×10 or 11×17 calendar page. A super fast plan is to pick a picture from each month in the previous year to correspond with the same month in the new year. Your loved ones will be smiling as they look back on last year's events. If you have enough photos of the calendar recipients, you can fill the pages with memories of time spent together. If you start pulling images and realize you neglected the camera over the last year, just pull a dozen or so of your favorite shots from any year and write captions telling why you love them or how you feel when you look at them. Remember, with your five W's…who, what, when, where, why …you can quickly tell the stories of your pictures and have a beautiful, personal, gift to present to your loved ones. Be sure to allow time for printing and shipping.
Happy Christmas gifting!
---
Stacy Cochrane is the founder of Managing Memory Lane, LLC and a member of Appo, the Association of Personal Photo Organizers. She specializes in establishing and maintaining photo storage and sharing systems that give her clients the freedom of sharing their photos as they choose while providing secure backup and privacy protection. You can contact Stacy via email at stacycochrane@me.com.