Being a solopreneur who works from home, like many photo organizers do, can be hard. Photo Organizer Lida Bunting of Znimka Creations has some suggestions to reduce the loneliness that we can all feel from time to time and enjoy the benefit of co-workers when you don't have any. 
Corporate Work Setting: How It Was
Once upon a time, I commuted on the bus downtown where I was greeted by lobby security, the receptionist, and a slew of co-workers.  I'd drop off my bag, turn on my computer, and walk down the hall to grab a coffee. Along the way, there would be 'good morning' greetings and conversations from weekend plans to status of a project.
Life As an Entrepreneur: How It is Today
Fast forward 20 years, and my commute consists of walking downstairs to my office, brewing my cup of coffee and settling in at my computer.  No hello's, no 'good mornings', and no inquiries about the weekend or a project.
Sound familiar?  This is the life of many entrepreneurs.  Left to our own homes and our own projects, we manage our days alone.
Although we may like the seclusion, it gets lonely at times.  What I miss most about my former life in Corporate America is the interaction with co-workers — the laughing, the crying, and the story-telling that we did on a regular basis.  Working 40-60 hours a week, we became a tight knit group of friends.
The Need For Friends At Work: AKA The Benefit of Co-Workers
From an article titled "5 Ways to Ensure Remote Employees Feel Part of the Team" on Entrepreneur.com by Jon Elvekrog "…the lack of conversation – whether on work topics or not – can limit perspective and squelch innovation." And, in "The Hidden Benefits of Happy Co-Workers" Heather R. Huhman of Come Recommended states the following stats:
95% of us have made a friend at work
52% spend more than 30 hours a week with family, while 91% spend 30 hours a week with colleagues
73% of us have laughed with colleagues so hard that we cried
61% have had co-workers support us during a difficult time
So, as a solo entrepreneur, how do we get that back?  How do we cultivate relationships with other photo organizers in our industry when we are our own bosses and see no one throughout the day?
For those who long for some sort of social interaction with like-minded individuals, a strong effort needs to be made to create those relationships.  Below is a list of actionable items to help fill that friendship void in your entrepreneurial life.  Taken from a variety of sources* and combined to suit this audience, do one or do all of these, and hopefully, you will create an emotionally fulfilled work environment for yourself in no time.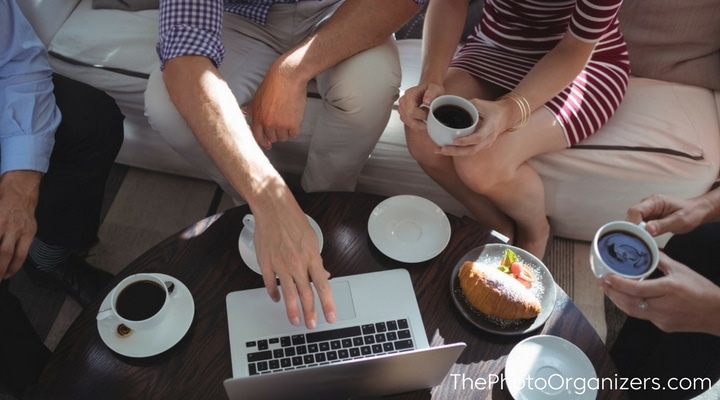 To Combat Loneliness
Work in public– Occasionally set up office in a local coffee shop, library, or bookstore. Having a regular barista that knows your coffee order and greets you when you come in can help you feel connected.
Socialize with relatives and neighbors– Take time to stop and chitchat with the neighbor and take time to have coffee or lunch with a relative.
Prioritize your relationships– You can't be friends with everyone so pick and choose who you spend your time with. As noted in Forbes.com, "APPO", "Whether it's certain relationships or calendar obligations, say no to the good so you have time for the great."
Creating Your Own Team of Co-Workers
Find like-minded people in your industry. The APPO members-only Facebook group and forum are great resources to get to know members.  We all have different personalities, and you may be drawn to a certain member more than another.  Send a PM or pick up the phone to call next time you have a job-specific question.  Having a conversation is much more personal and effective than texting or commenting on a post.
Find other entrepreneurs in your neighborhood. Attend a local Chamber of Commerce or networking event. Finding other entrepreneurs who may be seeking the same kind of social interaction would be a win-win for both of you.
Get involved in a charity or non-profit that you believe in and where your skillset can be used. Find an organization that you are passionate about and volunteer your time.  By getting involved and being on a committee or board, you will gain a new network of friends whose interests and visions align with yours.  Engaging on a regular basis and having "assignments" can help you feel fulfilled and connected to a group of people who you otherwise would not be in contact with.
Once you have taken these steps, make a concerted effort to talk to your new contacts regularly. This does not mean texting or liking their Facebook status.  This means picking up the phone to see how they are doing, checking in weekly or monthly, grabbing coffee, or just going for a walk.  And before you know it, you will realize that although you do not work in a large office, you have developed your own perfect circle of co-workers.
* Other sources utilized:
Forbes.com – Being an Entrepreneur can get Lonely – Here's How to Overcome It by Tori Utley
Nbcnews.com – Is Working from home Making you Miserable? By Larry Alton
---
---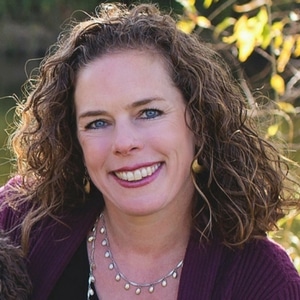 Lida Bunting is owner of Znimka Creations, a boutique company specializing in retelling people's meaningful stories in exquisite custom designed photo books.  A mother of two, she knows the immeasurable value of capturing her family's memories and is committed to creating annual year-in-review books for her family.  Her clients find her work personal and beautiful – and, she finds the work gratifying and meaningful.
---