How it all started
In 2010 my in-laws celebrated their 50th wedding anniversary. I scanned almost all of their family photos and slides not knowing which would be used in the celebration video. This was long before I even knew what a photo organizer was, much less thought about becoming one. Nor did I know about APPO (Association of Personal Photo Organizers), a whole organization of people dedicated to saving and preserving memories. While I was scanning my in-laws' photo, I also scanned all of my photos as well as my mom's. Within the boxes of my mom's family photos and memorabilia were my great-grandmother Eulah Hurst's diaries. 'Very cool!' I thought. I flipped through the pages but put them away as life got in the way.
What a treasure
Just a couple of years ago, I pulled out those old notebooks. I now understood the importance of digitizing and preserving precious memories and have taken steps to do just that.  Oh, my goodness, what a treasure!
On one of the first pages I read she said, "One evening while alone, I got to thinking of those farther back in my background than I could remember or knew anything about. Several questions came into my mind and I wished I knew more about them, who were they, where were they from originally and just what did they do to earn their daily bread."  She goes on to say that if she has those questions, her children and grandchildren may also have questions so she'll just write down what she knows about her family and even tell a couple of family stories. As the family historian, I couldn't believe how lucky I was to have this!
My great-grandmother was also a deeply religious woman. She wrote many pages in her diaries about her thoughts of faith and the power of prayer.  But most entries are just an insight into her daily life – the weather, who stopped by, what she was sewing or crocheting, or what was the last bounty out of the garden. It was a few entries starting November 21st, 1945 that really caught my eye.
Precious memories preserved
On November 21st, there is a note about my grandfather, Harlan, back in the United States after his discharge from the Army in World War II. I love how she describes seeing him on December 1st, 'Wonderful love'.  Then on December 11th, my grandparents, Harlan and Agnes go shopping leaving my mom and her siblings with my great grandmother. My great grandmother noting they bought some beautiful dolls. Then a note on December 24thsaying my grandfather had come after the dolls that were apparently hidden at my great grandmother's house. That's when I had my AHA moment and remembered a photo I had scanned years earlier!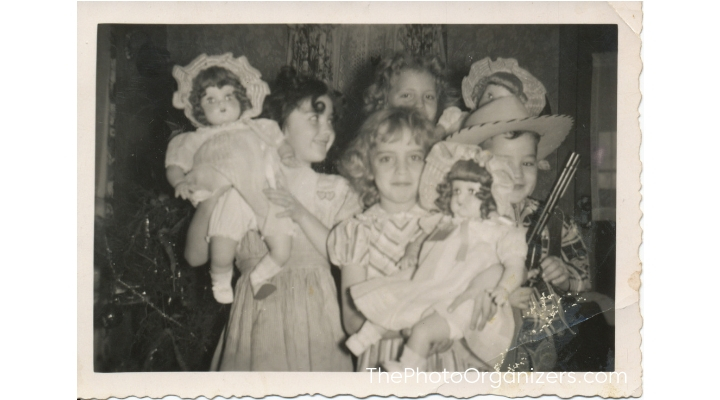 My mom, Marjorie, is the little blonde in front. She was just 4 years old in 1945 but remembers those dolls. She said her doll had blond hair like hers. Her sister Jean's doll was a brunette just like her. And her sister Elizabeth's doll had red hair, just like hers! What a wonderful Christmas memory.
---
---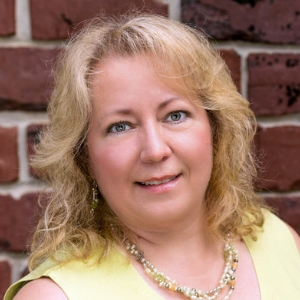 Lori Krause
is a Photo Organizer, born and raised in the Kansas City area.  As a photo organizer, she treats your photos as if they were her own. She provides premium, personalized services to help clients organize and preserve their photo memories.  Lori and her husband Jim have been married 30 years and have a 28-year-old son and 24-year-old daughter.
---