By using Collection Cards Photo Organizer Sherrie Jenkins of Preservation Pix LLC had developed a system to unify non-photo items from your family's memory collection with your photos in a safe and easy-to-find way.
To understand how and why we should use "Collection Cards," a definition might help.
Collection:
A collection is a set of unique objects, preserved together to define a specific body.
A collection is a group of objects or works seen, studied or kept together. [Freedictionary.com]
Photo Management Concepts from the Museum Field
Objects within a collection can be exhibited separately or together and can serve as references for research and education (think genealogy and story-telling).  In the museum world, a collection can form or distinguish the museum itself.  Translating that concept to a family, preserving a client's memory collection distinguishes a family's unique existence and history. It is the understanding that all of a client's photo-related items are smaller parts of one collection that create a need for cross-referencing.  The concept that we organize/manage collections, not just photos, gave birth to the idea of "Collection Cards."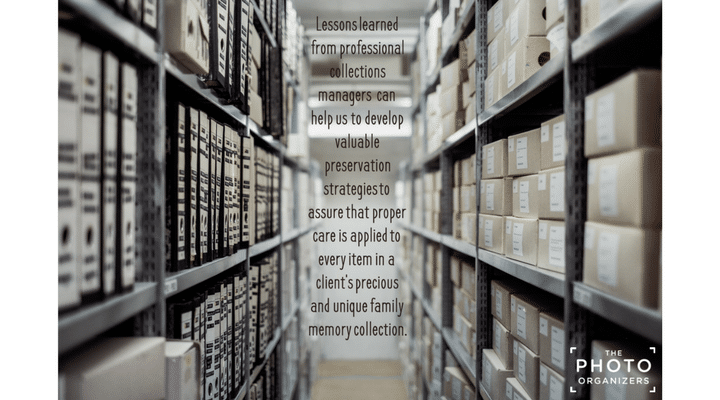 Numerous tasks performed by a photo organizer are related to the management and care of their clients' memory collections. Although we often refer to a "photo collection" when we discuss our job as photo organizers, we are actually referring to a more comprehensive set of items. Not all the parts of a memory collection are photos.  A memory collection includes photos but also negatives, slides, video cassette tapes, film reels, documents, framed photos, memorabilia (paper & 3D), etc.  Photo organizers can opt to personally organize, and/or manage some or all the parts of a collection.
Unique Object Sets Live Within One Collection
Each object in a collection has a unique set of best practices for its management and care.  Every set of objects should be stored according to the archival "rules" that govern its long-term preservation and protection.  Because these unique groupings are not stored in the same size/shape/type of container, they do not physically "live together."  However, in preparation to exhibit (think "S" for Share in the film reels), all the parts of the collection need to be brought together to tell the whole story.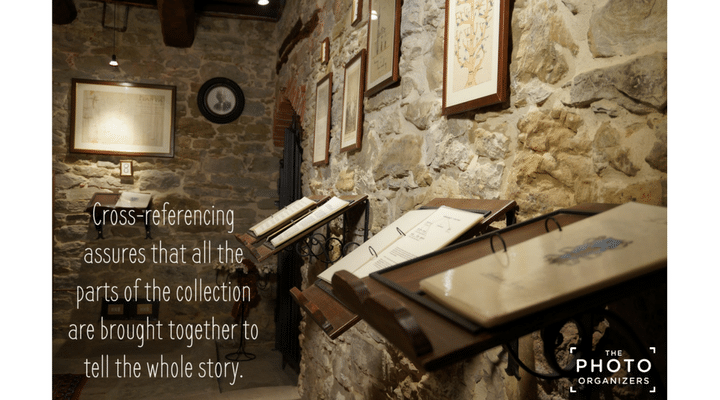 Collection cards provide a safe and simple way to assure that all parts of a collection become part of a client's story when a photo album is created or genealogical objects are displayed. The main purpose of Collection Cards is to reference the parts of a collection that archivally cannot live together.  Collection Cards assist an organizer by referencing the location of items that are stored separately but relate to one another.
CREATING Collection Cards
Collection cards can be printed as photographs, so storing them with a client's photos doesn't present safety concerns.  Collection cards can cover multiple categories of items: oversized photos, documents/art/paper memorabilia, moving memories, etc.  "Scan Cards" define which parts of a physical collection exist in a digital format (especially helpful if a client opts to scan only "A" photos vs. "A&B" photos).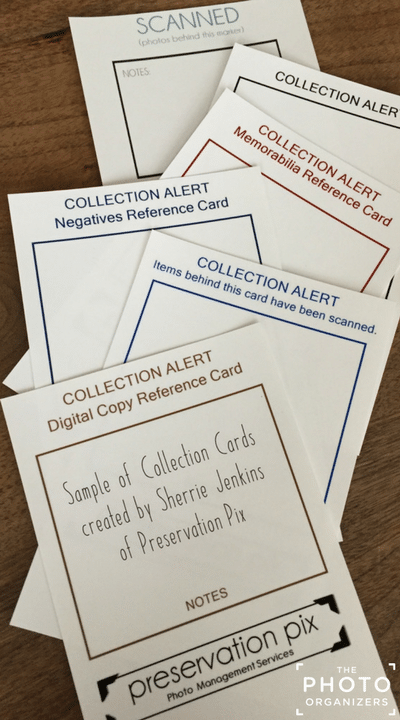 PARTS of a Collection Card
The top of the Collection Card always has an "alert." This is a way of stating, "Hey, are you ready to create or display these photos? Well, don't forget, there are also other types of items in your collection that relate to these photos."
The center of the Collection Card has a place for "NOTES." Write in this section with an archival pen/pencil or permanent ink.  A sticker can also be printed and placed here.  For temporary use, this area fits a 3" x 3" sticky note.
The bottom of a Collection Card contains a company logo or contact information. The logo gives reference to the person or company who managed the collection. Or, this last section is a place to advertise a photo organizing business.
Collection Cards can be designed in any basic design/publishing package and formatted to be printed on 4×6 or 3×5 photos at a photo lab.  Each card cost equals a lab-printed photo.  Collection Cards can also be printed on archival paper and used the same way.  A photo divider turned on its side is another method to create a card.  Consider cost when offering them as part of a service for a preserved collection.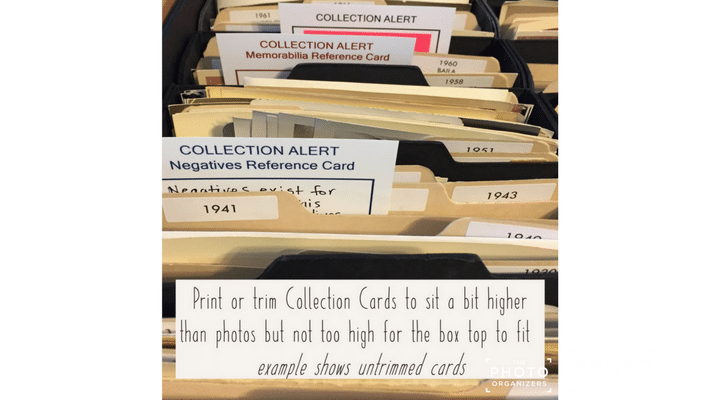 CATEGORIES of Collection Cards
Using a general "Collection Alert" card might do the trick.  The "NOTES" section allows for a written explanation to further explain the purpose of the alert.  However, more specific alert cards might include alert titles such as:
Negatives Reference Card OR Negative/Slide Reference Card
Memorabilia Reference Card
Oversized Items Reference Card
Scanned Items Indicator
Digital Copy Reference Card
Moving Memories Reference Card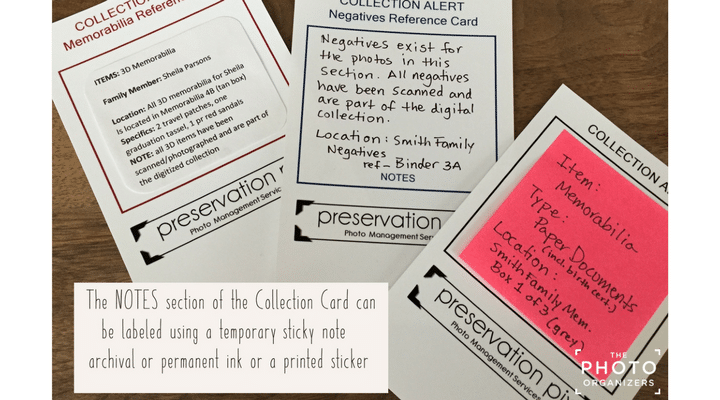 NOTES on Collection Cards
The notes section would most importantly list two things:
A brief description of the items being referenced
The physical location of the referenced items
Studying the field of Collections Management is a great way to better understand our job as "photo organizers."  Lessons learned from professional collections managers can help us to develop valuable preservation strategies to assure that proper care is applied to every item in a client's precious and unique family memory collection.  Collection Cards offer one technique for applying such practices.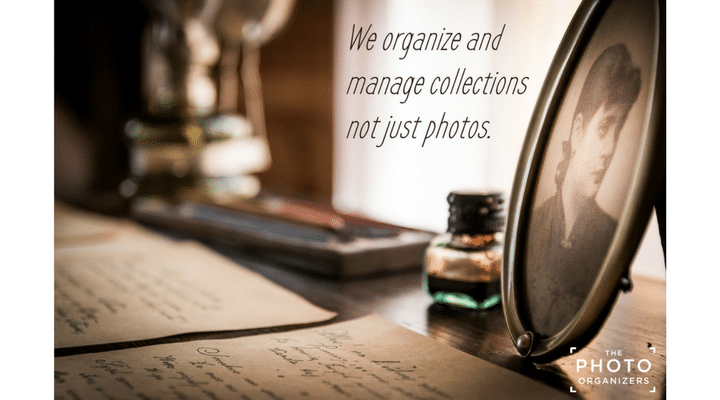 ---
If you need help organizing and preserving your lifetime of photos, videos, and keepsakes, find a photo organizer near you at the Association of Personal Photo Organizers.
Don't forget to grab your copy of Photo Organizing Made Easy: Going from Overwhelmed to Overjoyed from APPO founder Cathi Nelson.
---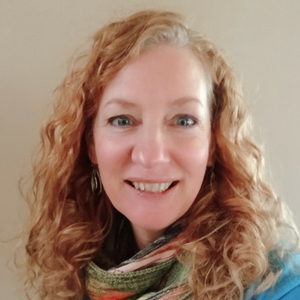 Sherrie Jenkins is the owner of Preservation Pix, LLC.  She has been helping clients to manage their family memory collections for over 15 years.  Sherrie's goal as a photo manager is to bring total peace of mind to each client as she helps them to assure that their collection is preserved for generations.
---