by Karen McCann
I love everything about photography and it is particularly suited to my personality because just when I have mastered one skill and become bored, I am ready to jump into some other photo lesson I want to learn.
Over the years I have shot with many different cameras and each one that I use becomes my favorite for different reasons. Currently I am shooting with a Nikon D3000, a Sony Cyber-Shot, and an iPhone 4.
When I really want to pull out the big gun, I go for the Nikon. This pretty much announces to the world that I am there to take some serious photos. For example, I recently had the good fortune to go to the Grand Canyon for the first time. I dragged my husband to a sunrise where I proceeded to shoot 276 images of sunrise shots. There were only a handful of tourists there being late in the season. As my husband patiently watched me shoot, what to him looked like the same picture over and over and over, he finally said, "that was awesome, but it's freezing – and don't you think you've got enough?"  "Cold? No way, I was having the time of my life!"  I tried to explain to him that each minute that goes by changes the light and the rock formation will show up quite differently as the sun rises. He just rolled his eyes. But the lady next to me chuckled as she heard our exchange and gave me a wink! Ahh, a kindred spirit all the way on top of the Grand Canyon!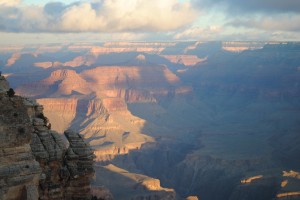 Now sometimes I just don't want to lug the cumbersome Nikon around. This is the time I grab my palm sized Sony Cyber-Shot. The 10x zoom lens will not miss a thing, like this little fellow at the zoo. I can pop it in and out of my shoulder bag easily and still feel inconspicuous.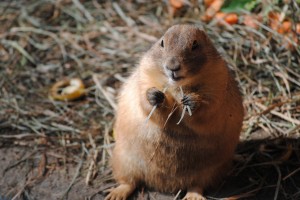 Like many of you, I've grown to love my iPhone. One of its best features surely is the camera. My favorite photo app is "camera+". I love the stabilizing feature as well as its editing feature called "clarity". You could spend an hour in photoshop and not get such great results. It's so much fun playing around with different style options such as retro, HDR, pinhole and tons of others.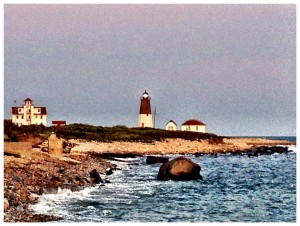 So for this obsessed amateur photographer, I will never be bored because there will always be something new to see, learn and try as I look through the lens' of my different cameras.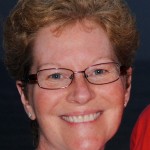 Karen enjoys taking photos but also has a business called Saving Photo Memories helping people manage their photo collection and making suggestions on how they can best enjoy their photos. She is a certified member of APPO. You can contact Karen via email at memories.kmccann@gmail.com.