We're bombarded with visual stimuli all day, every day. Digital overstimulation is the new norm. But we're not mere consumers of all this media—we're creating it, too. We upgrade our smartphone memory to accommodate our ballooning camera rolls, even screenshot our Snapchats to save something meant to be ephemeral.
What are we losing in all that digital clutter? A lot, I would suggest.
Here's a plan for how to find—and save—what matters amidst the digital chaos, before it's too late.
Determine what really matters to you.
I doubt the picture you snapped of your avocado toast this morning is intended for posterity. 
While it's gratifying to share moments and cool photos across Instagram and Facebook, a lot of what we share is fleeting—it's part of our daily routine, maybe even integral to our identities…but it's not likely to define our legacies. At least, I hope not.
So, what does matter to you? What is worth saving for your kids? Which are the photos you hope you will have access to one day in the future?
When I am making a life story book for a client, part of the process is culling thousands of photos. Over the years I have found that most people gravitate toward many of the same types of pictures. While I can't predict what ultimately matters to you, I can offer a few categories of photographs that I think are worth saving—hopefully, these will guide you in defining your own preservation priorities:
Often, the photos that "matter" most to us
tell a story
prompt a specific memory
capture a loved one's spirit "just so!"
show moments from everyday life (think about that picture of Grandpa on the telephone with the curly cord back in the day!)
mark a milestone or special occasion
make us smile—or tear up; they tug at the heartstrings.
Use a few of the criteria above, or come up with your own, and use that list as a guide for the next two steps.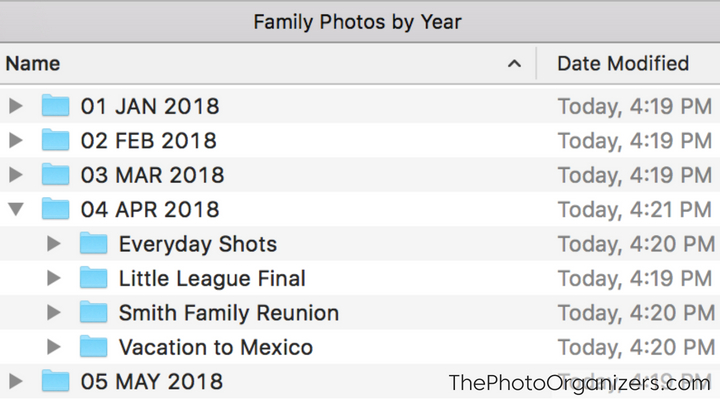 Use your downtime to archive the good stuff. 
When I commuted on the train into New York City, I'd often read. Sometimes I'd play Word Cookies or watch a movie on my iPad. But on other occasions—at least a couple of times per month—I would purposefully clean out the camera roll on my phone.
That meant deleting duplicates and silly shots that I took on a whim, all the digital clutter. Mostly, though, it meant being intentional about the photos I wanted to keep—i.e., the ones that I deemed "mattered"—and putting those in folders for safe keeping.
Be intentional. Set aside the time, and try to regard it as a pleasure (you're revisiting memories, after all!) rather than a task on your must-do list.
Remember the criteria you set above—keeping what matters to you in mind at all times makes it easier to skip many photos that you otherwise love.
Get creative: It's not just during a commute you can find the time to organize your photos. Schedule in 20 minutes every Monday morning after you've checked your email, say, or tackle it while you would otherwise be killing time, like in the school car line.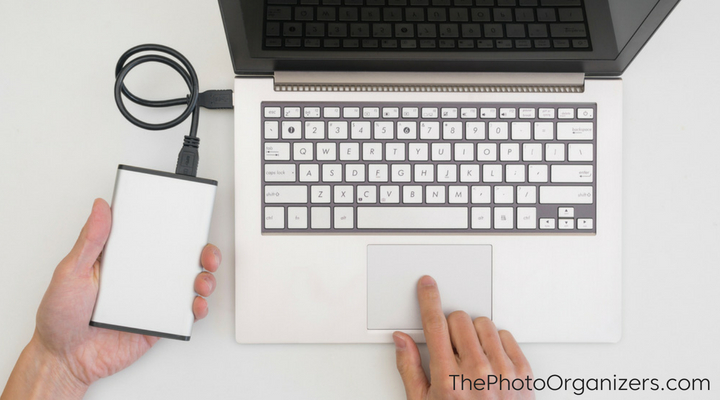 Designate a safe space for archiving what matters.
Social media is not the place to save your photos. Use an external hard drive, a cloud service, Dropbox, whatever method works for you that is safe. There are plenty of other blog posts that can help with a detailed plan for archiving your family photos. Suffice to say here: HAVE A PLAN.
As the saying goes, the best camera is the one you have with you. Likewise, the best place to archive your precious photos is that one you will use. 
Don't choose a service with so many bells and whistles that you are intimidated to use it. While Adobe Lightroom has a ton of features that help with photo organization and editing, for example, if you don't have the time to learn the software (or don't want to pay someone to set it up and teach you how to use it), then it's not a useful tool for you. Maybe Google Photos is right for you—or even just a well-defined folder system that lives on your hard drive and is backed up. 
Whichever system you choose, make it the storing place for photos from all your devices, including your old-fashioned camera, if you have one!
Three simple rules:
Store all the "photos that matter to you" in one place.
Be redundant (in other words, have a backup).
Do something with some of those photos (I'm talking print them, frame them, make a book, give them as gifts!).
Who cares if you took 6,322 photos last year if you can't find the ONE you WANT when you want it?
---
Dawn Roode is a personal historian & professional photo organizer in New Jersey. She founded Modern Heirloom Books after working for more than two decades at lifestyle magazines including Vogue, Harper's Bazaar, and Vanity Fair. Today she lovingly creates bespoke coffee table books that incorporate family photos and stories gleaned through personal interviews, using her magazine experience to help others preserve their memories beautifully.
---