Guest blogger Sylvia Cuillo of PhotosOrganized wants to help you conquer your digital photo overwhelm. Follow her three steps and soon you will be on your way to digital photo bliss.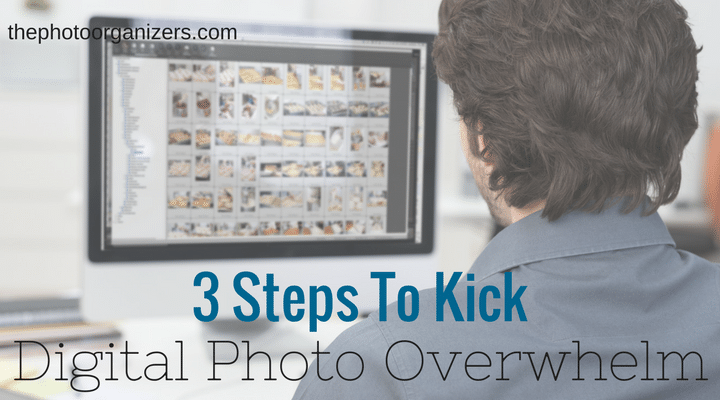 Feeling overwhelmed with all your digital photos and don't know what to do?  Not enough time to work on a solution?  You are suffering from digital photo overwhelm. Here are 3 quick and easy steps that are crucial to preserving and enjoying your digital memories.  NO FLUFF – JUST THE GOODS!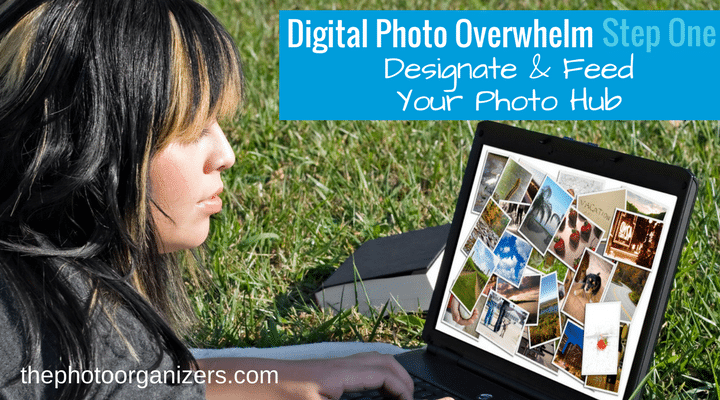 STEP 1 : DESIGNATE & FEED YOUR PHOTO HUB
Have ONE designated master folder for all your digital photos.  That will be your HUB and will alleviate 90% of your digital headaches.  Digital photos have a way of getting lost all over the place, which means they almost don't exist.    
If you do nothing else… It is very important to designate ONE folder on your computer (usually under "Pictures") or on your external hard drive, where you will deposit all your images as you go (aka HUB.)  You can name it something simple like "My Photos" or "Master Photo Library."
Then it's just a matter of feeding your HUB.  That is, making sure that all your digital photos that you want to keep, make their way into that master folder.  Preferably this is done on a regular basis, so you can go ahead and mark your calendar for the year.
Inside that master folder you can choose to have sub-folders that you create, such as year/month.  But that's not the important part.  The most important part is to get them all under the one master folder.  As long as you have them all nicely tucked inside this master folder (aka HUB), you can choose to do other things with them down the road, as technology advances, or as you have more time to devote to organization.
TIP: If you have photos scattered all over the place and across various computers, devices and even some photo sharing web sites, you can use a PictureKeeper to help you locate them and gather them.  Then you can easily bring them into your HUB. It is a plug and play device making it very easy to use.  PictureKeeper also has an app for the photos on your smart phone.  And the nice thing is that it remembers the next time and only adds any new photos.
[bctt tweet="Step 1 to get rid of digital photo overwhelm-get all the pics in one place, your photo hub." username="photoorganizers"]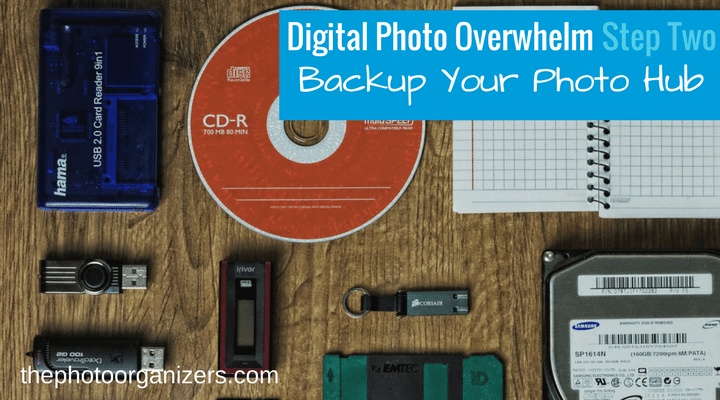 STEP 2  : BACKUP YOUR HUB
Good news:  So now that you have a HUB, with all your digital photos, you have just one place to keep track of and protect!
As you probably already know, digital photos are at the whim and mercy of technology and the device that holds them.  The device that holds them is ultimately a piece of equipment or software that will fail one day (just like your dishwasher) and with it will go all your images, which means they almost don't exist.
If you do nothing else… Sign up for an automatic online backup service to protect your HUB (and I mean from day 1.)  Once you sign up, the service will automatically do the backups for you through the Internet.  The signup is super easy (if you can go to a website and open email, you've got this!) and affordable.  Within 10 minutes you can have your first backup underway for as low as $5 per month on either a PC or Mac.  The key here is that the backup process is automatic and you don't have to do anything after that initial easy sign up is done.
TIP: There are many online backup services available so choose a well known reputable one.  Some of the more commonly used ones include:  Backblaze, Carbonite and Crashplan.
[bctt tweet="Step 2 to get rid of digital photo overwhelm-be sure to back up your photo hub often!" username="photoorganizers"]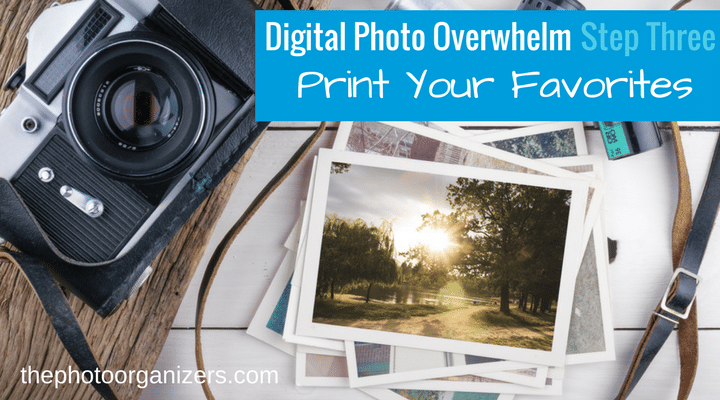 STEP 3  : PRINT YOUR FAVES
What's the use of taking all these photos, if no one gets to see them?  They are jpegs stuck inside a machine, which means they almost don't exist.
Did you know that people who study these things tell us, unequivocally, that a PRINTED photo is still the BEST backup.  Surprised?  I know I was.  And there's just something special about holding a physical photo in your hand.  There are studies that show there's actually a benefit to children who touch family photos.  And it's FUN.
If you do nothing else…So, take it from me, a raving digital gal, I passionately encourage you to pick your favorite digital photos on a monthly basis, or per event or per person, and print them.  There are many apps that can do this for you or websites.  Again, super easy.  If you can go to a website and open email, you've got this!
Prints can take many forms.  You can print the standard 4×6's, or enlargements and put in a shoebox or old fashion photo album.  You can make a photo book and print it, using online sites such as Mixbooks.   You can print a canvas frame, a coffee mug, a calendar and a whole bunch of other photo options; they all count as prints.  They are tangible and you can touch them.
TIP: My favorite print place is Persnickety Prints.  You can use their website to print photos that are on your computer.  But you can also use their free app to print photos from your smart phone.  The app lets you edit and even add text to each photo, before you send to print.  And the prints get delivered right to your door.
[bctt tweet="Step 3 to get rid of digital photo overwhelm-actually print your favorites & enjoy them!" username="photoorganizers"]
TO RECAP
3 quick and easy steps to kick digital photo overwhelm
Designate & feed your photo HUB
Backup your HUB
Print your fave's
Just imagine your peace of mind knowing you will never have to worry again about where to find your precious memories or if your computer will crash. Yes it's true, you're too busy making new memories; but luckily now you know how to quickly and easily keep your photos safe and orderly, and even enjoy them, if you do nothing else!
---
If you need help organizing and preserving your lifetime of photos, videos and keepsakes, find a photo organizer near you at the Association of Personal Photo Organizers.
---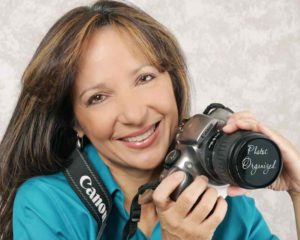 Sylvia Cuillo is an APPO Certified Personal Photo Organizer and the owner of PhotosOrganized and www.digitalphotolifeacademy.com.  Born with a self-declared "organizational gene" and having a knack for gadgets & "all things techie" she specializes in preserving and organizing digital photos remotely.  She graduated with a B.A. in Psychology from the University of South Florida and has over 20 years professional experience in the social services field, mostly in supervisory and quality assurance roles. She is committed to providing the highest level of customer service and quality excellence!  Sylvia is married to Patrick and they have 5 children, 4 of whom are adopted and 1 biological, and they forget which one!  Sylvia has been organizing her own vast photo library for many years and started doing it professionally for others since 2011.  Given her diverse background and family life, she brings to each encounter, a passion for functional solutions to digital photos, and a passion for helping others!  Bringing happiness to your photo-life, one precious memory at a time.