From getting into the picture yourself to asking for the stories behind the photos, Personal Historian Dawn Roode of Modern Heirloom Books shares her tips for making the job of family historian easier and more fun.
Are you the family historian? Every family has one—the person who not only snaps pictures during the holidays but shares them. The person who collects fading photographs from the relatives with the hope of creating a family archive, and giving faces to the names on the family tree. You embrace that role, but sometimes, let's admit, it can get overwhelming.
Here are four ways to make your role as the unofficial family historian easier—and more meaningful.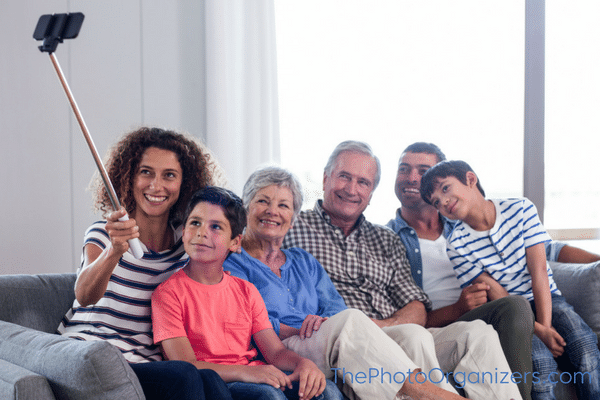 Get in the Pictures (Plural)
Maybe every once in a while you set the timer on your camera and run around the table to get in a group shot, but I'm willing to bet most of your photos do not include you.
A few years ago Allison Tate wrote a moving plea for mothers, in particular, to make a concerted effort to be in more of their family photos. In a follow-up essay, she writes, "Pictures are really the only way to show [our children] how the faces of our families carry familiar pieces of them in their eyes and cheeks and hair. It's the everyday, candid, caught-in-the-moment pictures that reveal the way eyebrows arch, or the smiles turn, or the chins point. That is why it's so important that we allow—or even demand—that we be in pictures: to leave traces, to leave a trail. We were here."
I agree that this must apply to moms, who are so often (occasionally by default) the de facto memory-keepers for their clans. But, truly, it applies to all of us—the camera-shy, the "I-look-terrible" excuse makers…to me, to you.
One of the best ways I have taken action in this way myself is to purchase a camera remote. I use this one with my Canon digital SLR camera, and this remote will work with your camera phone. I'm now getting used to life both behind the camera lens and in front of it!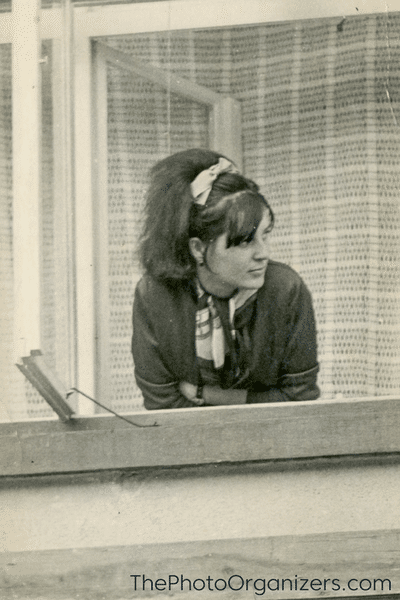 Preserve the Stories Behind your Family Photos
Beyond the names of the people in your family photos and the dates they were taken, the stories behind the photos are what give them meaning. For someone, the moment captured on film holds a memory—sometimes of a milestone moment (graduation, say), and often of an everyday one (cooking, or brushing one's teeth). Even those seemingly mundane shots can spark wonderful stories, though, of family dinners or after-school routines.
With the passing of time, things that one generation took for granted become novelties or surprises to the next (my own son, for instance, can't believe that phones were ever tethered to a wall—imagine his astonishment when his great-grandmother told him she had no TV when she was growing up!).
Begin with the photographs that hold the most meaning to you as the family historian. Your familiarity with the memories associated with them should make preserving them easier, and get your storytelling juices flowing. Your children will appreciate your efforts one day, I assure you.
"One of the saddest sentences I know is 'I wish I had asked my mother about that,'" wrote William Zinsser. Don't put yourself in the position to have such regret: Ask questions; write or record the answers. Use photographs as prompts for story sharing. If you don't have the time or inclination but highly regard the value of preserving such family stories for the next generation, a personal historian may be the answer.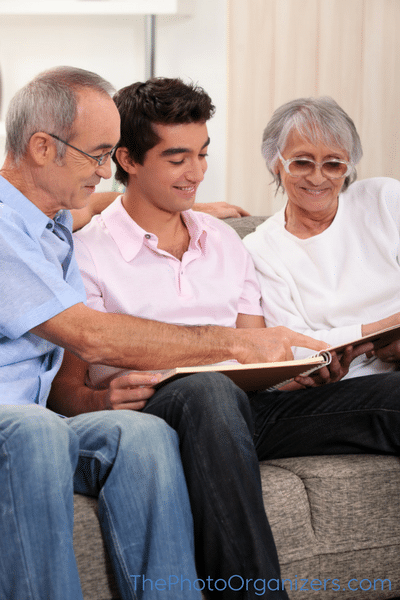 Host a Party—or Suggest that a Relative Does So
What is it about finger foods and wine and an informal gathering of loved ones that spark storytelling? It's as good as being around a proverbial campfire! Invite an interesting mix of people to a dinner party (think a mix of ages, a mix of relatives and close friends, and a mix of those who may be eager to reminisce and those who will ask questions and listen). Have each person bring a family photo—old or recent—about which they can talk.
Get creative with the place settings—scan some old family photos for name cards, for example—or get really down and dirty and place cushions on the floor for a good old-fashioned buffet of food and stories.
The important thing is this: Don't be shy about revealing your goal of story sharing. If being the center of attention makes you nervous, ask a loved one to help set the stage, or ask a few guests to come prepared to share their own stories, too.
Ask one of the older kids or techies in the group to use Google Photo Scan or a portable scanner such as a FlipPal to digitize images, so guests can bring their photographs home with them after sharing, and everyone will have access to the digital files. Designate one person as note keeper: They can use an audio recorder on their phone or a video recorder to capture all the stories.
My bet is that this will become an annual occurrence, at least.
Allow Others to Add Their Own Photos
Most photo sharing apps, including Google Photos and Facebook, allow for shared album creation. While I recommend backing up all your high-resolution digital files—redundancy is important!—in the photo management software of your choice (in addition to Google Photos, Mylio is a popular choice for photographers that translates nicely to everyday use), creating a few albums solely for sharing is a good idea for the family historian.
Don't merely share your photos—ask your family members to submit their own photos and captions to those shared albums. Check your permissions and privacy settings, then input emails or mobile phone numbers to invite contributors. Once that is done, anyone who is part of the group can upload pictures and comment on captions/image data to flesh out details about the photos.
This is an especially useful approach for family history buffs. It can be surprising to find out that your cousin right down the street has boxes of pictures of your great-grandparents that you've never seen—or that you've got even more distant relatives with knowledge (and old photos) of your family. Warning: Once people begin uploading and you begin discovering "new" old photos, this genealogical photo habit can become addictive!
---
Dawn Roode is a personal historian & professional photo organizer in New Jersey. She founded Modern Heirloom Books after working for more than two decades at lifestyle magazines including Vogue, Harper's Bazaar, and Vanity Fair. Today she lovingly creates bespoke coffee table books that incorporate family photos and stories gleaned through personal interviews, using her magazine experience to help others preserve their memories beautifully.
---