What stories are told in your family photos? Sometimes something as mundane as a chair can tell the best story. Photo Organizer Hazel Thornton of Organized for Life shares her family's story as told through Grandma's lawn chairs.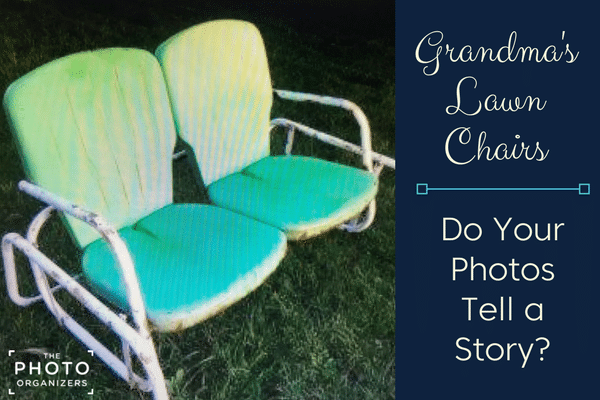 Photos keep memories alive. And they tell the story of a family over time. They show how it grew and how it changed. Some people have the forethought to mark the passage of time by taking photos of their kids each year wearing the same outfit (oversized at the outset), or standing next to a fixed object. And sometimes everyday objects in a family's life seem to inadvertently bear witness to these changes for us.
My maternal grandparents moved, with their three young daughters, from Muncie, Indiana to Albuquerque, New Mexico in the mid-194O's. At some point, they acquired a glider and two matching chairs. My aunt George Ann recalls today, "It seemed like we had them forever. Mom and Dad would sit in the glider together on the east side of the house, or under the big elm in the front." They are long gone now (both the lawn chairs and my grandparents), but they had a long and happy life.
[bctt tweet="What special stories have you discovered in your family's photos?" username="photoorganizers"]
Clearly the birthday party above preceded THIS event that same summer….
By 1971 the chairs were so old and rusty that no one minded if we kids painted them however we wanted. We wanted to make them psychedelic, of course, and we had so much fun doing it! And we were proud enough to pose with them. I am holding a small birdcage containing my yellow parakeet, Goldie. Yep, we took her on a road trip from Boise, Idaho (home), to Albuquerque, New Mexico (grandparents), to Los Angeles, California (Disneyland and other relatives), to Sequoia and Yosemite National Parks (camping, of course), and home again! She spent most of the time at home loose in the house. But on the trip, she had her big cage, even in the car.
They were just lawn chairs. Who knew at the time what memories they would hold, and what photos of them would mean to us later?
How have you intentionally marked the passage of time using photos? How have the everyday objects in your family's lives inadvertently done that for you? Please share in the comments below!
---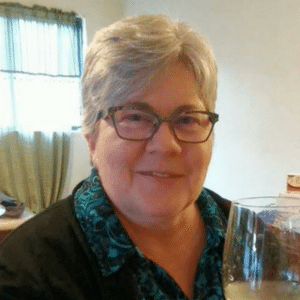 Hazel Thornton is a professional organizer and genealogist based in Albuquerque, New Mexico; creator of The Clutter Flow Chart Collection; and author of Go with the Flow! The Clutter-Clearing Tool Kit for an Organized Life. Visit her online at www.org4life.com.