Last September Photo Organizer Dionne Merriott of Captured Memories Photo Solutions served as a guardian on the Texas South Plains Honor Flight. This week she shares her experience with us.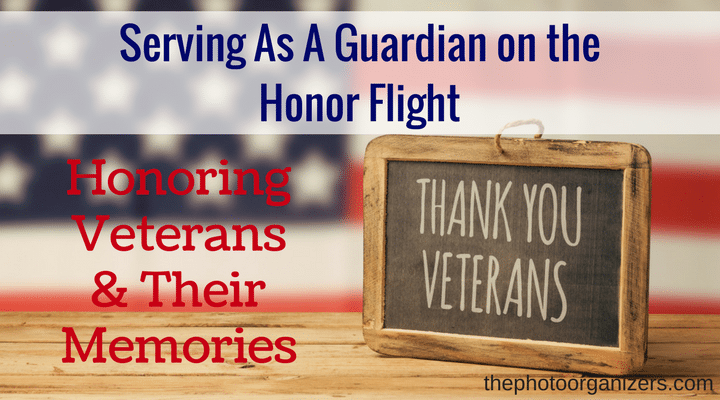 The Honor Flight Network is a nation-wide non-profit organization that transports America's veterans to visit and reflect at the memorials made in their honor. The Texas South Plains Honor Flight serves as one of the regional hubs for the project providing a charter flight, lodging and meals for military veterans of the South Plains region in support of their tour of the monuments in Washington, DC.
Personal Photo Organizer Dionne Merriott recently served as a guardian on one of these flights. While her primary responsibility was to make sure the veterans assigned to her had a good trip and that they were safe, she soon learned that she had another, more important job…to listen.
When these veterans saw their particular memorials, the stories began.  As the group neared the Vietnam Veterans Memorial stop, Dionne heard one of the veterans say, "I have seven names I need to find on the wall.  They died in my arms."  To the guardians the trip was about the veterans, but to the veterans, the trip was often about those they served with who didn't come home.
One surprising thing Dionne learned was that some of the Honor Flight participants needed encouragement to take part in the trip. Many felt like they were not really a hero, so they shouldn't go. Or perhaps they didn't serve overseas, so someone else should go who did. Dionne discovered that many veterans were extremely humble about their military service and needed others to persuade them to apply to go on the Honor Flight. If you know a veteran, either a family member or someone from church or another organization, this is the perfect time to get them thinking about going on their own honor flight.
Dionne says that she truly loved being a part of this trip because it connected so much with her work as a Personal Photo Organizer.  It brought fathers and sons together to tell stories.  It let daughters see what their mothers experienced a lifetime ago.  For the rest of the guardians who didn't go with a family member, it gave them have a glimpse of what life was like as part of the military.
[bctt tweet="The Honor Flight program encourages the telling of stories by the veterans to their families in a new way." username="photoorganizers"]
After the trip, Dionne created a keepsake photo book about the experiences of the 2016 Honor Flight. She hopes that this book will be a sweet reminder to the veterans that what they did mattered to their generation and to the generations to come.
If you know a veteran, tell them thank you for their service to our country. You can also get more information an Honor Flight Trip in your area.  It will be an experience that you both will treasure.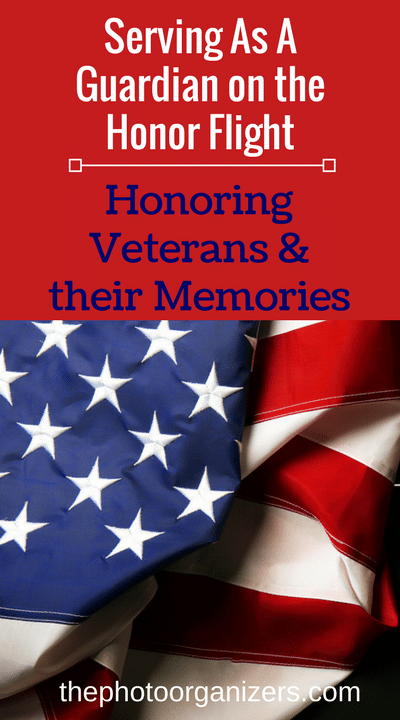 ---
If you need help organizing and preserving your lifetime of photos, videos and keepsakes, find a photo organizer near you at the Association of Personal Photo Organizers.
---
A charter member of APPO, Dionne Merriott is a the owner of Captured Memories Personal Photo Organizer. She spends her days helping families connect by enjoying their memories through photos and stories.  Her family regularly pulls out their photo books when they need proof about what really happened in their life.