Soon after I began my business as a personal photo organizer, people called and asked if I could help them start their own similar business. At first, I was surprised and unsure of how to respond.  Then I began to imagine a network of people throughout the US, helping people reconnect with their lifetime of photos and memories. I realized by sharing the work I had already done, I could help people shorten their learning curve and they could share what they were learning.  Thus, the concept of an association was born.
During the first few years, I found myself trying to explain my business concept to family and friends and most were puzzled.  I realized they were trying to understand how what I was doing could possibly be successful.  My goals were to create value for our members and recognition that what we do as photo organizers is important, meaningful work.  So how could I measure success?
One day I decided to plot out where our members were on a map, I was surprised to find that we had members in five states and then it grew to ten and then 40!  It became a fun activity to report on each new member and make a note on the map.  Eventually I added Ontario and then Calgary and I even got calls from Australia.
Today I am excited to add Continents!  There is now an APPO member in 8 Countries, 6 Continents & 48 States!   What this does for me is confirm that telling photos through stories is a human passion, not bound by boundaries or culture.  It is universal!
We are celebrating our five-year anniversary and would love you to join us our growing association.  If you would like to learn more, send an email to support@appo.org and I will happily set up a time to share the benefits of membership with you.  Plus we are celebrating all summer long, use the code APPO10 to save 10% on your membership fee and be entered to win one of our prizes values at over $7000!
---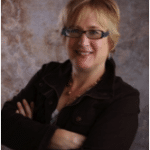 Cathi Nelson is the founder of APPO (Association of Personal Photo Organizers) where she leads, trains and connects thousands of Photo Organizers from around the globe. Regarded as a pioneer in the photo organizing industry, she is a sought after speaker and has appeared in The New York Times, The Wall Street Journal, Chicago Tribune, The Atlantic and Better Homes and Gardens.