Working as a Health, Wellness and Organizational Coach helping individuals (mostly seniors) downsize, has shown me a reoccurring problem amongst this population.  They are usually a couple or individual who has lived in their home for 30, 40, 50 and even 60 years and have many wonderful and precious "treasures."  The only problem is no one else looks at those "treasures" as treasures.  Their children or grandchildren don't want the crystal, china, silver and even the furniture.  This is really hard for this generation to understand.  Many are from the depression era and have worked so hard for all they have. They grew up without and struggled to get and maintain what they now own.  They also struggle with the fact that the beautiful crystal and china does not spark an interest in any of their family members and wouldn't even be used, let alone stored.  This breaks theirs hearts.
Their beautiful antique furniture, which they paid a premium for, is now worth pennies on the dollar.  Even the grandchildren have no interest in these pieces.  To think it will all go to the landfill is a very hard concept for them.  If they have come to terms with the fact that family members don't want their belongings and are willing to try having them auctioned house, it breaks their hearts to hear the cost in which the item will auction for.  Sometimes they can come to understand this fact, but other times it is just too hard.  I think their hope is that the fond memories these pieces or items brought to them can be carried through the family.  They have a hope that when they would visit these family members, they will still be able to see their precious treasures.
Many say give it about 15 years or so and the trend will swing back to valuing "wood" furniture (and these precious) items instead of particleboard.  But for now homes need to be found for these beautiful and precious items.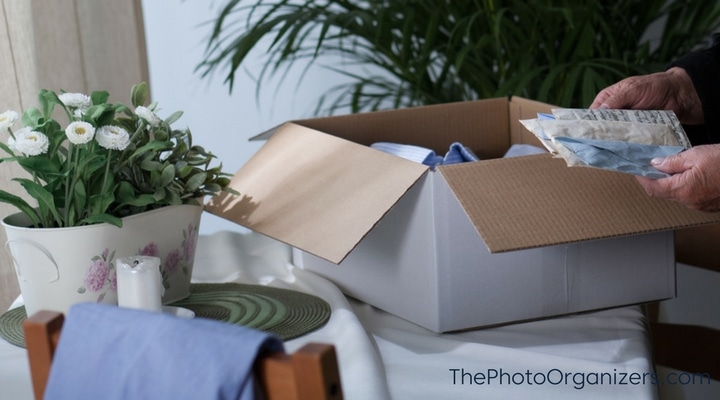 A few years back I was asked to speak at the CT Historical Society.  The topic was  "Grandma's Mixing Bowls: Saving Family Treasures, Telling Family Stories!"  They wanted me to help their audience know what to do with Grandma's mixing bowls that they had no space for but had very precious memories.  That's when my Photo Organizing and Story Telling skills kicked in.  Being the preserver of memories in my family for the past 21 years enabled me to see the importance of those "mixing bowls" … or any item that is precious.
[bctt tweet="Consider taking photos of all those items that you no longer have a use for or no longer have space for.  Then write the story behind each of those items." username="photoorganizers"]
It was also at that time that I had a client who was struggling with letting go of items she could no longer keep but held a soft spot in her heart.  That's when I created a memory book for her.  This memory book wasn't necessarily about special Holidays or Events.  It was pictures of old items she no longer had room for and items that her family members had no interest in.  I took pictures of these items and had her tell me the story behind it.  For example, this cookie jar had a special meaning to her.  She was ready to release the cookie jar but didn't want to loose the memory.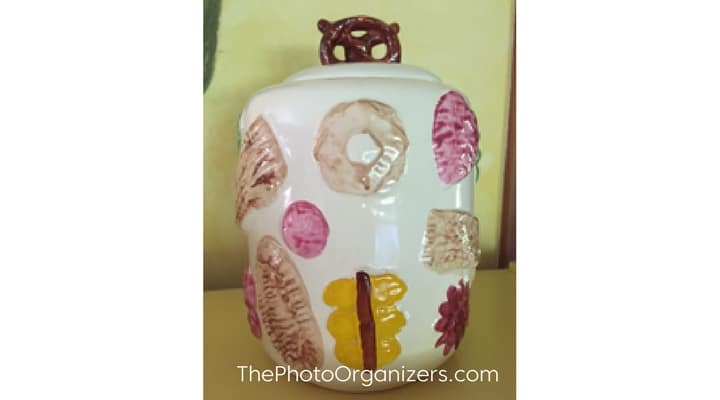 This cookie jar has been in my family for at least 3 generations.  It's not really a useful item because the cookies don't stay fresh.  But the memories from this cookie jar are hard to leave behind. 

My mom wasn't a cookie maker but she would buy our favorite cookies and store them in the cookie jar.  We were not allowed to just help ourselves and had to wait until special times to have this treat.  When we could, my sisters and I would cherish this time.  We felt special as the special cookies were given to us.
What a treasure this book became to my client.  It enabled her to still have the items via photos and read the memories that were so precious to her.  Her family would also be able to share in those memories.  If we keep those memories inside and do not share them, they will be lost forever.
Consider taking photos of all those items that you no longer have a use for or no longer have space for.  Then write the story behind each of those items.  It's such a fun thing for family members to have.  It touches many hearts.
---
---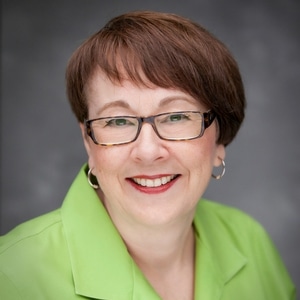 Organizing is part of Regina Sanchez's DNA.  After working in the corporate world for years, she decided to pursue her passions of teaching, organizing and serving as a Professional Organizer.  Regina loves working with clients to get them out of the chaos they find themselves in their home, their memories or their health.  Regina works hands on to help each client get to their desired goals.
Additionally, she works with clients to help them preserve their memories.  This is another part of her business that fulfills her with incredible joy as she helps individuals tell their stories, preserve their memories and create a legacy that will last forever.
---