Guest Blogger Lisa Bianco of Picture It Organized STL helps us use photos to keep our memories while letting go of the sentimental items that are cluttering our homes.
Photos are a great way to help you let go of the sentimental items. Sentimental items are the hardest to let go, especially if you are a person who doesn't know a memento that you didn't want to keep. The memories that the item brings to you are the reason for the sentimental attachment. Photographs become a way you can keep your memory and toss the object.
Love my stuff too much to let it go.
The item itself does not have value; it's only an object. It's the memory you attached to it that brings value to you. The reason we don't want to let go is the object acts as a memory trigger.  It is a way we keep the moment that has passed into the present. It is true we only can keep so many memories in our brain at one time. We are so afraid we are going to lose that memory, we hold on to it forever and never want to let it go. You can't let your stuff from your past cause a burden on your present life. Get your camera, take a photo! Let the picture act as the memory trigger instead of the sentimental items.
[bctt tweet="Ditch the stuff and instead tell the story of your stuff through photos." username="photoorganizers"]
Time to let it go and tell your story.
Even if we want to, we can't keep every single item we ever owned. The boxes of items in our basements are filled with memories from our past. Even though we never go through those boxes, knowing they are there brings us great joy. Until we need to downsize and then we are overwhelmed with it all and don't know where or start. I know you think the easiest thing would be to get a storage unit. Don't! The items are not worth what you would spend on a unit. Ok, well then I will give the items to my kids. They will gladly take it all.  It's their memories! Don't be upset if they say "No way!" Our children don't want all the stuff. They want the story. What better way to tell your story than with pictures. It gives you a visual of your life and takes you right back to the time those items were being used.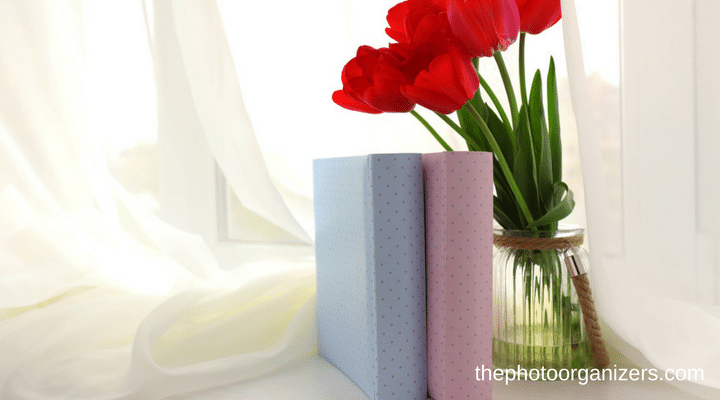 Take the photo.
 All of these sentimental items are the hardest to let go of and can photograph easily. Once you take a picture, you can create a photo book or folder on your computer.
Gifts received from loved ones
Children's art/school work
Travel mementos
Inherited family heirlooms
Trophy's/Medals
[bctt tweet=" Take pictures of your memorabilia then let the clutter go." username="photoorganizers"]
Follow those steps to make the most of your memories with photos.
Sort through your items and place them in categories. By placing the items into categories, you will get a better idea of the photo book/folder you would like to create.
Let go of any items that don't bring you happy memories.
Take a picture of the items.
Tell your story. To your children it might only be an apron. To you it is the apron, your grandma wore every time she baked your favorite pie. That is the story you want to tell. Don't be afraid to use sights and smells. A great bonus would be if you can find a picture of grandma in the apron.
Organize your story for each photo in a binder or on your computer.
Upload your photos/story in a folder on to your computer or to your favorite website for making photo books.
Make a photo book or store the pictures on your computer and enjoy your memories!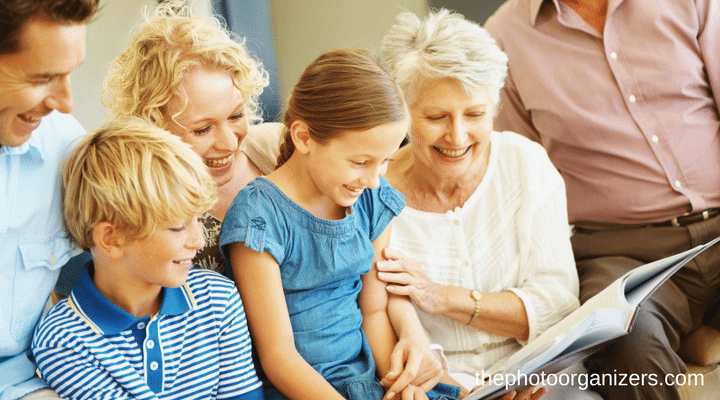 Now you have a beautiful way to tell your story and share your memories without all the clutter. You are more likely to reach for this photo book and then go through all your belongings in your basement. Now you can let those items go and make memories with another family.  You can be happy to know you have lifted a significant burden from your life by creating a great keepsake for your family.
---
If you need help organizing and preserving your lifetime of photos, videos and keepsakes, find a photo organizer near you at the Association of Personal Photo Organizers.
---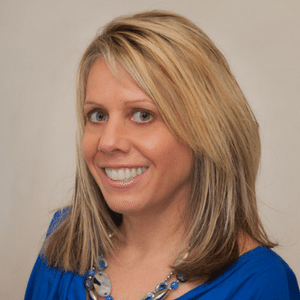 Lisa Bianco is the owner of Picture It Organized STL, a Photo and Residential Organizing Company. She is a Certified Photo Organizer and a Professional Organizer. She is a member of the Association of Personal Photo Organizers where she serves on their Advisory Board. Lisa is passionate about calming the overwhelm people feel when it comes to managing their irreplaceable memories. She wants to make sure your photos will be enjoyed for generations to come.