When she was nearly three, my daughter Ainsley left a camera out in the rain. I had given her an old point and shoot to play with, and it didn't make it back inside one afternoon. Chalking that up to #momfail, I decided it was time to get her a camera of her own. I couldn't wait to see what would catch her eye. For her third birthday, she received a kid-proof Vtech Kidizoom digital camera, and we embarked on her own memory keeping journey.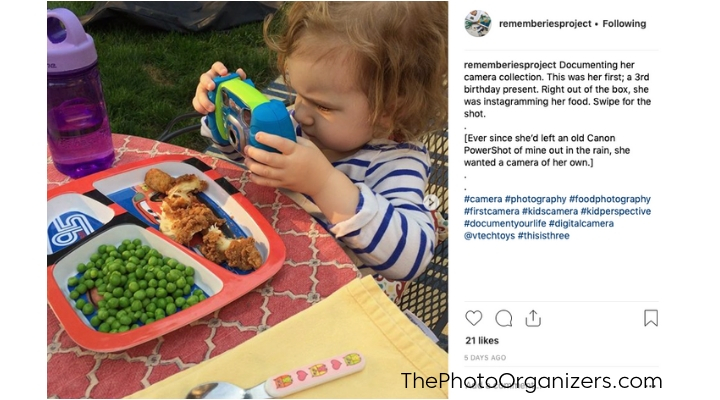 I have been making family photo albums and books for years and ramped up production once I had Ainsley. A photo book for each month of her first year, albums from every vacation, funny compilations (one is titled, Shhh You'll Wake the Baby)…but as Ainsley grew and became more communicative, I realized that these albums were her childhood from my perspective. What about hers?? She's the one in the thick of it! And her joyful, unjaded, and perceptive outlook on her world was something I knew I wanted to capture.
Taking Photos
The first photos she produced from the Vtech camera were what I'd imagined, shots of what was important to her — toys, people, her favorite show. Blurry, since it's hard for a toddler to hold a camera steady. There were also some gems, like the shot out of the rear windshield of her babysitter's car. She was still in a rear-facing car seat, so this was her view every time she was in the car. A little detail, to be sure, but a big part of her everyday life and a beautiful perspective I never squished myself into the backseat to experience.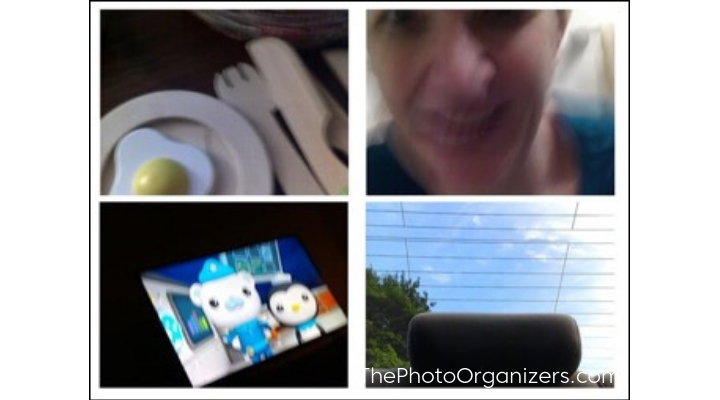 Just a year after she got her kid-proof camera, it was time for an upgrade. With a Florida vacation upcoming, for Christmas when she was four, we got her a waterproof Nikon S33.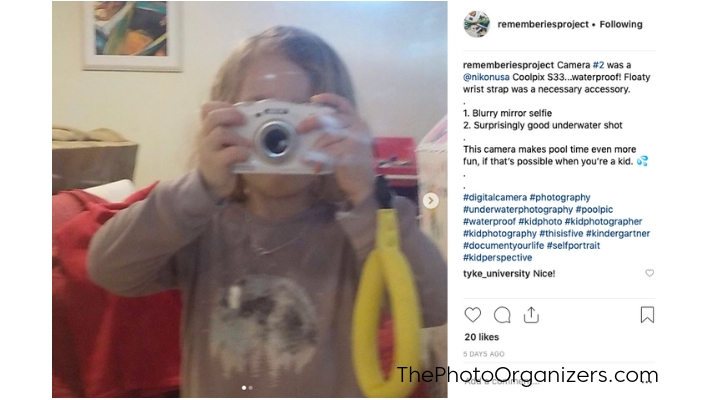 A fantastic choice for kids, this is a workhorse camera that also takes video. Underwater stills and video from a pool are so fun to have; we'll be keeping this one around for a while. I definitely recommend getting a floating wrist strap.
This past summer, we had a family vacation planned with lots of cousins. In line with my kids' memory keeping angle, I planned a travel journal activity they could work on during our week in South Carolina. Along with lots of journaling supplies and embellishments, I got a Fujifilm Instax Mini 9.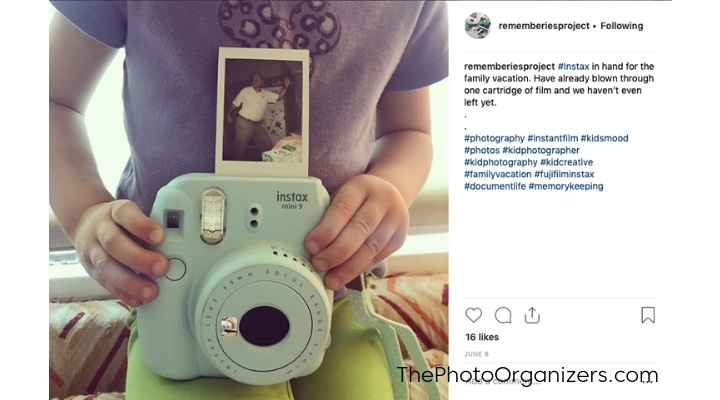 Simple enough for a six-year-old to master quickly, this became a great addition to Ainsley's camera collection (though we did have discussions about just how many selfies we needed when the film was kind of expensive…). Now that she has digital, video, and trendy options, getting Ainsley to shoot photos of her life is no chore at all. The two cameras (we gave away her first one) are accessible to her all the time, and she is now savvy enough to remember to make sure her digital one is charged before we go on a trip.
Editing Photos
Ostensibly the most important part of memory keeping and photo organizing, we have to do something with all these photos. Periodically, or especially after a trip, I'll sit down at the computer with Ainsley to download and edit her photos. There is a separate folder for her pictures in my Photos app, and Apple makes it easy to select favorites: "heart that one, Mom!"
We talk about what makes a good photo and why we don't need to keep all of them. I let her make her own decisions though; what I think is a blurry shot that could be deleted has special meaning to her, like this one of twinkly lights at dusk in Florida.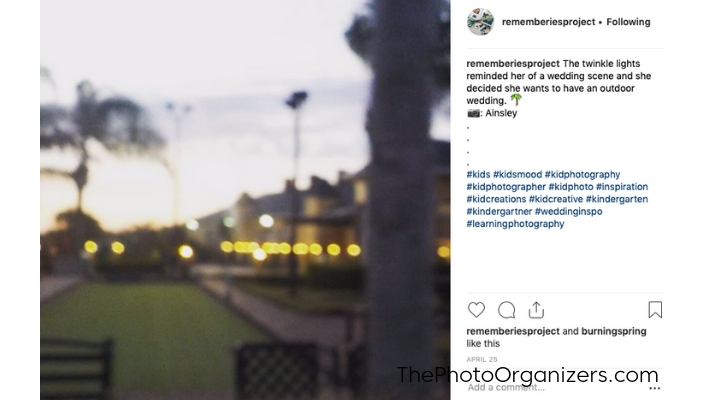 It's her story about why she took this photo that makes it special, and this is information that I make sure to capture as we are editing photos. A simple title or caption usually does the trick.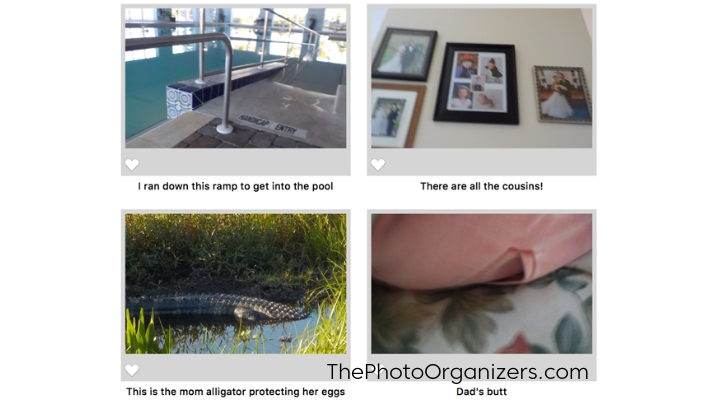 [On a side note, I like to do this with her artwork and schoolwork as well. Don't miss the two great APPO blogs about saving your kids' artwork – here and here).]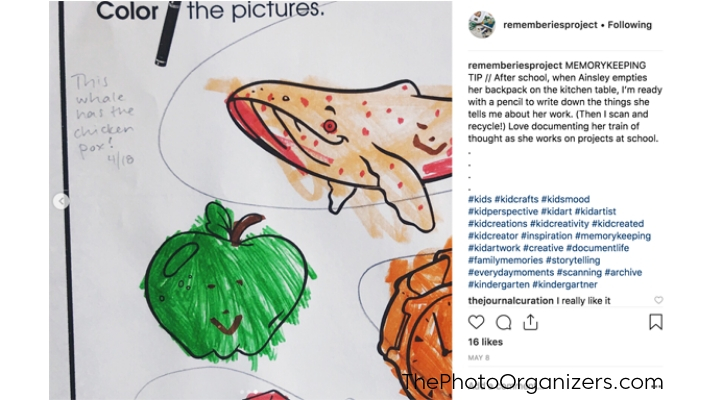 Sharing Photos & Stories
It is so important to get photos off of devices and into our families' lives, along with the related stories. Read this APPO blog post, about sparking joy with family photos, and the emotional benefits for kids.
We have found fun ways to display her photos around the house, including hanging Instax prints in the living room, setting up a digital frame in her bedroom, and decorating her room with vinyl wall decal photos.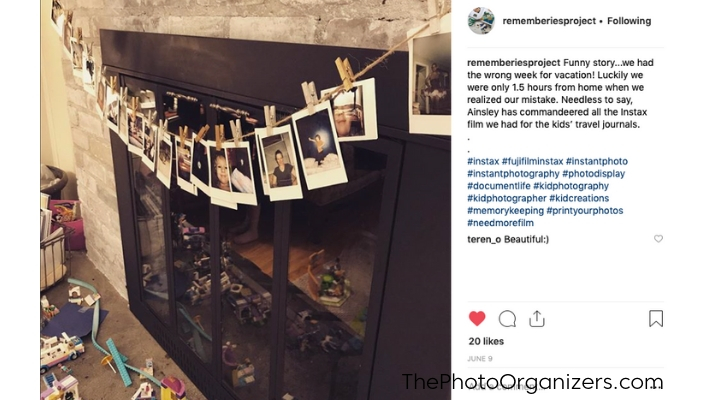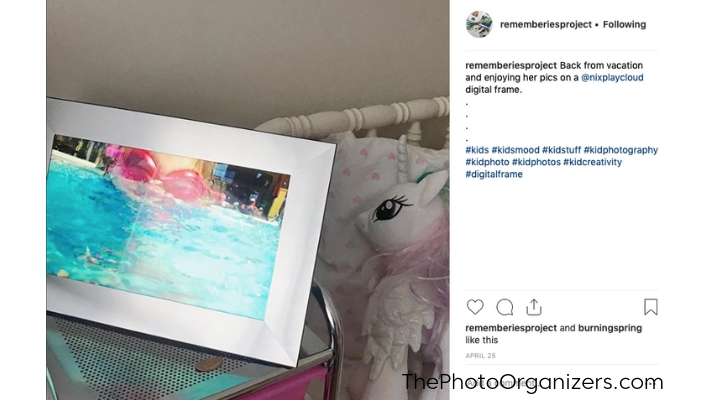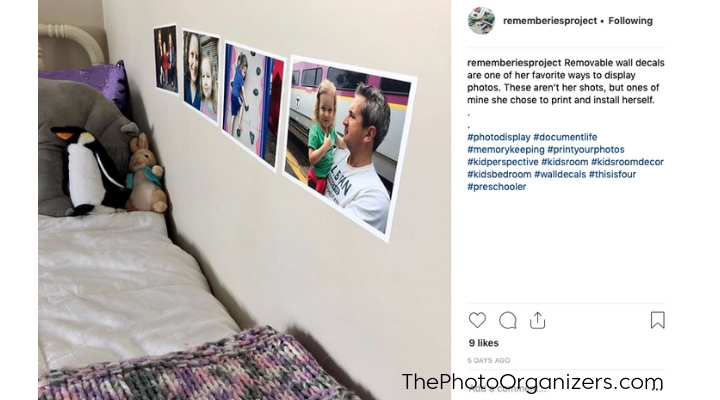 But it's the stories that I'm really after, and that will be the real treasures in the years to come. Any family photo book that I make, I now include her perspective, from helping me choose photos to adding her narrative of a vacation or event. We make little scrapbooks for her Instax photos from whatever supplies I have on hand. It doesn't have to be fancy, it just has to capture her voice.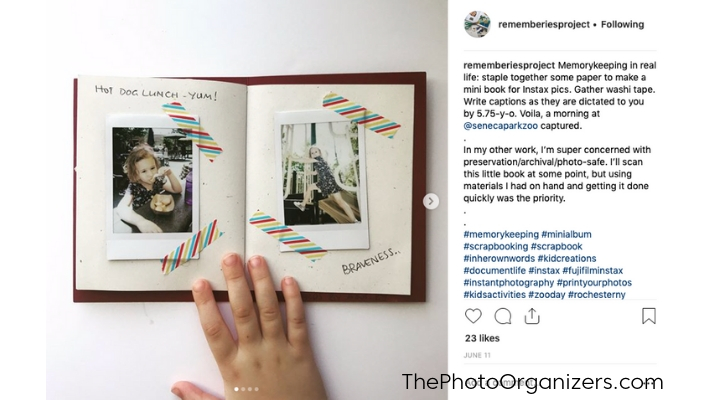 And of course, speaking of voice, it goes without saying that I make an effort to record videos of her, especially doing everyday things – playing Legos, telling me about a YouTube video, reading a book, climbing around a playground. Saving, editing, and sharing those is a whole other blog post! We all know that childhood flies by; make sure you pause long enough to document your kids' experiences, in their own words.
---
---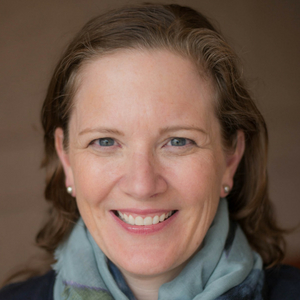 Memory keeping since she was a kid, Kate Jacus graduated from making vacation scrapbooks to earning a master's degree in Museum Studies and jobs at two Smithsonian museums. After a decade in the museum world and another in corporate marketing, she founded The Photo Curator, LLC, to help families and businesses preserve their collections and design their legacies. Her favorite side project is memory keeping with her 6-year-old daughter. Follow along at @rememberiesproject and @katejacus on Instagram.
---