Are you overwhelmed by all those construction paper, glitter-covered treasures your kids bring home from school? Organizer Lisa Bianco of Picture It Organized STL shares several fun and simple ways you can preserve and finally enjoy your children's artwork.
Simple and fun are not what we usually think of when we try to organize our children's artwork. It seems the only thing these wonderful creations are creating is overwhelming clutter. With these simple ideas you can implement right away, your children's artwork will once again bring you the joy you felt when you first laid eyes on it
Those precious works of art with their handprints and special sayings of "You are the best MOM EVER!!" are masterpieces we can never seem to part with. Seeing all those piles can be overwhelming. You don't even know where to begin to tackle this project. If you have children it's a common problem we share; their artwork is everywhere. I have great news for you! There are now several programs that have been created to help you keep the memories and not all the clutter. These phone apps and companies do most of the work for you.
They don't do all the work; a little prep work is involved beforehand. Follow these simple steps to bring enjoyment to your memories.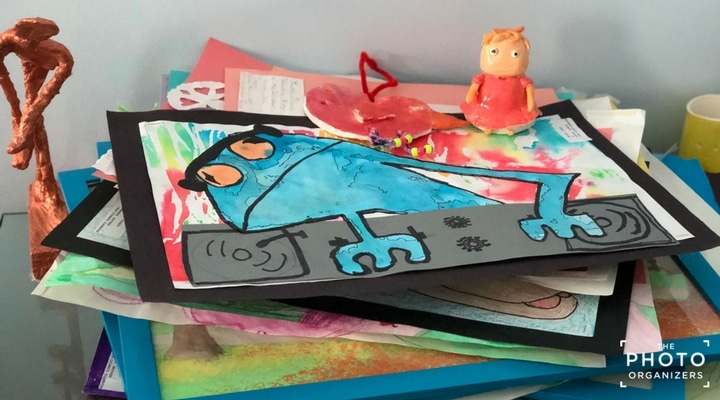 Organize Your Children's Artwork First
If your children are grown or if you have older children still in school, you will first start by organizing the artwork you already have. To make it fun, do it with your child. I am sure there will be laughter and some tears reminiscing.
Gather all the artwork together in one place.
Pick out only the BEST pieces. To do this, set boundaries. Put a limit on how many you are going to keep. Let go of anything that doesn't fit into the guidelines you created. Some examples would be to only keep handprints, self-portraits, and personal thoughts.
Place into categories. They can be broad if they are not labeled. For example, you can have; Pre-School, Elementary, Middle, High, Special Art Projects.
Let go of the items that hold no meaning to your child and you.
Ask yourself "Is this piece touching my heart?"
Make the Artwork Digital
 The artwork needs to be digital to take advantage of these programs.
Take a picture: This is your best way to digitize since the artwork usually involves glitter and is oversized. For best results, place it near a window to use the natural light.
Scan: This is also an option if you have a large or book scanner. You can also use the scanning apps on your phone.
Enjoy & Share
Now the fun begins! There are several ways you can bring your artwork to life. Here are the most popular methods and apps. Do your research and do what will work best for you.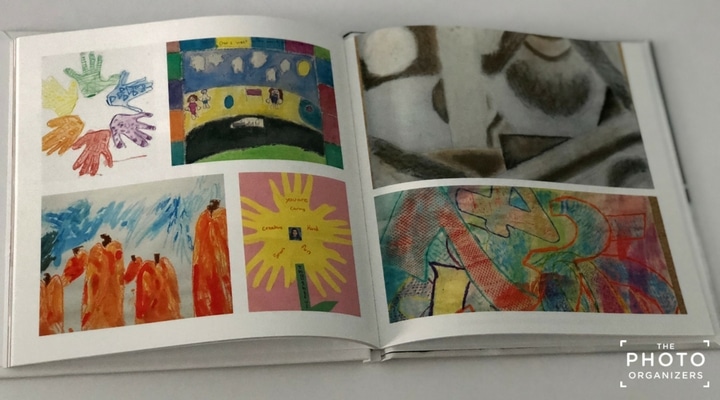 Photo Book
You will be amazed at how many boxes of artwork can now fit into one small book. They are simple to create.
Go to your favorite site you use to make photo books.
Upload your pictures. A fun thing to do is to take a picture of the child holding the artwork.
Add any rewards they have won.
Make the book into chapters from the categories you have created.
You can also journal your praises for the piece.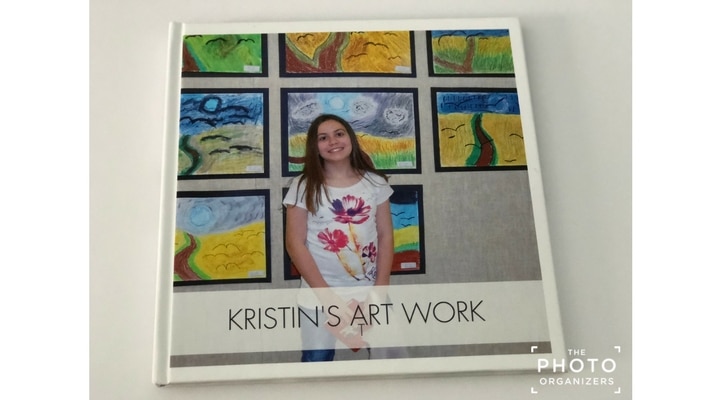 Artkive
The great thing about Artkive is they will do everything for you. You send in your artwork, and they will organize, scan and make the book. Since they price it by pieces, you still want to do the organizing step and send only the best. The photo books are nothing fancy, but if you don't have the time to get it done, this is a better option for you. The photos can be uploaded from your computer or an app on your phone. You can personalize the pieces with names, dates, and notes. You can create a 'share circle' to share with family members.
Keepy
Keepy offers a fun feature of adding a video or voice for your child to talk about their work. They also have a simple organization method. You enter your child's birthdate, and it will automatically organize into their age. Keepy is an app, so the artwork needs to be on your phone. You can add 'fans' to share with friends and family.
To keep it all organized it would best to create a plan. Set a date on your calendar to keep up with incoming artwork. Now you can celebrate, enjoy and share with family their masterpieces stress-free.
What is your favorite way to preserve and enjoy your children's artwork?
---
If you need help organizing and preserving your lifetime of photos, videos, and keepsakes, find a photo organizer near you at the Association of Personal Photo Organizers.
Don't forget to grab your copy of Photo Organizing Made Easy: Going from Overwhelmed to Overjoyed from APPO founder Cathi Nelson.
---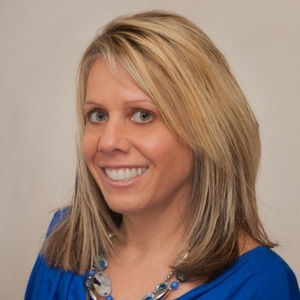 Lisa Bianco founded Picture It Organized STL in 2013. She is a Professional Organizer and Certified Life Coach. She receives great joy by helping others feel less overwhelmed. Whether it is by organizing their photos, home or life, her mission is always the same, to bring calm and clarity into her client's lives.
She wants you to enjoy the peace of mind that comes with owning less so you can live more.
Always looking for business and personal growth, she is involved in her local business community where she is a speaker, workshop and retreat facilitator.
Lisa lives in O'Fallon, MO with her husband and has two children. She loves to travel, yoga and being outdoors; preferably by a beach.
---