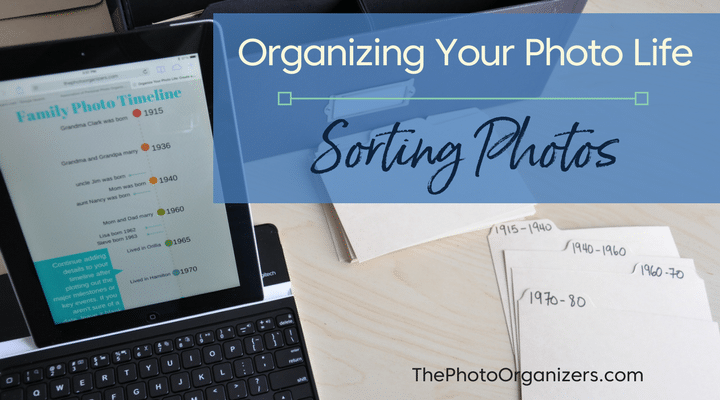 Recently I heard from photo-expert Julie Kessler of Picture This Organized with a strategy for sorting through a large collection of photos.
Julie reminded me that the sorting process is something you will do more than once, perhaps 2 or three times as you work through your collection. As I begin, I'm looking at this step as a 'pre-sort'.
Now that I have created a timeline, I'll use that to make some markers or dividers that I'll use to divide photos into piles.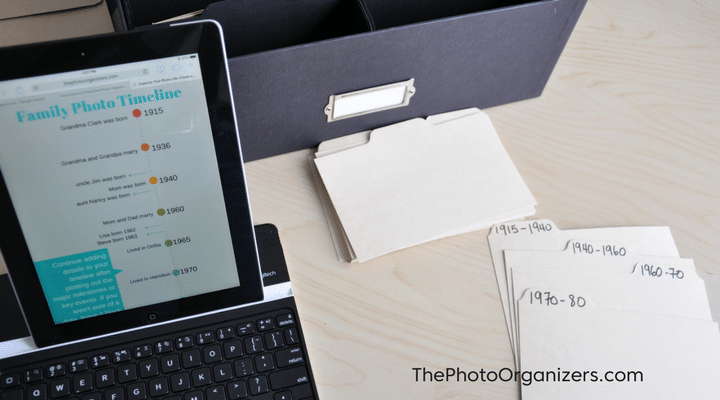 In this case I am using the dividers from the sort box that I will be storing these photos in, but you can also use sticky notes for this process if you aren't ready to commit a title to your dividers.
I've laid out the dividers on a worktable with enough space in between to 'pile' my pictures. This is a step you want to do quickly so give yourself room to spread out so you don't have to concentrate on neatness.
[bctt tweet="Key players in the photo sorting process are piles and your trash can! #photoorganizing" username="photoorganizers"]
And the other major player in this process is my garbage bin! While I'm putting photos into their correct decade I will be discarding photos that won't be staying in my collection. These photos are of people I can't identify and any photo that doesn't have a person in it, unless it's relevant to my family story.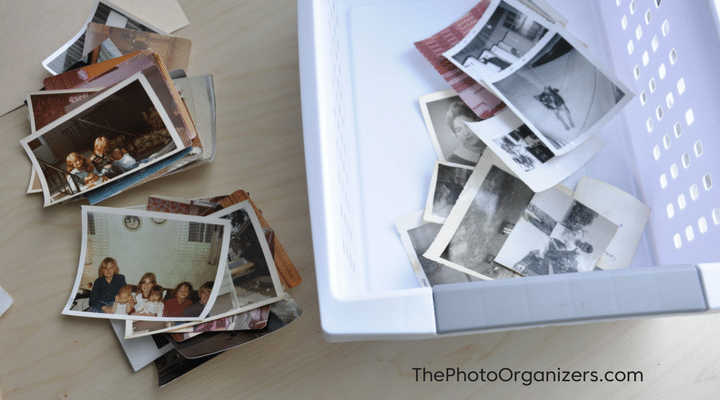 A few key things to consider
Use the '2 second' rule: As you handle your photos don't linger or reminisce. There will be plenty of time for reminiscing later. Don't hold your photo for any longer than 2 seconds, or the time it takes to determine it's pile.
Be gentle, wear gloves: Your older photos may be delicate and all your photos are susceptible to further deterioration with residue from your finger tips. Wear your cotton gloves anytime you are handling your photos.
Set a timer: This can be tiring work, so set a timer for 1-3 hours maximum and give yourself time between sorting sessions.
Don't stress the details: For now, we're getting photos into decades! As we narrow down our timeline in a later sort, we'll focus on the finer details.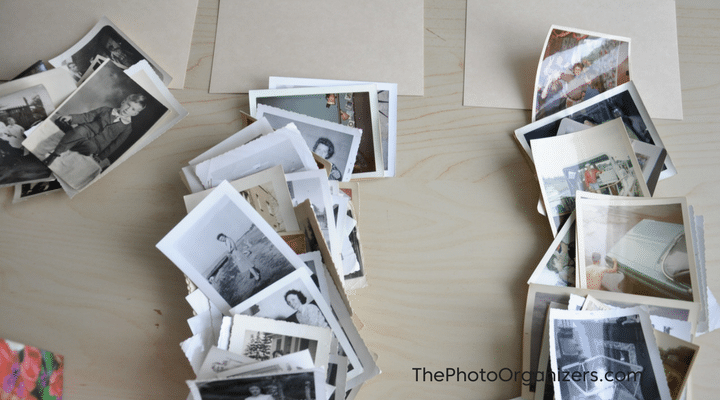 Are your ready to start sorting? Let me know your questions or comments below.
Organize Your Photo Life Series
Organize Your Photo Life: Take an Inventory
Organize Your Photo Life: Working with Heritage Photos & Albums
Organize Your Photo Life: Create a Family Timeline
---
---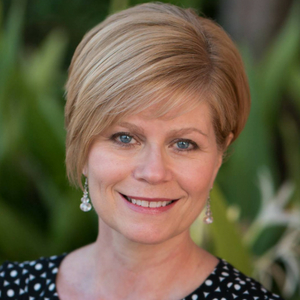 When Lisa Kurtz lost her mother, grandmother, aunt, and uncle in three years, she was left holding a box of unidentified photographs with nobody to ask about them. Lisa embarked on a lifelong quest to discover and preserve her mom's story, for herself and her kids, which led her to a career in professional photo organizing. Today, Lisa is the Founder of Pix & TALES with her daughter and together they help busy moms manage their pictures and tell their family stories. 
---