Boxes and bins full of unorganized printed photos. Digital pictures that are impossible to locate on computers and phones.
We've all experienced the disorder at the start of a photo organization project.
As I work with clients at the beginning stages of photo organization, we focus on bringing order to the chaos. Our initial goals are twofold: We start by helping them make sense of what they have, and then we create a system of organization, so they no longer feel overwhelmed.
Helping clients get their photos out of those bins and boxes and on display is even more rewarding. Groups of photos can tell a compelling story, whether they're in simple photo displays or more complex albums.
My own favorite photo projects – and those I most enjoy helping my clients with – are albums, slideshow videos, and creative displays around my home. Each project tells a story in its own unique way.
Photo Displays Around My Home and Office
With my family now spread out across the country, it's important to me to have my photos out where I can see them. This helps me feel closer to my kids as I see reminders of times we've spent together. Thankfully, there are so many options available to help us get our photos out of boxes and on display.
Using groups of frames is a simple way to display your memories. I may frame all black and white photos of each of my kids' weddings, favorite childhood Halloween costumes, or Christmas memories. I also like to group framed photos of vacations, along with memorabilia purchased from a place we visited.
For more involved printed photo displays, I've created photo collages in frames and wall displays. We share more photo wall gallery ideas in this post.
I also like to display photos in Keepsake Boxes from Artifact Uprising. This one was a gift to my daughter and her fiancé՛ with her engagement photos inside.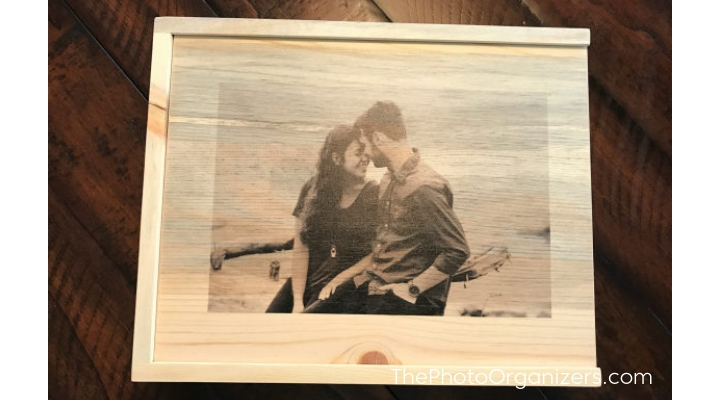 To display my digital photos, I set an album of images to scroll on my computer screensaver or use a digital frame. NixPlay makes my favorite digital frame, and it's the brand I recommend to my clients. They are easy to set up and available in a wireless version.
I also like to share my digital photos with my family online. Using private sharing sites like Flickr and Apple's iCloud, group members can view folders and albums, then privately like pictures and add comments.
[bctt tweet="Our favorite #photo projects are ones that allow you to share your family's precious memories." username="photoorganizers"]
Sharing Family History and Travel Stories in Albums
I also love photo books. With an album, you can combine pictures, memorabilia, and journal entries to tell a compelling story.
The first project that kindled my interest in helping others with their photos was a "This Is Your Life" album my siblings and I created for our dad's 80th birthday. The next year, we created a Family Legacy Album for our mom's 80th.
Since then, I've helped my clients tell their travel stories in a series of photo books. You can view these and other albums on our gallery page.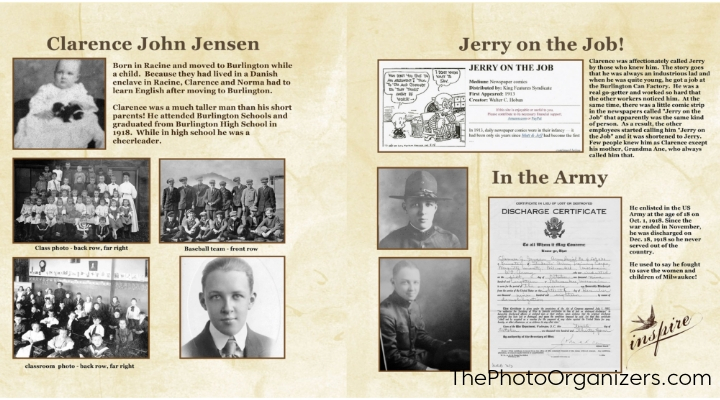 In my albums, I always try to include:
Photos of people, places, and things (i.e. photo files of historical artifacts and memorabilia like pamphlets, tickets, or certificates).
Stories that depict historical moments, like how that person made a difference in history or society, or how he or she changed the family legacy.
Things you don't want to forget, new places to eat, new experiences, and even trip mishaps that can be funny to recall later.
Celebrating the Happy Couples in Slideshow Videos
All three of our children got married in the last two years, which means I gained quite a bit of experience creating photo slideshows! I loved sharing the story of the lives of each couple in their rehearsal dinner slideshow videos.
During the slideshow, all the attendees got to see the bride and groom's life journeys in pictures. From baby pictures through childhood and the awkward teen years, the photos show how their families evolved. We included pictures showing how their lives intersected, then closed the slideshow by highlighting and honoring friends and family that are close to them now.
Even without text, the pictures set to music tell a compelling story and serve as a keepsake for the couple and both families.
You can view the slideshow for our daughter Molly & Michael's wedding rehearsal on our website gallery page.
Taking Your Photos Beyond Organization
While I enjoy helping others find relief by organizing their photos, I don't want my clients to miss the satisfaction that comes from seeing their pictures on display and remembering the stories those images tell. My own favorite photo projects serve as motivation and inspiration as I work with each of my clients to help them reach their own photo goals.
---
If you need help organizing and preserving your lifetime of photos, videos, and keepsakes, find a photo organizer near you at the Association of Personal Photo Organizers.
Don't forget to grab your copy of Photo Organizing Made Easy: Going from Overwhelmed to Overjoyed from APPO founder Cathi Nelson.
---
 Julie Kessler is the owner of Picture This Organized, a full-service photo management company that helps families organize their life treasures so they can share their life stories. Since 2013, Julie and her team have provided high quality products and premium services, helping their clients with digitizing prints and movies, print and digital organizing, luxury photo albums, and ongoing support of collections. Find out more at picturethisorganized.com.
---