by Jessie G Campbell
My hobby of choice is quilting.  I love the concept of a handmade gift that can be treasured, and ultimately as a legacy for generations to come.  Of course, it was only a matter of time when technology and quilting would come together in happy harmony, and there are options to incorporating photos into quilts.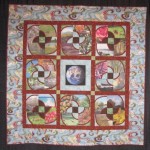 Often, when people think of quilts, they think of a gift from a grandmother, made with love that helped keep them warm at night.  Over the years, the art of quilting has evolved, and now in addition to being found on the bed, quilts of all sizes are displayed on walls as a representation of a family's style, history, or interest.
With that in mind, when considering how you can use photos in a quilt, the way I like to look at the quilt is that it is simply a textile album or "fabric-framed" photo collage that may hang on a wall or lay on a bed.
As with any album or photo collage, you want to plan the theme of the photo quilt, but there is no reason to be limited by any preconceived notion of what photos are appropriate in a quilt.  As with an album, you are also free to use text in the quilt to "caption" the photos.  A personal historian note – if you decide not to incorporate text into the quilt's design, be sure to include an explanation of the photos on the back of the quilt on the label, so that future generations will understand and appreciate the significance of the quilt.
Some photo quilt ideas include:
Wedding Guest Quilt.  Like a photo guestbook, the quilt has pictures of the bride and groom, and the guests sign their happy wishes.  Or if the couple wants to use wedding photos in the quilt, the guests can sign precut pieces or pre-made "signature" blocks that are later incorporated into the quilt.
Family History or Tree Quilt.  Like a family tree, the members of the family are represented by photos rather than names written in the blank.  Or a school year quilt, where you use the school photo from each year of school – the college-bound student may be a little embarrassed, but what a fun idea!
Anniversary Quilt.  This is quite popular within the quilting community, and the photos are from throughout the couple's happy marriage.  Like the wedding guestbook quilt, you can collect stories of the couple and incorporate within the quilt.
"Interests" Quilt.  Like a photo album, the quilt represents a hobby or interest, such as travel.  The photo is of a quilt entitled, "What a Wonderful World."  It was created specifically for the "Wonders of the World" juried exhibit, sponsored by Quilts, Inc., but I wanted it to represent my love of the simple things in life found every day from nature.
As with the photos used, there is no reason to be locked into a preconceived notion of what quilt block or design you can use – yes, photos tend to be in rectangular shapes, but there is no reason they need to stay in rectangular shapes on the quilt.  In the quilt, "What a Wonderful World," I adapted a pattern from "Easy Bias-Covered Curves" by Wendy Hill, so that the photos would take center attention.  Let your creativity flow!
If you are a quilter, there are a number of tutorials available both in print and video format that explain the "how-to" as well as the best tools and products to use when creating a photo quilt.  If you are not a quilter or would prefer to delegate the project to someone else, your local quilt shop will be able to connect you with an area quilter who can be commissioned for the project.
Do you have a great idea for a photo quilt?  Share them in the comments!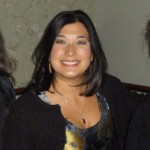 Jessie G. Campbell is a Personal Historian specializing in creating heirloom print and quilt products for life's milestones, including weddings/love stories, baby stories, vacations, and family yearbooks. She is the owner of Historie de Vous. She is a member of the Association of Personal Historians and the Association of Personal Photo Organizers.