Guest Blogger Lisa Brueggemann of Picture Me Organized shares why hiring a photo organizer is a great option to bring damaged photos back to life.
If you have photos that have been damaged in a sudden disaster or simply ravaged by time, don't despair. There are more restoration options available than ever before.
Photo Restoration Software & Apps
When your printed photos are scanned to digital files, software programs like Adobe Photoshop and Lightroom or Macphun's Luminar can work wonders to repair torn, faded, or discolored images. There are even some free software options, such as: GIMP (GNU Image Manipulation Program), Pixlr, Sumopaint, and PicMonkey to name a few.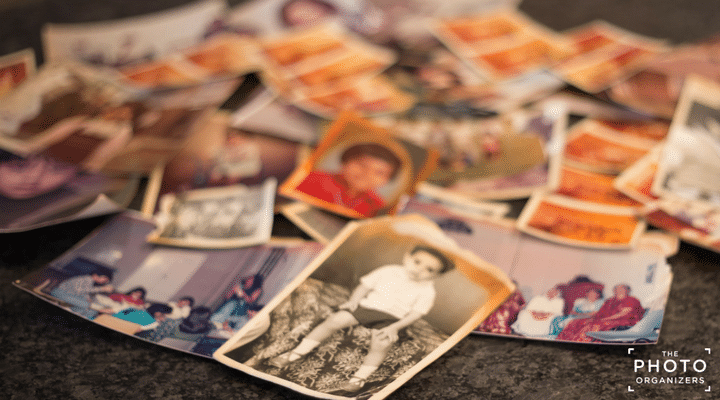 Damaged Photos Restored
When fire destroyed the home of the Changela family more than twenty years ago, they sifted through the rubble to recover a stack of significantly damaged photos. The snapshots were the only documented memories of their native India and family that had been separated by continents. This month, while working on organizing more recent pictures, they discovered the damaged photographs and began looking for a solution to salvage them. Professional photo restoration is a valued service, however, it can be quite costly. Ultimately, to restore their 500 photos a more cost-effective solution was needed.
After the photos were professionally scanned on a Kodak PS80, they were minimally color corrected using EZ Photoscan software. The scans were then imported to Adobe Lightroom for further cropping and restoration. The singed edges were removed, the creases and tears were healed, and the faded colors were corrected. The family memories were brought back to life.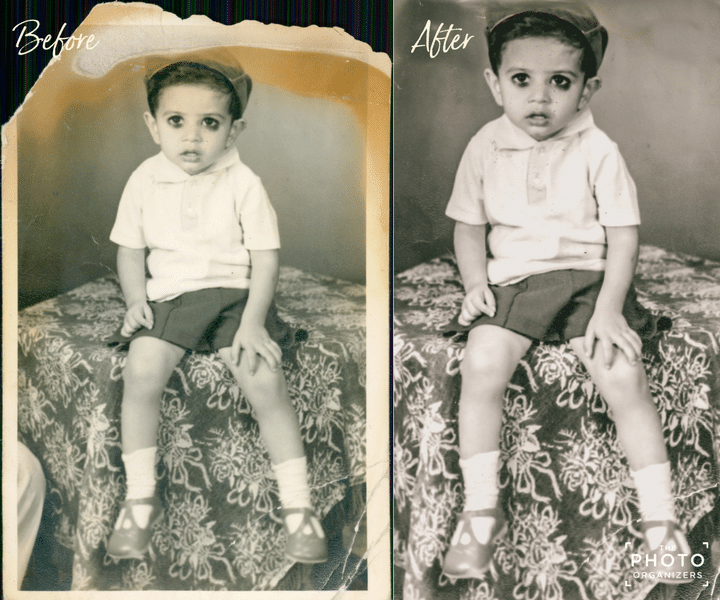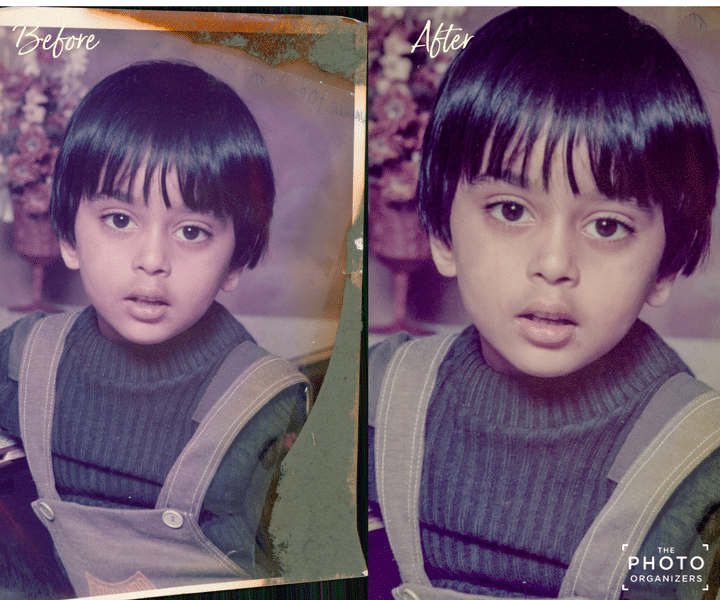 A collection of cherished memories that were near ruin and tucked away for two decades were finally uncovered and repaired so that they could be shared and enjoyed. With the restorations complete, the family has a video that they have shared on the internet (via Vimeo and YouTube), allowing them to connect with family in several countries on three continents. They have begun the task of collecting family names and connections and recreating a family tree with photo memories that might have been lost for good.
The Changela Family – 360p from Picture Me Organized on Vimeo.
Need Help Restoring Your Damaged Photos?
If you have special photos that are in need of repair, consider enlisting the help of an APPO certified personal photo organizer. Even photos torn in half can often be put back together. A significant benefit to using non-destructive programs like Lightroom or Photoshop is that your original files will not be altered, and as technology improves, there will be even better options down the road. One thing to keep in mind is that damage to photos by children or pets is four times as likely as by fire (source: GfK North America), so the best advice is the old adage: an ounce of prevention is worth a pound of cure.
---
If you need help organizing and preserving your lifetime of photos, videos and keepsakes, find a photo organizer near you at the Association of Personal Photo Organizers.
Don't forget to grab your copy of Photo Organizing Made Easy: Going from Overwhelmed to Overjoyed from APPO founder Cathi Nelson.
---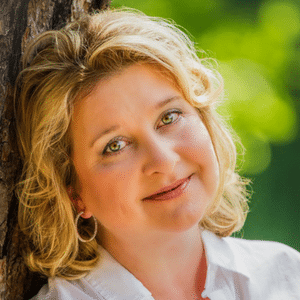 Lisa Brueggeman is a certified professional organizer and owner of Picture Me Organized in Davidson, North Carolina. Her passion is at the intersection of photography and storytelling and she loves to help her clients find ways to conserve and curate their own photo memories. Prior to becoming an entrepreneur, Lisa enjoyed a 20+ year career in the world of non-profit: fundraising, marketing, copywriting and website development for a variety of nonprofits. The love of her life is her childhood sweetheart; she adores her two amazing children; and she is devoted to her Appaloosa, mini-Holland Lop, Greater Swiss Mountain Dog and Labrador Retriever. She loves photography, travel, gardening, horseback riding and credits yoga with helping her maintain the balance life requires.
---