In the second installment of this three-part series, Lyn Jackson of Every Story Media explains the importance of preserving family stories, values and traditions. Learn how to get started with your and why a family legacy video is the best way to save lives and connect generations.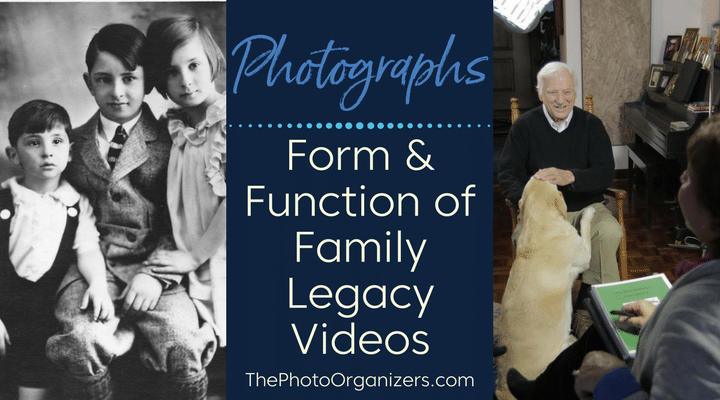 Want to produce a family legacy video but don't know how?
Start with your photos.
Photos are a crucial element of a family legacy video, or any personal, family, or business history video.
Start With Photo Foraging
Photos spark memories that you'll want to use in your videotaped interview. Flipping through the photo albums or digging through the photo boxes is a terrific and fun way to start the process of capturing and preserving your family stories and creating your family history video. Looking at photos is a sure-fire way to instantly time-travel back to the time and place the photo was shot. Once there, "jump into" the photos to reconnect with friends and family, and re-live the experiences pictured in the photographs.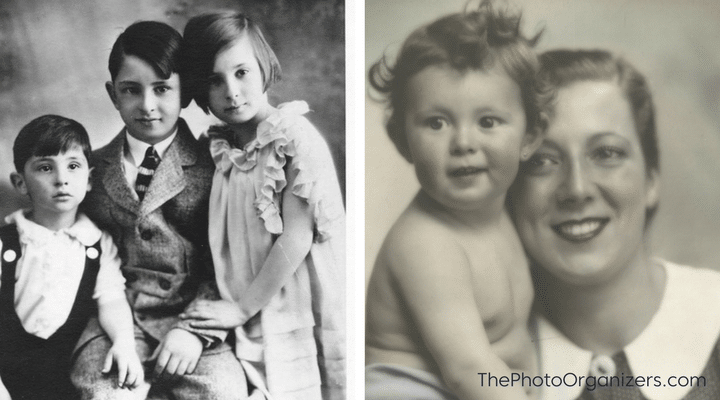 Taste Your Grandmother's Fried Chicken
Sometimes when we pick up an old photo, we actually remember how we felt on that particular day; hear the laughter, smell the hotdogs on the grill and even taste the farm fresh tomatoes, sweet watermelon and salty deviled eggs at the family reunion. So take a walk down memory lane and at the same time, start sorting old photos into events like childhood, marriage and family, and career. If it's easier for you, arrange your photos by years, by people, or in any way that makes the most sense for you and your family.
[bctt tweet="Photos are a crucial element of a family legacy video. @everystorymedia " username="photoorganizers"]
Finally Find Uncle Albert!
As you're exclaiming over the holidays you loved as an 8-year-old, trips you took as a teenager or family reunions each summer, think about the stories behind the pictures. Jot down essential notes that you can use during your interview. At the same time, also identify and document each photos' origins; who's in them, where and when did they take place and what's going on at the captured moment? You might just find Uncle Albert and finally figure out who he is!
Discuss the family traditions and experiences that are most important to you and your family, and how you'd like to showcase these moments as part of your video.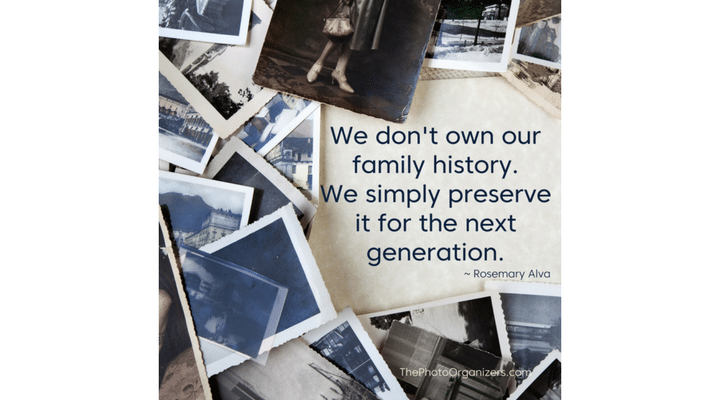 Highlight Key Moments
Which stories are the most compelling, funny, and essential to your family, personal or business history? Which are the most important for you to preserve? Prioritize the stories and the photos that go with them. If you're comfortable using a photo scanner, add this step. If not, hire a professional photo organizer to help with this part of the process.
It's OK to start small. Accept that it is not possible to do everything all at once.
Make sure you keep all of your preliminary, documented work, and photos or recordings organized and in one place.
Appreciate the Benefits of Family Legacy Videos
Preserve and connect with the family history, values and traditions of your loved ones as you tell their stories and your own.
Share laughter, smiles, emotions as you relate the stories of your life remembering the joy you'll bring to children, grandchildren, great grandchildren and beyond.
Understand your roots from a different perspective. Develop a new appreciation for and understanding of the struggles your family members may have faced and how they overcame their challenges.
Take pride in who you are, where you came from, how, and from whom.
Cherish this greatest gift, an heirloom like no other that connects generations forever.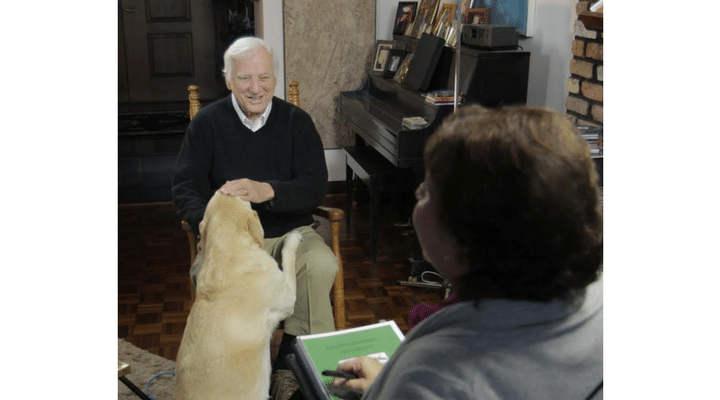 Hire A Professional
We encourage you to work with a professional interviewer and video producer so your stories aren't lost or forgotten. This adds an element of accountability and ensures that your stories will be recorded in a broadcast quality family story that you'll be able to share again and again and pass on to future generations.
DIY Tool for Sharing Family History
If you decide to venture out on your own, we suggest the following.  If you don't have a dedicated video device, you can always use your cell phone. The sound might not be great, and the framing and lighting might not be ideal, but any preservation is better than no preservation – and something is better than nothing.
A Thousand Questions from Every Story Media on Vimeo.
Words from the Heart
Heed these personal, moving words from Sarah Jessica, about her late father,
"Here is what you should know: I got 23 years with my dad, and that was not enough. Forever, of course, is not enough—all of our parents leave us too soon. No one lives forever. I want you all to tell your kids your stories. Since I don't have my dad, here is what I wish I had: I wish I had his voice, recorded, preferably telling the kind of jokes and stories that my mom would scold him for. I wish I had video of my dad, doing anything. Most of all, I wish I had his stories. Let them videotape you – or videotape yourself – and if you can, videotape your parents. I beg of you. Please do this for your children."
Sarah Jessica speaks from the pain of having lost a loved one and about not having one gift that she would truly cherish forever.
Make sure your stories aren't lost to time! Start today to save and share your family history with a family legacy video.
---
This is part two of a three-part series.
Part one of series: The Ultimate Gift: Your Life – Your Family Stories. Why your family stories, values and traditions are the ultimate gift and why it's so important to capture and preserve these stories.
Look for part three of this series. Lyn Jackson explores why many experts recommend video as the best method to document your family history.
---
If you need help organizing and preserving your lifetime of photos, videos and keepsakes, find a photo organizer near you at the Association of Personal Photo Organizers.
---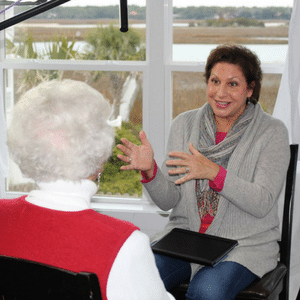 Lyn Jackson, founder/president of Every Story Media, is an award-winning journalist, former television news reporter/anchor and documentary and public affairs producer. Throughout her career, Jackson has focused on people and their stories and created Every Story Media – a boutique production company – to help individuals, families and businesses preserve their rich history and life stories on video.