by Caren Kimenker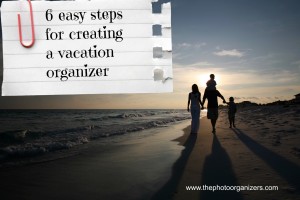 Have you ever gotten back from a vacation with all kinds of brochures, maps, ticket stubs and receipts that end up in a pile or envelope somewhere that you can't find when you need it?  Or have you ever tried to organize your photos into a memory album, and then can't remember what you did which day?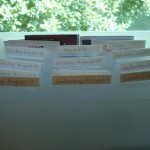 I have a solution for organizing all your vacation memorabilia and photos into one location, and you can get it set up before you leave the house!  Here are my step-by-step instructions on how to create your vacation organizer:
 Purchase a multi-pocket accordion-style plastic folder.  I got mine at Staples for under $10.  Make sure it has enough pockets for the number of days of your vacation plus a few extra for items I'll tell you about.  If you are going to be away over a week, you might want to consider doubling up dates in a pocket.
Starting at the front, label each pocket with each day and date of your vacation.  If you are doubling up, then label each pocket with two consecutive days.  Example: Friday, August 3; Saturday, August 4, etc.
Label two additional pockets "receipts" and "maps".
Place a 4×6 index card in each of the daily pockets for each person traveling with their name at the top plus one extra titled "What we did today".
Place the information about your reservations (plane, hotel, campground, rental car, etc.) in front of the first pocket. If you are traveling out of the country and need a passport, place those in this pocket as well.
Place maps of the area you are visiting in the pocket labeled "maps".
Here's how to use your vacation organizer while on vacation.
Each day of your vacation, place brochures, ticket stubs, post cards, and any other memorabilia you collect during your day in the appropriate date pocket.
At the end of the day, write down what you did and where you went that day on the "What we did today" card.  Ask each person traveling to write their thoughts and observations for the day on their index card for that day.
At the end of each day, place your receipts into the receipt pocket.
When you return from vacation, you will have everything you gathered along the way in one place, plus you will have a record of what you did and where you went.  If you like to print your photos, you can also put them into the appropriate date pockets.  Now, when you are ready to create your memory album, you will have everything pre-organized and you will be able to put the photos and the memorabilia in the correct order.  Or, if you decide to hire a personal photo organizer to make the album for you, you can just hand her your folder with everything organized and ready to be made into a beautiful memory album.
---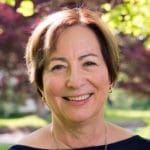 Caren Osborne is the Chief Memory Keeper at Memory Lane Photo Solutions in Andover, CT.  Caren is a member of the Association of Personal Photo Organizers and has been helping people preserve, protect, and share their photo memories and stories for over sixteen years.  She has a passion for helping others share their stories and create a legacy for future generations.  You can learn more about what Caren does on her Association of Personal Photo Organizers or contact her for more information at Caren@cskphotosolutions.com.