Don't think your story is worth saving? Photo Organizer Meghan Rosen of The Hodgepodge Girl believes everyone's story is worth keeping. Read her whys for preserving your family history.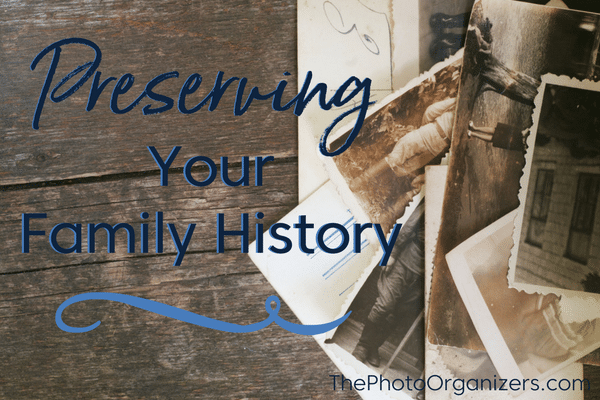 When asked about why I'm so passionate about preserving family photo legacies I have an easy answer. Your story matters.
If you're thinking, my story is nothing special, you are mistaken. There has never been another you and there never will. Your unique, wonderful family will not look the same next year. You won't look the same next year. Time moves so quickly. It's important to take this moment to preserve your history.
We are so lucky to live in this moment when access to technology has made it possible to preserve our photo memories so easily. In past generations, it was hard/expensive to even capture a single portrait.
We now have access to so many images we often feel overwhelmed.
A Personal Family History Journey
My own photo-organizing journey started with just such feeling. I was grief-stricken and overwelmed at how to share our family's memories.
After my grandfather passed away, I inherited the family photo albums. My grandmother was downsizing and didn't want the burden of 60 years of family photo albums to move and store.
I knew there had to be an easier way to share these treasured memories than just dividing photo albums. There had to be a way that we could all share them, protect them, and create a tribute to our family.
There is. It is now easy, efficient, and economical to preserve and share your family photos.
I cannot recommend strongly enough taking the time to get your family photos organized. It is life changing and life affirming.
In my grandparent's collection was a very, very old photo album that I was unfamiliar with. As it turns out it was an album of my great grandmother, Leonore, my grandfather's mother and it was a hodgepodge mixture of photo album and scrapbook.
Those photo albums lead to many family discoveries and conversations that would not have happened without my organizing those photos. I can honestly say that it made my family closer. When my grandmother died last year, I felt that I knew her and our family better. I knew myself better.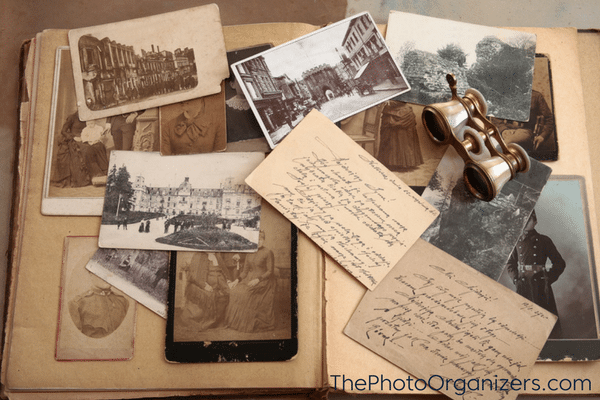 Preserving Your Family History is Important
We all have unique and wonderful histories hidden within our family photos. It is important to share that story and to preserve it for future generations
[bctt tweet="Preserving your family history matters because your story matters. #photos" username="photoorganizers"]
Saving, organizing, sharing your photos is work. It can be expensive. We all are short on time and money, why invest in these tiny slips of paper, these fleeting digital moments? Why not just live in the now and forget the past?
Preserving your family history matters because your story matters. It matters that you lived and loved and contributed to our larger history. It matters that you were a shy teenager with a bad haircut and a penchant for overdressing on camping trips…just me?
In preserving your family history you are strengthening the larger story of who we all are and how we got here.
Think of it as a giant family tree with each limb contributing to the beauty and uniqueness of the larger tree. Sharing our stories enriches not only our own lives but also the lives of everyone in the larger community.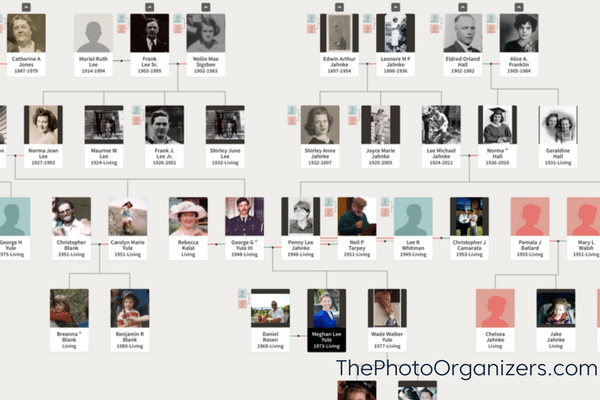 Seeing the Big Picture
A real-life example of this is the website run by an easier way to share these treasured memories. As each member fills in their known family information it leads to connections and information that had been unknown previously.  The tree continues to grow as each individual story is added.
Above is my own family tree. As you can see each photo leads to a person, a connection, a lifetime of stories. All these stories connect to make the history of my family, the history of me.
What would your family tree look like? What stories does it contain? How would attaching faces to the names and stories enrich your life and the lives of your family?
You are the only one who can share your story. The world, your family we all need that story to contribute to the larger story of who we are. Your story is vital to growing that tree.
Take the time today to share your stories and your photos.
---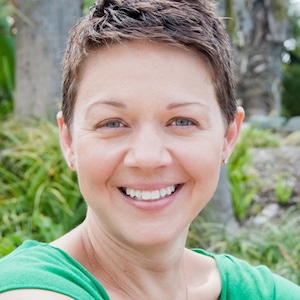 Meghan is a Certified Photo Organizer and owner of The Hodgepodge Girl. The Hodgepodge Girl's mission is to help families connect through their photos and create a photo legacy that can be enjoyed for generations.