"So long as the memory of certain beloved friends lives in my heart, I shall say that life is good." – Helen Keller
I remember his intent face. He stared at us, searching for a way to connect. Then the uncomfortable silence swallowed us. None of us knew what to say, how to continue the conversation. It was heartbreaking. My husband's grandfather Eddie struggled with dementia and Alzheimer's, so having meaningful conversations with him about his life became increasingly difficult as he aged. We wanted so badly to hear about his childhood in St. Louis, playing stickball in the streets and going to Browns games. But we would sit in silence, wondering what stories he could have told us before his memories faded.
Every year, countless loved ones struggle with memory loss. And as people live longer, the risk for developing Alzheimer's disease increases dramatically. That's why it's imperative that we find ways to connect with our family members and document their life stories before it's too late.
But starting feels daunting. For many of us, the mere act of writing a life story seems overwhelming. I mean, the term "life story" conjures up images of weighty memoirs and volumes of books. But it doesn't have to be that hard. It can be easy, if we take advantage of one of the most basic tools we all have: photos.
How to Get Started
Photos are one of the best conversation starters; they help us remember to remember.
According to the Alzheimer's Association, images can be used for "reminiscence therapy."  Simply put, images unlock long-term memories and help catalyze meaningful conversations. Old photos can stimulate the brain and open the floodgates of memory. All of a sudden, there is a conversation happening that you never want to end!
"Talking is typically less powerful than having something that people can look at, pick up and feel, says Professor Bob Woods, an expert in the clinical psychology of older people at Bangor University.
Reminiscence Therapy Prompts
Below are sample scripts – using unique photos as prompts – that will help you get a loved one reminiscing about their life.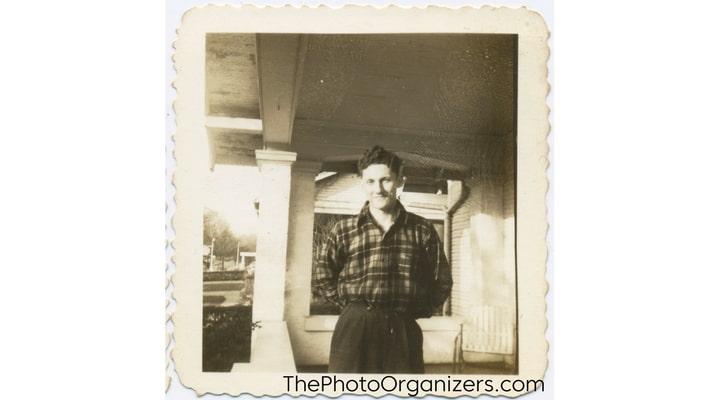 What do you think about this photo?
About how old were you when it was taken?
Where was this picture taken?
Was this your childhood home?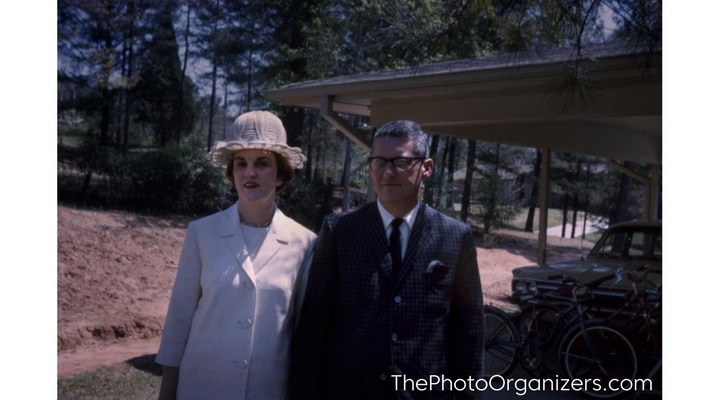 Who took this photo?
What do you like about it?
What do you remember about this time in your life?
Was this a special occasion?
As you'll notice, all of these are open-ended questions. These types of questions are low-stress and help you approach storytelling with patience. As you listen, you may be able to direct your loved one gently down a particular path of remembrance. For example, if my husband's grandfather had replied, "This photo was taken in the front yard of my childhood home," then we could have asked, "did you grow up there, what do remember about the house? Did you share a bedroom with your brother?"
Finally, Consider These Bonus Tips
Knowing who was behind the camera is just as important as knowing who was in front of the camera. So don't forget to ask who took each photo.
Ask about details. Mention something specific in the photo, such as an object, and ask your grandparent about it. "Grandpa, is that your Ford Mustang?"
Take time into account: By asking your grandparents about old family photos, you are on a journey with them. So you need to take time into account. Do not rush; gently lead the conversation.
One at a time is the way to go. Instead of overwhelming your loved one with an album, take time to cull favorites. Bring a handful with you and lay them out on a table one at time. Simply allow individual images to kick start memories.
Above all, keep in mind that this is a process. All therapy including reminiscence therapy requires a bit of perseverance and a lot of patience. You may need to take it slow, offering breaks between sessions. Memories can be positive or painful, so sensitivity is key as you work with your loved one to capture their life story. The outcome will be worth the effort because you'll be able to document family history and create a priceless heirloom that can be passed down to future generations.
---
If you need help organizing and preserving your lifetime of photos, videos and keepsakes, find a photo organizer near you at the Association of Personal Photo Organizers.
Don't forget to grab your copy of Photo Organizing Made Easy: Going from Overwhelmed to Overjoyed from APPO founder Cathi Nelson.
---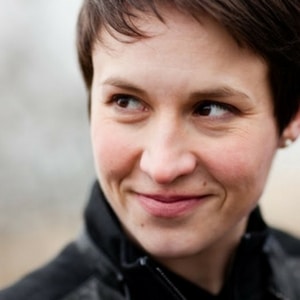 Rachel LaCour Niesen, Steward of Stories & Founder of Save Family Photos, is a Yankee by birth but a Southern storyteller at heart. When a much-loved uncle gifted her with her first SLR camera, Rachel found her calling in photography. In pursuit of her passion, she headed to the University of Missouri, where she studied Photojournalism and Art History. When she's not curating vintage family photos, she enjoys adventures with her husband and partner in entrepreneurship, Andrew Niesen.
---