This blog post is part of a series featuring how photo organizers use photos in their own personal projects.  We hope they inspire you on your photo organizing journey.
Marie Kondo, author of The Life-Changing Magic of Tidying Up and Spark Joy, admits in the latter book that the process of sorting photos with her family was the tidying job that brought her the most joy. She highly recommends tidying photos together as a family to encourage story-telling. Even the guru of tidying and decluttering realizes how important the weight of our personal photo collections are!
I was reminded of this as I was perusing my photo albums. I found quite the "meta" family photo in my album, an image of my parents and brother looking at photo albums – an image capturing an endless loop of memory making and memory enjoyment togetherness. It is evident we were having so much fun looking at photo albums the moment needed to be documented as well. Albums are scattered across the dining table; everyone is standing and gathered around; Dad is grinning; Mom appears to be thinking hard about some particular point; and my brother is taking a closer look at a photograph. I can't be sure, but we may have all been searching for photos to include in a slideshow created for my wedding rehearsal dinner.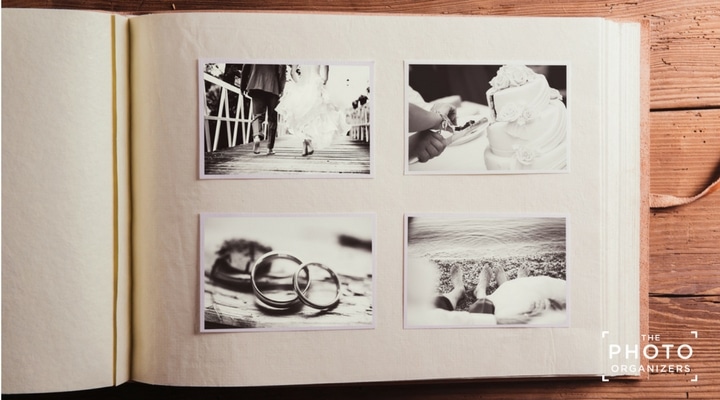 Research in psychology shows time and again that investing in making happy memories with family has a positive return on investment. Children, and even us grown-up children, will draw on a bank of positive memories to help cope with more stressful or turbulent times. When families revisit memories with loved ones through photographs, bonds are strengthened, relationships deepen, and memory improves. It is also just plain fun to look back at the way things used to be, as time was passing before you realized it, as the children grew overnight, as traditions were practiced over the years.
[bctt tweet="Sharing memories and photos with the littlest family member helps him feel connected to a larger story. @ephemeraphoto" username="photoorganizers"]
Now that I have a family of my own, I am encouraging the grandparents to transition possession of family albums to the next generation. When the grandparents come to visit several times a year, I remind them to bring another photo album with them to share with their grandson. I then make a plan to rescue the photos from those terrible, sticky, magnetic albums and scan the photos. Sharing memories and photos with the littlest family member helps him feel connected to a larger story, and he gets a kick out of seeing his parents at the same age he is. Someday we will come across a photo of my son sitting on his grandmother's lap, a photo album open in front of them, grandma pointing something out in a photo, and we will feel pure joy.
---
Don't forget to grab your copy of Photo Organizing Made Easy: Going from Overwhelmed to Overjoyed from APPO founder Cathi Nelson.
---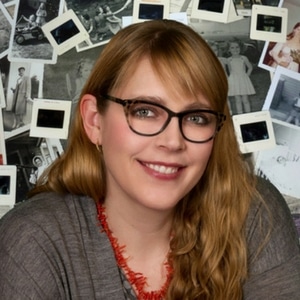 Meaghan Kahlo, Personal Archivist and Certified Personal Photo Organizer, began her professional life with graduate work in museum studies focused on collections management. Her enthusiasm for photography and historical preservation combined with a passion to organize and create order are the driving forces behind her business, Ephemera Photo Organizing. Meaghan helps clients transform the ephemeral nature of digital and printed images into meaningful photo solutions for today and for generations to come tomorrow.
---