by Cathi Nelson
Starting a business is all about seeing a need, finding solutions, then taking a deep breath, and plunging in.  That is what I did four years ago when I began to recognize that people were taking pictures at a record pace, but lacked the time to sort, organize and print those images!  In my market research, I found the prevailing emotions for people, particularly women was guilt and anxiety that they were losing touch with their visual heritage, thus PhotoSimplifed was created. I quickly found people were more than willing to pay me an hourly fee if I was willing to help them.
What I was most surprised by was the amount of help people needed and the diversity of the need. Can you help with my old family movies, what about my children's artwork, here is a box of my great grandparents photos, can you restore them, scan them, frame them, make photo albums?? Can you create a video montage, how about birthday invitations?  I quickly realized I could not be the expert in all of these areas but that there were others in the marketplace that were. Thus, I began my quest to create a network of business owners whom I could collaborate with and create a win – win partnership. And it worked! I have made connections, new friends and learned a lot from other small business owners, just like me.
I believe this is the business model for the future.  If you are starting a business or struggling to keep up, look around and think outside the box. There are many people just like you, with an idea or dream and there is a lot more power in many than one.  Helen Keller said it best, "Alone we can do so little; together we can do so much!"

Today, my photo organizing business idea has turned into a Association of people committed to helping people with their photos!  And it's all because of the power of collaboration!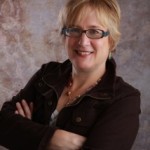 In 2009, Cathi had her "light bulb" moment when she recognized that consumers were becoming increasingly overwhelmed with the exploding number of photos, media and memorabilia they were accumulating. She created Appo to support a new and emerging profession of photo managers by providing training, support and collaboration for people interested in adding photo management services to their existing business or as a new business. She is also a mom of two teens, and an avid amateur photographer and storyteller. She has a deep passion for helping people tell their family stories through their photographs.