In the first of a three-part series, Lyn Jackson of Every Story Media explains the importance of preserving family stories, values and traditions. Through this series, you'll learn who benefits, how to get started, what the process looks like, and why video is the best way to save lives and connect generations.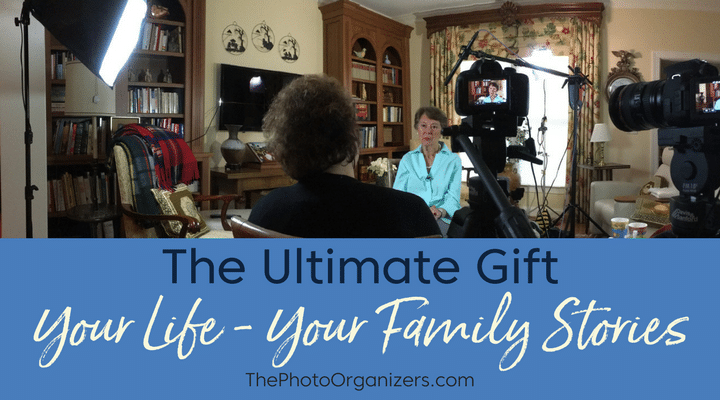 A Love Story, More Than 60 Years Later
Gilbert and Christine met in the usual way: a couple of friends, a double date, a movie neither could remember as soon as the sparks begin to fly. As the two began the long walk back home, Gilbert, ever the confident, self-assured young man, proclaimed, "You are the woman I'm going to marry," mere hours after meeting Christine.
Sixty years later, at a celebration of their anniversary, my father-in-law recounted the love story responsible for creating the family gathered around him.
While we're grateful to have Gilbert's many stories in our own hearts and minds, his voice is the only one to adequately capture the unique and engaging way this husband, father, grandfather and great grandfather was able to tell tales and weave wonderful stories.
Mostly of course, we all miss this wonderful man's presence and big personality. We also miss one precious heirloom that we'd all cherish forever and won't ever now have the opportunity to create; his family stories, in his words, captured in the irreplaceable way that only Gilbert could tell them, on video.
More Valuable than the Contents of Your Curio Cabinet
Sharing the history of your family is one of the most generous and loving gifts you can give. Creating your life stories on video has a powerful impact today and it's also one of the most special heirlooms to share forever with future generations. Seeing and hearing loved ones telling stories, laughing, even crying, and passing on life lessons and meaningful traditions is an important reminder of the value of family and preserving our legacies.

Family Stories: The Most Treasured Gift
Research confirms that both elders and baby boomers believe, in overwhelming numbers, that family history, values, and traditions are the most important things we can leave for loved ones – ahead of a financial inheritance or even possessions.
Family stories are woven into our lives. They are a part of who we are and what defines us. Stories are also a great connector for older adults and children alike, and their significance and meaning develops and changes as we age. Looking back on our lives, reminiscing and recounting our own personal history can be therapeutic and healing for each of us, individually. Hearing these stories can be life changing for family members and future generations.
[bctt tweet="What gift will your kids treasure the most? Your stories! @everystorymedia" username="photoorganizers"]
Future Happiness, Rewards Today
Research also confirms that growing up with a strong family narrative that describes both the ups and downs of life is one key predictor of future happiness. Honest narratives can teach kids how to be tough and resilient, to recover from adversity, and spring back from the kinds of challenges that all of us face sooner or later. Experts call this the "oscillating family narrative."
A family story video can be an element of a strong family narrative; a cherished reminder of loved ones and their rich lives. The video becomes an heirloom to treasure forever and pass on.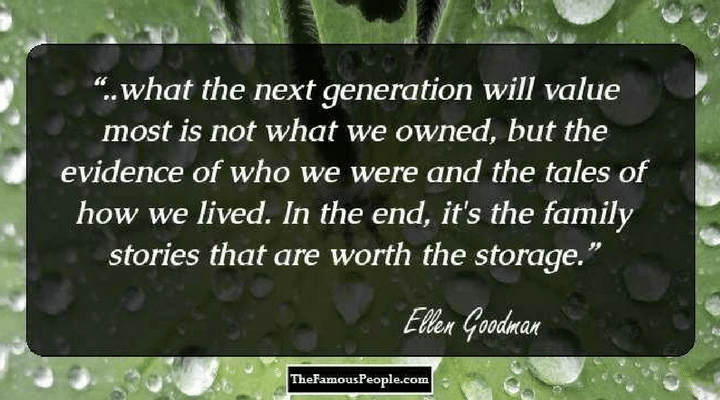 Who's Uncle Albert? Make Sure They Know!
Even with the best of intentions, too often we plan to record our family history but it never happens. Sometimes footage is recorded, but it gets lost or accidentally erased and the stories are gone forever. Although most of us have recording capabilities at our fingertips – and always the best of DIY intentions – there's nothing like working with professional services such as Every Story Media and other video production companies specializing in family (or business) history video. Professionals will ensure that you'll have a beautiful family heirloom full of stories, photos, music, and mementos forever – and that you'll be able to share it with countless generations to come.
Memories of Nakina from Every Story Media on Vimeo.
Make sure your family stories aren't lost to time! Start today to save and share your family history.
In the second of her three part series, Lyn Jackson of Every Story Media shares specific tips to help you begin the process of preserving you family stories on video.  In part three of this series, Lyn Jackson looks at why Every Story Media and so many others recommend video as the best method to document your family history.
---
If you need help organizing and preserving your lifetime of photos, videos and keepsakes, find a photo organizer near you at the Association of Personal Photo Organizers.
---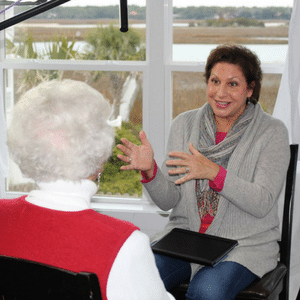 Lyn Jackson, founder/president of Every Story Media, is an award-winning journalist, former television news reporter/anchor and documentary and public affairs producer. Throughout her career, Jackson has focused on people and their stories and created Every Story Media – a boutique production company – to help individuals, families and businesses preserve their rich history and life stories on video.