In the back of my mind, I see a video playing. It makes me smile big every time I see it. If that one alone were lost, my days would be forever darkened. Too dramatic? Think about a favorite clip you took that is irreplaceable for the time and feeling it captures. You want to keep it forever. If you accidentally hit "delete," you'd be crushed. That is why it's not only your photos that need backing up; it's your videos too.
Here's the frame: At six months old, my son was sitting up and wearing a blue and green outfit that my out-of-town cousin had given us for his newborn gift. That alone is precious. But somehow, I got the brilliant idea to use my GorillaPod (flexible tripod) and film his reaction to my blowing bubbles. I could not have asked for a better moment. He giggled. His first wide open, involuntary giggle. Each time the bubbles floated over him, he giggled and smiled his toothless grin. I blew bubbles through that drippy wand, with my soapy hands, for ten darn minutes straight. It was worth it. That moment was pure joy…for both of us.
My son is five now. His giggle is still fun, but now he has teeth. The time when he looked up and gleefully showed us his toothless smile is gone. Bubbles are still fun, but they don't evoke the same innocent wonder anymore. That moment cannot be reproduced. It was one that I wish to revisit time and again.
The other day I remembered that video, and suddenly the realization hit: I need to preserve it, as well as all the videos that mean something to me. I almost panicked when I couldn't remember which computer housed it. Thankfully, it found me again…it found me smiling and nostalgic as soon as I played it. And the very next minute, I uploaded it to the cloud.
Whichever format your favorite film is—8 mm, Beta, VHS, etc.—can be converted to digital. It needs to be converted and backed up if you love it, don't ever want to lose it, and can't replace it. You can contact your local personal photo organizer for help. I found my moment. I am ecstatic that I was able to preserve that moment. I hope you are too.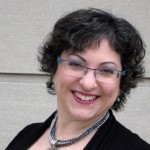 Penny has been organizing photos and making photo albums for more than 30 years. She worked as a copy editor in the publishing industry and has a B.A. in English. For the last 10 years, Penny has worked both privately and in groups to help people bring order and sense to their photos and stories.