Guest Blogger Julie Morris of Fotobridge shares why she thinks it's important to hire a photo organizer to realize your photo project.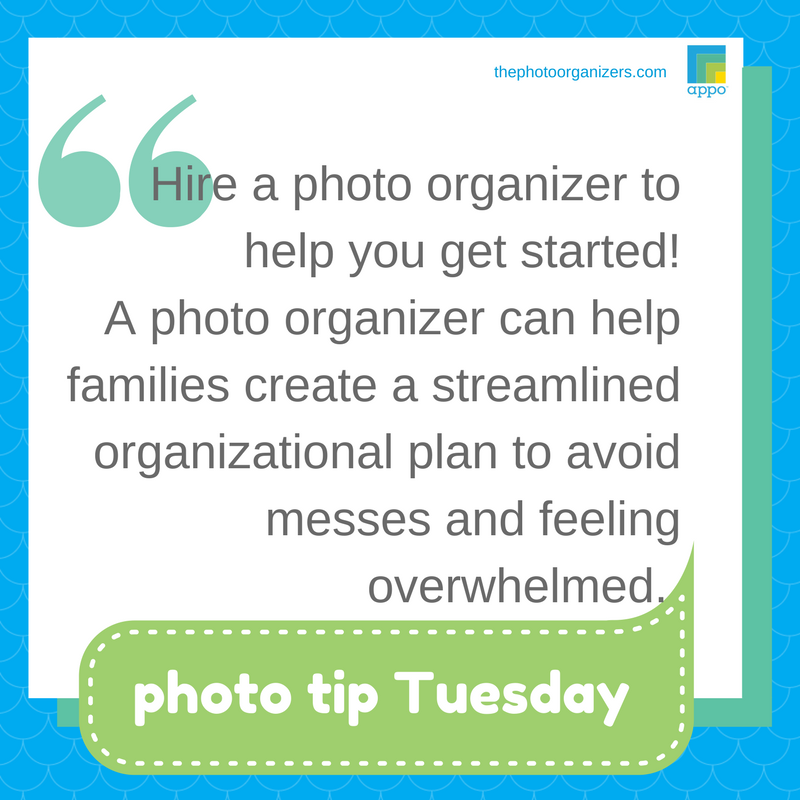 Photo Tip Tuesday: Hire A Photo Organizer
Hire a photo organizer to help you get started! A photo organizer can help families create a streamlined organizational plan to avoid messes and feeling overwhelmed.
Do I Need a Photo Organizer?
How many photos do you think you snapped over the past holiday season? Hopefully you captured some great holiday memories; you've probably uploaded photos to your computer and excitedly flipped through them. But how many have you printed?
You may not have printed any yet, or even plan on it. Digitized or printed photos hold the same valuable, treasured memories – and so do the boxes of photos you and your family members have stashed in closets, basements, storage units, or in old photo albums.
[bctt tweet="If you are overwhelmed by your photos (print or digital), hire a photo organizer to help." username="photoorganizers"]
No matter how your photos are stored, those memories are a valuable asset. That's why pulling out those photos, sorting and organizing them, and preserving them through photo scanning is crucial. With a new year upon us, there's no better time to do so.
So round up your family, their photos, find a photo scanning service and photo organizer, and start preserving a lifetime of memories. You can start by hiring a photo organizer to simplify this process for you.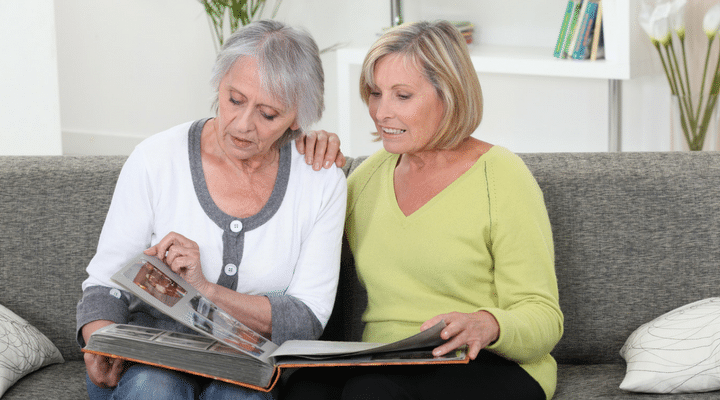 Why Should You Hire a Photo Organizer for Preserving Family Photos?
Preserving Family History: Do It Right
Photo preservation is important, so ensure you do it once and do it right. A photo organizer can help guarantee that and provide guidance on preserving and protecting photos, organization, storage, restoration, digitizing methods, and ultimately, telling your family history through preservation.
Additionally, the more you put off digitizing and organizing photos, the higher the risk that something will happen to them. Photos and slides get damaged, ruined, or lost, and the older they are, the more vulnerable they are to damage, especially in the places many of us store photos, like in basements and attics.
A professional photo organizer will not only help to organize your family photos or slides so they are easily accessible, but they can assist with safely packing and sending photos to a photo scanning service to digitize and preserve your memories.
Photo Organizing: Do It Together
Hiring a photo organizer is especially helpful when it comes to preserving an entire family's photo archives. Organizing one person's photo archive is daunting enough, but when several people bring lifetimes of photos to the table, things can get messy and confusing.
Sometimes one family member is the "family historian," or "family archivist," but no matter how many photos are in their family history vault, doing it alone can be overwhelming. At the very least, a photo organizer can help families create a streamlined organizational plan to avoid messes and feeling overwhelmed, with all family members contributing to the plan as a team.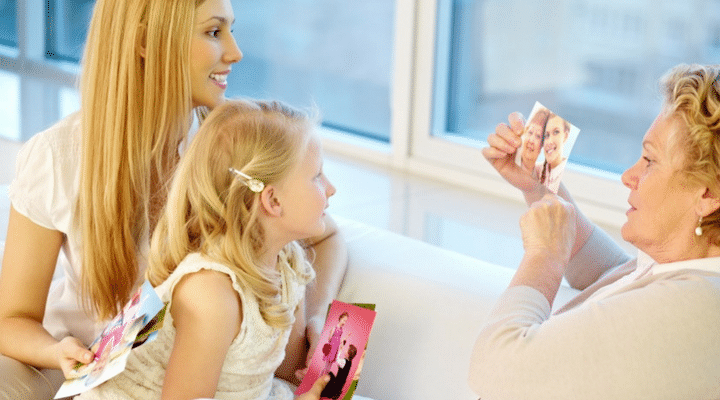 Lessen Everyone's Workload: Do It Once
It can seem like a herculean task to sort photos, decide on physical and digital storage methods, scan entire photo collections, and sometimes locate photos. This is especially difficult for those who are incredibly busy, who don't enjoy such projects, or who have decades of photos stowed away. Plus, the older you are, the more likely it is that you have a lot of photos to organize and digitize, meaning more work.
Sending photos and slides to a professional photo scanning service is much simpler than scanning on your own or using a big box retailer to do so, but organizing photos before scanning means you've done some photo preservation work upfront.
You can put every print and slide you have in one box and ship it to a scanning service, but the photos are scanned in the order received, meaning you'll have to organize the digitized images. If you plan on using your original prints after digitizing them, you'll have to organize digital images and prints when returned. Hiring a photo organizer before scanning means you only have to organize photos once.
If you use a photo organizer upfront, your photos can be scanned in the order you send them in, and once the digitized images come back, the organization is done.
Additionally, using a photo organizer before scanning means you can easily order extra things like prepared DVD slideshows from the photo scanning company and quickly share online albums with family or other ways.
Regardless of your family's size, how many photos you have, or what your goals are, the reasons to hire a photo organizer ultimately offer one huge benefit – more time to spend with family, and thus more time to create memories.
---
If you need help organizing and preserving your lifetime of photos, videos and keepsakes, find a photo organizer near you at the Association of Personal Photo Organizers.
---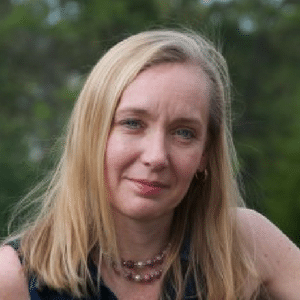 Julie Ann Morris is President of the photo scanning service FotoBridge  and chief memory preservation evangelist. She is a highly energized presence and knows how to spark the trust it takes for clients to hand over their precious memories for digitizing. A New York native, Julie Ann lives in New Jersey with her husband Ed, son Jackson and dog Maggie.