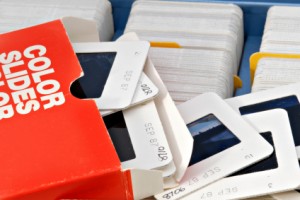 Optimally, images should be in a form where they can be enjoyed, which is why an album of some sort – scrapbook, photo book, pocket-page album — is a recommended destination. Albums are easy to pull off the shelf and enjoy.
Slides, unfortunately, require the proper equipment for viewing: A projector and a screen. If you have the slides but no way to project them, it's time to consider converting them to digital as a back-up. Then you can print out the images for a scrapbook or pocket-page album, or create a photo book with the images.
If you don't have a slide projector, invest in a slide viewer. The images on slides are just too tiny to see well. If cost is a consideration, look on eBay or Craig's List, shop garage sales or mention to your friends you're looking for a used one; these viewers are collecting dust on a lot of closet shelves.
Whether you use a projector or a viewer, you're ready to separate the wheat from the chaff. View each slide. Make an appointment with yourself (or invite a loved one) one afternoon, or one afternoon every week, until you've gotten through your pile. Time has a funny way of changing things – some old images will no longer hold value for you (in which case, they can be trashed or given away) and some images will be more important today than when they were taken – these are the images worth having scanned and converted to digital files.
Scanning slides is best left to a professional. The tiny images require special care, cleaning, lighting and resolution. Consult a photo organizer or a local photo shop for a quote, and it'll save you the trouble of buying scanning equipment, learning to use it, possibly destroying your slides and the time involved in the actual scan and color correction.
Ask for high resolution images preferably saved on a gold DVD. Remember, you need only about 100 images to make a substantial photo book so don't feel like you must convert every single one of your 5,000 slides to digital in order to create a meaningful keepsake for yourself or someone else.
Once you've backed up your meaningful slides, store them like photographs — in a dark, cool, low-humidity place in your home separate from the digital files and the prints or albums.
---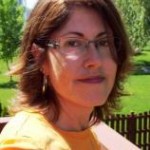 Monica Lee is a writer and photo organizer with Clickago Storywerks in the Chicago area.  She is also a Certified Personal Photo Organizer and a member of the Association of Personal Photo Organizers.