Before we get into photo storage options, an important preface: never store your irreplaceable photographs, photo albums or anything else in your family archive in attics or basements, as temperature and humidity fluctuations—and the possibility of leaking roofs, water heaters or pipes—can damage or destroy your cherished memories. Archival storage materials can prolong the lifespan of your photographs, but they are not going to protect against these ravages.
Also, corralling your collection into photo-safe storage can be part of a larger sorting/scanning/backup project.  Visit The Photo Organizers for a great selection of blog posts on those aspects.
As discussed in the first part of this series, you'll want to look for storage materials that are going to preserve your photos in their current state, and not degrade them. You'll also want to determine how often you'll be accessing your photos. Will they be going into long-term storage in the back of the closet (opt for boxes), or do you want to pull down a binder and flip through prints every so often?
Have the usual assortment of loose prints in a shoebox, some still in envelopes from the photo lab, slides, maybe even some Super 8 film reels?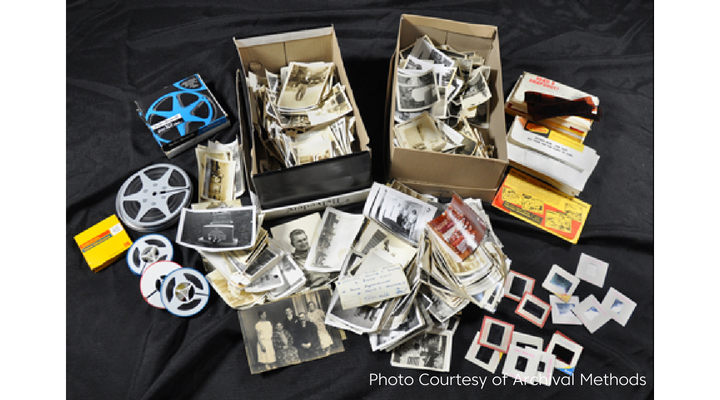 Boxes with dividers for organization are a quick way to get these photos out of their acidic paper enclosures.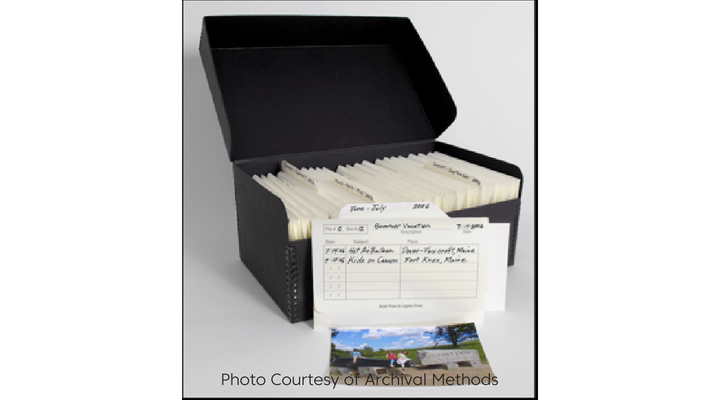 Boxes come sized for slides, negatives, and film reels, too. These are easy to label and store on a high shelf in a closet – one of the best places in a house for long-term storage of photos. Metal reinforced edges give the boxes extra strength and protection from getting crushed.
Photos and slides of the same type are fine if stored all in a stack in these boxes. Negatives are more easily organized into envelopes for easy labeling, and film reels can be boxed in their original packaging, or with an archival-quality plastic bag around each first, as an added layer of protection against dust and moisture.
If you want photos a little more accessible, opt for a three-ring binder. Photo-safe pages come in all formats, to hold various print sizes, slides, and negatives. Prints are protected from too much handling but it is easy to flip through pages to enjoy them. Make sure the binder is also archival-quality!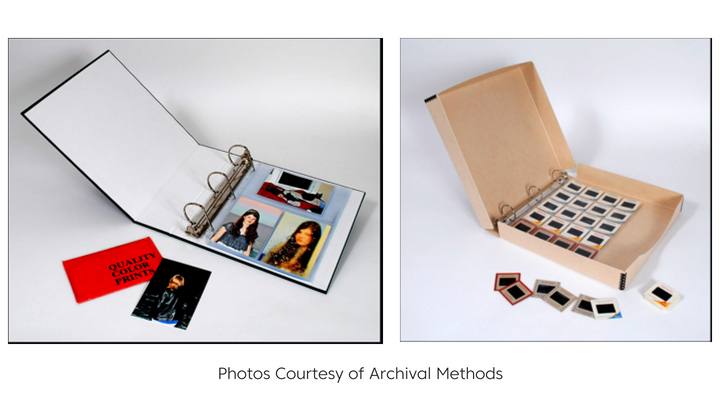 Photo albums, especially fragile vintage ones, are best stored in boxes. Like for film reels, a second layer of protection is a good idea. No need to seal the bags so the album can "breathe." Here's a tip: place each album in its bag with the binding toward the sealed end, when possible. This will decrease the temptation to grab the delicate spine when removing the album from its bag.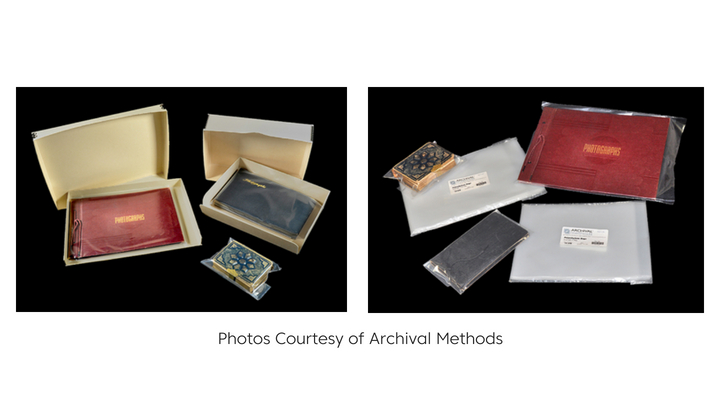 Archival boxes come in all shapes and sizes, making it easy to find ones that fit your collection's needs.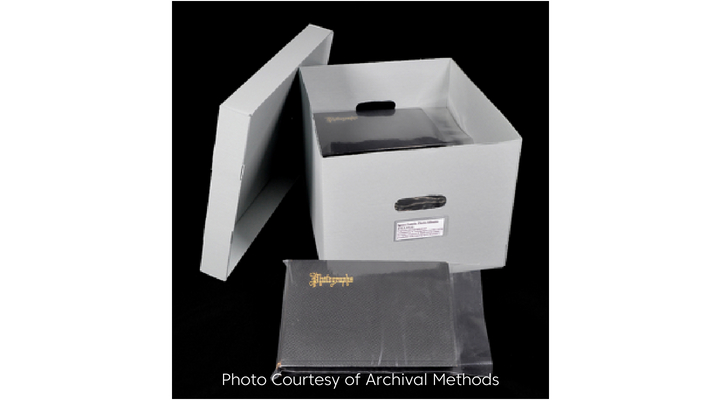 Easily store many albums together in one larger box.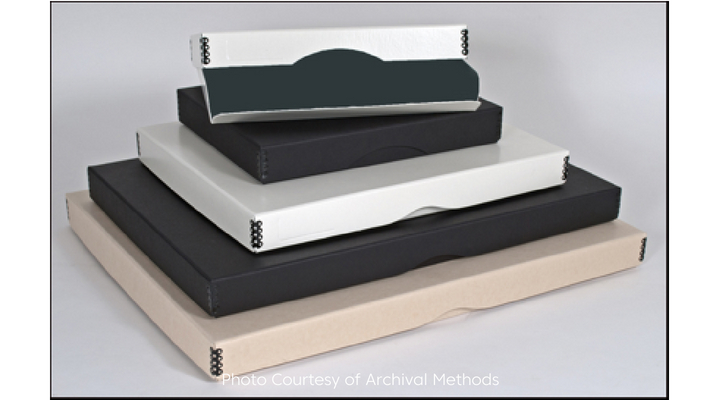 "Drop front" boxes have one side that folds down, making it easier to remove an object.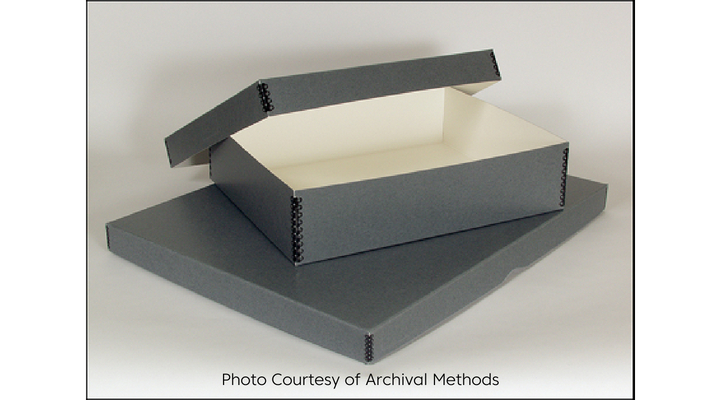 Boxes come in different depths to fit all kinds of albums or other heirlooms.
If you have particularly fragile photographs or even documents, giving them extra support with a piece of archival-quality matboard, with all slipped into a polypropylene storage bag or sleeve.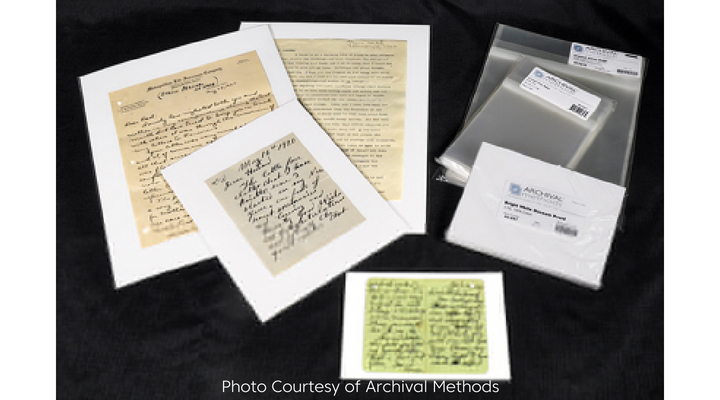 Don't forget to label what you're storing! Whether you write right on the box, or use label holders, making sure you know what's in them is important.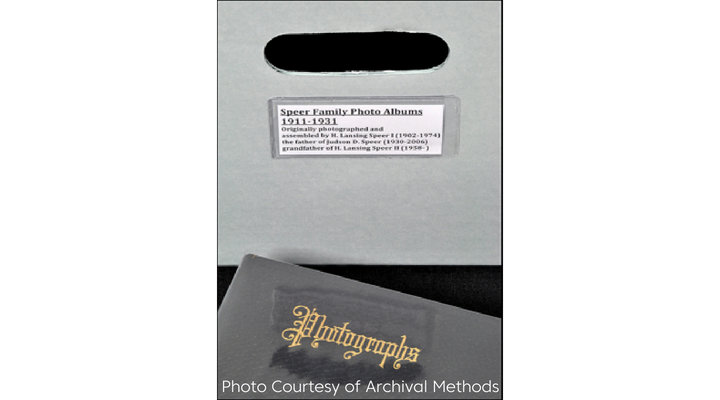 Beyond a safe, climate-controlled place to live in your house, archival-quality storage will help your cherished family treasures last. Re-housing photos and other memorabilia can be part of a larger photo safeguarding project that includes scanning and creating digital backups. Archival Methods is just one trusted source for archival-quality products, and there are many storage options not covered here; check out our blog for more information. We would be happy to answer any questions about your archival project!
---
---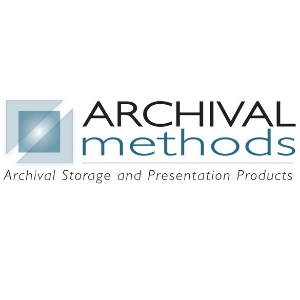 Archival Methods is a leading supplier of archival storage and presentation solutions. Whatever material you uncover within your family photo and memorabilia collection, we can help preserve it! Our boxes, binders, portfolios, and presentation cases are handcrafted in our newly expanded facility in Rochester, NY. We also offer matting and framing supplies, plastic sleeves and enclosures, and storage kits for prints, slides, negatives, newspapers, documents, and textiles.
---