This week's guest blogger Diana Uricchio explores the art of the love story and the importance of capturing that love through photos.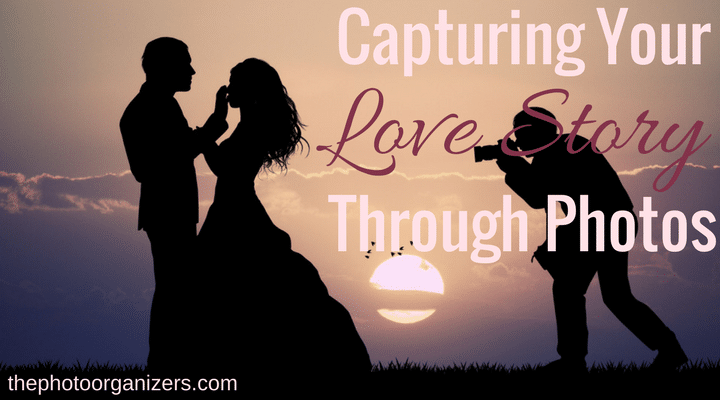 "Behind every great love, there's a great story." – Nicholas Sparks, The Notebook
As a professional photo organizer, I have the pleasure of sitting with clients and pouring through years of old family pictures. I'm always delighted when I hear one of them giggle randomly or suddenly recall a forgotten memory. Most of my clients are family-centric women who are eagerly tackling the clutter of their homes or dutifully helping an aging parent with an estate. Removed from the bustle of daily life, the chore of sorting photos provides the perfect space for remembrance.
Among the typical "wedding album" or college memory box is a photo of their husband, looking wide-eyed and dapper, instantly evoking the feelings of when the couple first met. From "Wow, look how young we look!" to "Oh my, that was our first date!" the stories start flowing about how they met or that crazy time during freshman year.
Last week, I heard one of my favorite "love story" memories from a client named Julianne. In a previous photo sorting session, she shared that her hubby was from Spain and they met during graduate school. When they were a new couple, she shared with her beau that she had visited his home country a few years prior. Somehow, the conversation turned to a basketball game that she had attended. Her at-the-time boyfriend mentioned he had also been at that game.
Shocked at the prospect that they had been at the same sporting event five years before, she grabbed her scrapbook to show him a photo of her and her friend at the game. As fate would have it, in the background is a handsome young man in an orange ball cap – her future soulmate, just feet behind her.
What's Your Love Story?
Like Julianne's incredible tale, these little details are a part of your story as a couple. Your personal love story is far more than just a formal photo from your wedding day and a few shots on your anniversary. It's about how you met, the funny moments you've shared over the years, the tough stuff, and the beautiful, unique path your lives have taken together.
"Remember When" by Alan Jackson
You can rekindle your love story this Valentine's Day with a few tips. Here are a few questions to ask yourself as you begin to uncover long-lost tokens of your romantic journey:
How did you and your partner first meet?
What first attracted you to him or her?
What did you do on your first date?
What did your friends and family think of the relationship?
Did you have to overcome any obstacles to be together?
What kinds of things did you enjoy doing together?
Which everyday moments and life events have kept your love alive?
[bctt tweet="All the little details captured in your #photos are a part of your love story." username="photoorganizers"]
What About Exes, Lost Loves, & Old Flames?
Believe it or not, these memories can be part of your story, too. Just because love was lost or otherwise ended, doesn't mean you should destroy the memory. If something good comes out of it, or a lesson worth sharing was learned, then a few digital memories are probably worth having.  Even after a nasty divorce, kids like to see their parents in a happier time. Or, when your daughter is heartbroken over a break-up, you can share that photo of you to connect. Most often, a reminder of how some things aren't meant to be can open the door for a new, bright future.
The Importance of Your Love Story
Remembering your love story goes beyond glancing at an old photo. Reminiscing is the perfect way to reconnect with your partner and remember how it all began. Make it a family heirloom by documenting it and create a "Love Legacy." These Pinterest, Moms Creative, and Brides.com ideas are a great place to start. From videos to collages to digital photo books, there are a variety of ways to tell your story in the way that fits you and your partner best.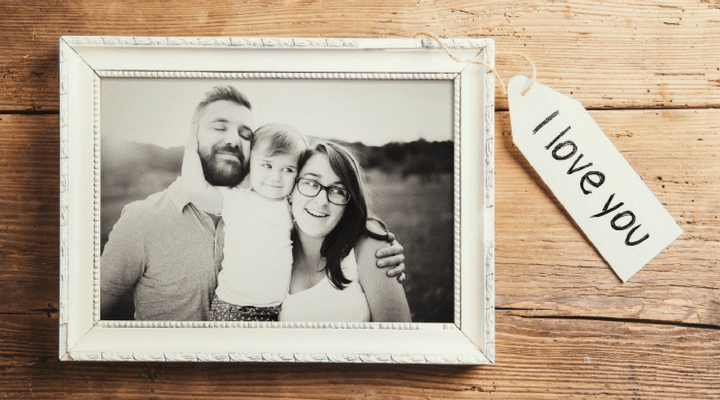 Companies like Love Notery can even help you write you love story and create a keepsake you will cherish forever. In an age when The Bachelor is our pop culture's example of finding a soulmate, you can offer a wonderful and personal example of how it works in real life.
---
If you need help organizing and preserving your lifetime of photos, videos and keepsakes, find a photo organizer near you at the Association of Personal Photo Organizers.
---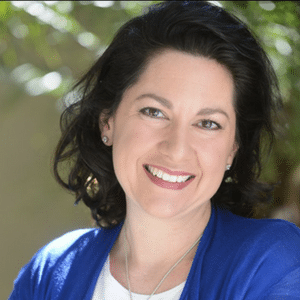 Diana Uricchio is the founder of OXO Digital Organizing, based in Orlando, FL.  Diana is a Certified Photo Organizer who loves to combine the memories of our parents with the technology of our future generations. This passion for preserving photos has grown into helping clients create just the right mix of physical order and digital bliss that will ensure that their family memories will live on forever.
When she is not helping clients "go digital," she is managing Casa Uricchio, alongside her husband Scott and 12 year old twin boys.