This blog post is part of a series featuring how photo organizers use photos in their own personal projects.  We hope they inspire you on your photo organizing journey.
We are a photo loving family. Not a big surprise, given my career as a professional photo organizer. I think it's more accurate to say that I became a photo organizer because of my love of photos. I decorate in photos, organize parts of my life with photos on my phone, and take great joy in capturing the stories behind old family photos, recording them for future generations.
Photos, in various formats, are a favored gift in our extended family. They fit with our simple approach to holidays and gift giving. They are a good gift because you can customize the frame style or the format to suit the recipient but give the same image to several people. It's also a great way to stay connected with loved ones far away, particularly with the older generation who do not FaceTime.
[bctt tweet="Photos are a great way to stay connected with loved ones far away." username="photoorganizers"]
I have a few shots that I try to take every year as family traditions. One is to catch the Japanese maple tree in our front yard at its peak color and photograph my son against the bright red leaves.
My four-year-old son was tense for our photo shoot and I had to loosen him up. I put the camera on self-timer and got this picture as I was tickling him to help him relax. It's one of my top-ten favorite pictures of the two of us, so I had it made into a canvas wrap that hangs in our living room.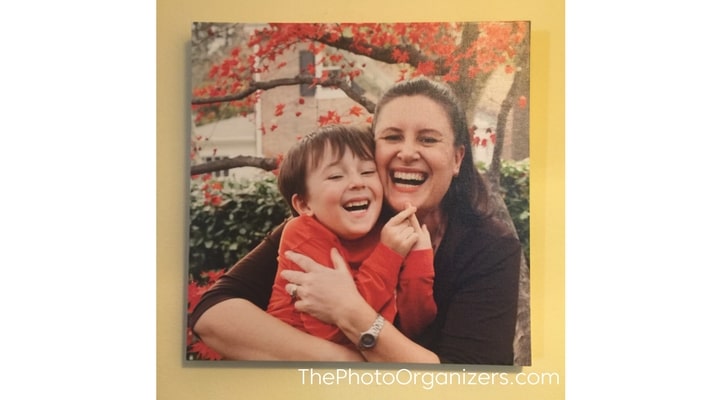 In November 2012, my mother-in-law happened to be visiting during peak color. So, we took the opportunity for an expanded photo shoot in our front yard. With her health issues, she didn't visit often, so I wanted to make the most of this opportunity. I should be clear that I'm a professional photo organizer but very much an amateur photographer. I use an old dSLR, and sometimes I get lucky.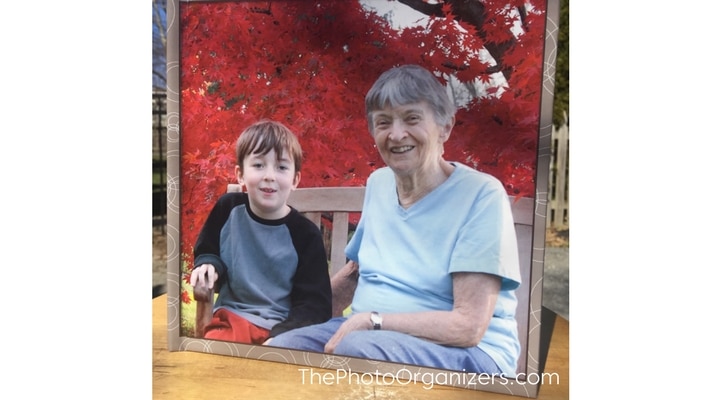 The photos from that day have a special place in our family. I made a simple photo book for my mother-in-law for Christmas that year, featuring that day and some of our other adventures during her visit. My son was six, too young to recall much of her visit, but the pictures help tell the stories and now we have more recent memories of looking at the photo book together too.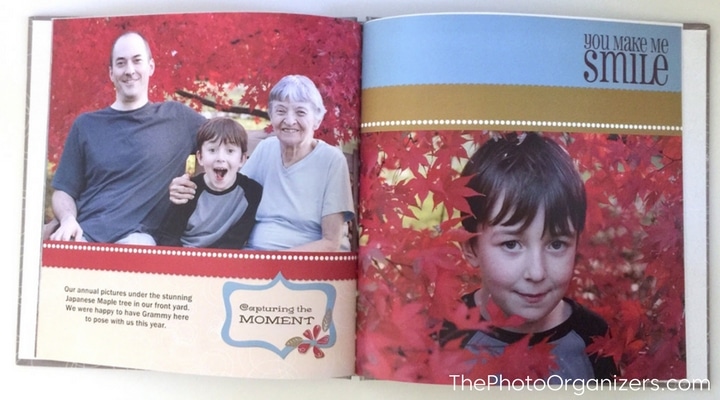 When I made this book, I used the design principles I've discovered work best with my senior clientele.
large, simple font
dark text on a light background
clean page design with plenty of negative space
captions with names and details
As a result, she was still able to enjoy the book as her health declined. She even brought it with her when she moved into skilled nursing for her final months.
My mother-in-law passed away last fall. I created the slideshow that played before her memorial service. One thing that helped during that stressful and sad time was that I had thought ahead when we were cleaning out their apartment. I flagged some photos from their album collection that were the best shots of her. I took a big box of photos home and was very grateful to have that pre-selection done and waiting for me at the top of the box when the time came.
A few photos from the November 2012 book were also favorites to include in the retrospective of her life. At the reception after the memorial service, my brother-in-law surprised me by putting out an assortment of books I'd made for my in-laws over the years. Guests commented how much they enjoyed looking at the pictures and seeing her "in action" with family over the years. It sparked a number of stories from people who knew her at different stages of her life.
[bctt tweet="Going through family photos is an important part of the grieving process. " username="photoorganizers"]
Going through family photos is an important part of our grieving process. And even now, when our copy of that book comes off the shelf, it brings a smile to our faces as we remember a good visit with Grammy and a really vibrant year for the maple tree.
---
---
---