This blog post is part of a series featuring how photo organizers use photos in their own personal projects.  We hope they inspire you on your photo organizing journey.
In 2015, I began to gather my husband's grandparent's photos to prepare a special video scrapbook to celebrate their 60th Wedding Anniversary in May. Unfortunately, in February, Grandpa Hank was diagnosed with cancer and died in mid-March. My husband and I were able to leave the next day to head to his hometown with my high speed commercial scanner, computer and all the equipment I own as a Personal Photo Organizer.
Shortly after arriving at my in-laws I mentioned that I didn't have any pictures from the 1980's which was an important time in Grandpa Hank's life because that was when his grandkids were very little. In a few minutes, I had boxes and boxes of photo albums and photos still in the envelopes that were from the late 1970s until the early 2000s when photos went digital. Instead of taking a photo out of the 1981 album and 2 out of 1982 and so forth, I made the decision that we take this opportunity to SCAN all of the photos!
Over the course of the next 36 hours, we removed photos from albums (the sticky type) and envelopes and I scanned the photos and put them in chronological order into 11 photos boxes. The total scanned photo was about 10,600 photos. Completing this part of the project has been very helpful when it came time to do a video for my mom-in-law's 60th Birthday Surprise Party. It was also fun finding pictures of my husband as a baby and comparing him to our son who was born in January 2016.
The next step in the process was really the most difficult step which is picking the photos for the video scrapbook to be played at the visitation and during the funeral lunch. I determined that the number of photos needed to be 250 or less which makes a video that is over 10 minutes long with photos only showing for about 4 seconds. I tried to find photos to represent each part of his life and pictures that included all the important people, but I left some of the final photo selection up to my husband and his brother. The final video was shared with family and friends at the funeral, but also with our family that could not attend from the East Coast.
Just over a year later, my grandma died at the age of 98. In the case of my grandmother – I didn't have over 10,000 photos to scan, but I did have lots of old photos that had been sitting in my home for years that I took the opportunity to scan for sharing.
During the visitation and during the lunch after the funeral, we watched an 11-minute video scrapbook that honored grandma's memory. The pictures started with a photo of her as a baby in 1917 and ended with a picture of grandma holding my son Anderson who was born in 2016.  I also created a longer video scrapbook for the family to watch after the funeral because there were just so many good pictures Grandma's, almost a century of life. All 25 people were touched (lots of laughing and crying) by seeing all these photos while we were all together.
I just kept thinking – Grandma would have loved to watch with video scrapbook with all of us.  Over the last three years or so, she wasn't much for conversation, but she always enjoyed looking at pictures of her family.
I share these personal experiences because it would be my "dream-come-true" if families could experience the sharing part of this before their loved die.   It is important to start thinking about your own legacy at any age.  My parents are in their 70's but it is important to have their photos organized so we can celebrate their lives while they are still here to enjoy it (and maybe give us story behind the picture).
Gather your photos for significant birthdays, anniversaries or just because, and don't wait until they can no longer share their memories.
---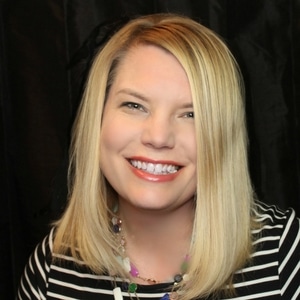 Lisa Tonjes Moritz is a Professional Organizer with HOPE Organizing who has been helping others organize their space or events for many years.  Her Barbie clothes and paper dolls always made it back into their designated spots.  In high school she managed most of the prom planning for the Junior Class and her neat 4-H record books helped her represent Nebraska at the National 4-H Congress.  In college, she was always alphabetizing friends' CDs and videos or creating the perfect "How to" binder for the sorority's annual philanthropy project.
After college, no roommate was able to live with a disorganized closet or a cluttered common space.  One roommate even received a file cabinet for a Christmas gift (along with help filling it) after Lisa tried to help her locate a very important document in messy piles under her bed.
As a branch manager for a bank for almost 9 years, she was known as the "go to" person for getting a plan in place for an organized branch and written compliance and marketing goals.
In March 2007, Lisa turned her hobby into a business, HOPE Organizing.  Her mission is to give her clients HOPE by making their busy lives easier.  She 'creates' space that wasn't there before.  Her organization saves clients time so they can spend time with their favorite people or doing the things they love, instead of fighting the clutter. In 2014, began focusing her business on helping people organize their photos and memorabilia to safeguard them for future generations.
Lisa lives in Omaha, Nebraska with her husband Bruce and their son, Anderson. They like to travel, appreciate local artists and take an active part in the Omaha community.  Lisa is on the board of Downtown Omaha Rotary, a Junior League of Omaha sustaining member and in the CASA service league.
---