Have you heard of metadata? Do you know what it is? Does the idea of it scare you? Caroline Guntur of Organizing Photos helps us understand the complexity and simplicity of it all.
We've all heard the term metadata, but for many, it's an intimidating word. It can be really overwhelming to learn about this topic, just because of the sheer volume of information that's out there. Typing the word 'metadata' into Google yields 125,000,000 results, so it's no wonder that many choose to ignore it completely. But it's a critical part of your photo organizing workflow, so in the next few hundred words, I hope to turn your overwhelm into curiosity, and get you to give it a try.
What is Metadata and Why Do You Need it?
Metadata is all of the information that is stored with your digital files. It's the whens, wheres, whos, whys, and hows that describe your files, and put them into context. Context is everything. Without accompanying information, your digital files have no meaning, so we want to make sure that we are as descriptive as possible with all of our files. That's a simple enough concept, right?
There are many types of metadata, for example:
Administrative metadata (helps you manage digital files)
Descriptive metadata (helps you find identify & find digital files)
Structural metadata (helps you order digital files & relate them to each other)
Preservation metadata (helps you migrate & maintain files over time)
Without giving you a longer list, let me say that you don't need to learn everything about all types of metadata because not all types of metadata apply directly to the field of digital photography. Unless you work for an institution, you'll mostly be concerned with descriptive metadata because that's where the stories live.
[bctt tweet="Metadata is the whens, wheres, whos, whys, and hows of your photos. @CarolineGuntur" username="photoorganizers"]
What Metadata Should I Understand?
There are three main players in the metadata game that I feel every photography-lover should know and understand:
EXIF metadata (Exchangeable Image File)
IPTC metadata (International Press Telecommunications Council)
XMP metadata (Extensible Metadata Platform)
The EXIF metadata is also known as technical information about your digital photo. This type of metadata is embedded into the digital file at the time it's captured. Examples include the focal length, the ISO setting, and the make and model of the camera that was used. If you are scanning photos, the EXIF metadata will include information about the scanner instead of the camera. However, the purpose of the information is the same: EXIF metadata shows you the conditions surrounding the creation of your digital file. This is helpful stuff to understand if you're trying to recreate a photo in any way, or if you just want to get better at photography. Specs all the way!
IPTC metadata is the type of metadata that cameras can't quite capture on their own… yet. Who took the photo? Who is in it? What happened? This is where you come in. These types of descriptions tell the stories of the photos, and it's your job to embed them into your photos so the two stay together. The technology to capture this type of metadata in more efficient ways is emerging as we speak (You can use QromaTags with your iPhone, for example), but the practice has yet to go mainstream. Until the day it does, it's up to all of us to preserve our stories the old-fashioned way – by typing them into the right fields, and hitting save.
You may also have heard of XMP metadata. This is a format that Adobe originally created for use with their software applications close to twenty years ago. It's a flexible format that allows for additional information, such as image edits, to be saved alongside the other IPTC metadata. XMP metadata is either embedded into the file (for file types that support it), or saved as a sidecar file stored alongside the original master file. This type of metadata is very useful because it's not tied to photos specifically, but can be used with many different types of digital files, like graphics, videos, or documents.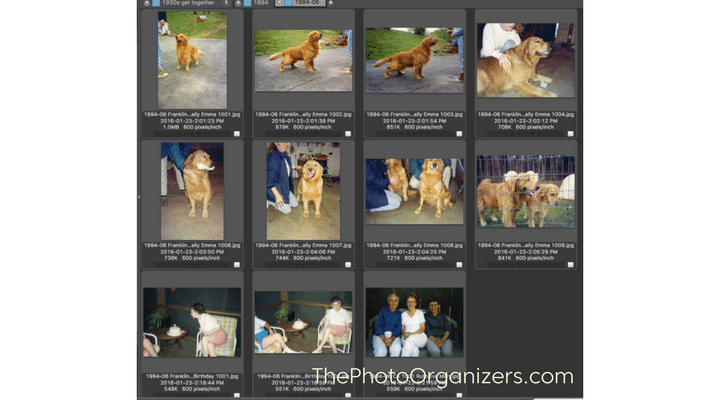 Adding Metadata to Your Photos
Now that you know what metadata is and why you need to add it to your photos, let's explore the ways to do it. Though you can add some metadata to your photos from your operating system, it isn't the easiest and most productive way to do it. Windows users can access select metadata fields in the properties panes of their images, but some of those fields aren't "official." Mac users will face the same conundrum. Most of the metadata that you save to your photos in the Mac operating system doesn't "stick" with the photo if you move it. It's internal, a.k.a. 'system metadata' only.
A third-party software is your best bet for adding metadata to your images. Some great options include Adobe Lightroom, Adobe Bridge, ACDSee Pro, Photo Mechanic, and Mylio. Look for a software that lets you browse your files versus opening and closing them, not only for productivity's sake but also for keeping the integrity and quality of the file intact. Though a software may be a purchase, you'll definitely earn that money back in time saved because you can batch process your photos and use presets to be more efficient. More on that in the next post.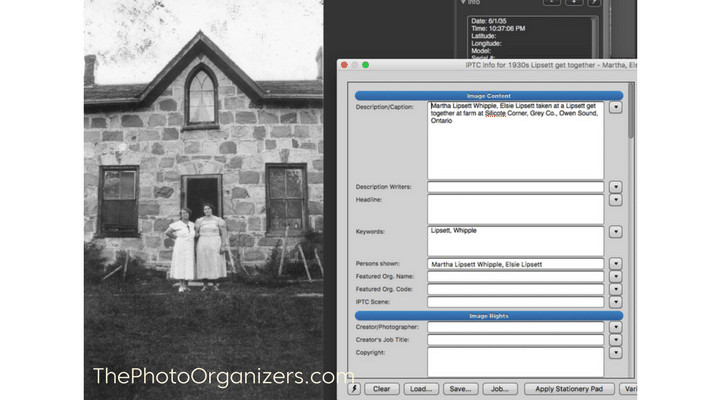 What Fields Should I Use?
If you have ever looked at a metadata panel, you know that there are lots of options for adding different types of metadata, but the average Joe doesn't have time for all of them. So what fields should you focus on? Simple – focus on the core fields that matter the most. I recommend using the following:
Title (sometimes known as Headline)
Description (also known as Caption)
Date Created (EXIF)
Time and Date (IPTC)
Keywords
Creator
Copyright Holder
The title and the description will show what the image is of (i.e. what), the dates will show you when, the keywords will let you find it fast (i.e. how), and the Creator/Copyright holder fields will show you the who. If you have the ability to add location information, that is also very useful because it shows you the where. All of them put together tells the full story of your photo, and that's what we want to preserve.
One Size Doesn't Fit All
Metadata is the digital equivalent of writing on the back of your photo, so if you're not currently adding it to your files, I encourage you to start now. It's important to remember that not all file collections will need the same types of metadata, so just like with other organizing steps, the metadata can (and should) be adapted to the collection its serving. However, adding even a little bit will help your future family understand your life better, and after all, isn't that what it's all about?
Learn more in Metadata & Photos, Part 2: Let Efficiency Rule! 
---
If you need help organizing and preserving your lifetime of photos, videos, and keepsakes, find a photo organizer near you at the Association of Personal Photo Organizers.
---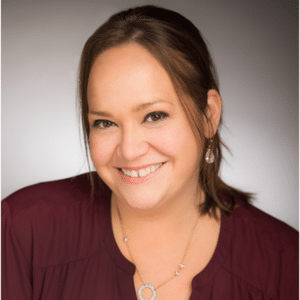 Caroline Guntur of OrganizingPhotos.net is a Swedish Certified Photo Organizer and Personal Historian, specializing in digital organizing and family history. She is the owner of The Swedish Organizer, LLC, a company that provides customized family history solutions to clients all over the world. Caroline also hosts webinars, workshops, and creates online courses.