In the ever-changing world of digital asset management, Photo Organizers need to look beyond the world of shoe boxes of family photos and consider photo organizing for businesses. Rick Lippert of E-Z Photo shares his thoughts on this transformational step.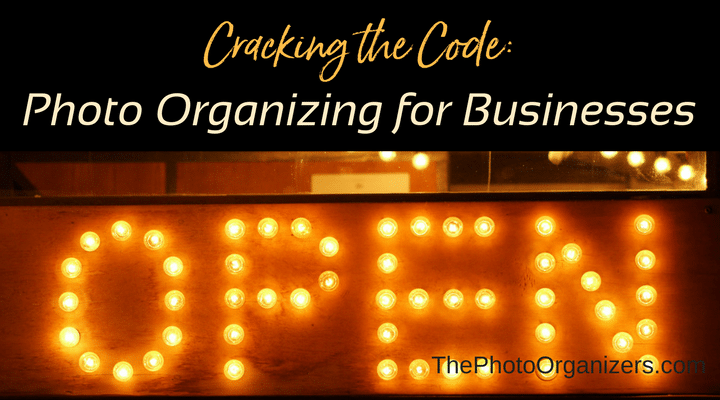 Looking to step up the level of your photo organizing services beyond personal photos and treasured documents? Then maybe it is time to consider adding corporate archives and record management to your business portfolio.
Business Archives as An Ecosystem Level Strategy
In his article for the Harvard Business Review, Ron Adner, details how the nature of disruption is changing in business. Adner explains that instead of just offering an improved product or service, business executives must understand how corporate success is becoming dependent upon building ecosystem-level strategies. These strategies must encompass ways to harness the many moving pieces of a business bringing them together in a manner that creates new value propositions.1
One of the most valuable assets of a business is information. So, taking steps to protect records having permanent value is a wise investment for any organization. The ability to exploit these assets to promote efficiency and effectiveness is quickly becoming an intricate part of developing an ecosystem-level of success.
Business archives, especially photographs and treasured documents, offer a unique avenue of using the past to catapult an organization into the future. Archival records become terrific tools for use in public relations and community engagement activities. By offering glimpses into the history of a business using preserved records, it is possible to tell a company's story distinctively.
Business Archives Include Photographs & Treasured Documents
The Association of Canadian Archivists published a booklet to introduce archives management as an integral part of proper records keeping. In it they include examples of records usually having permanent value. This listing is crammed full of potential opportunities for the photo organizer who has honed their skills in processing collections of photographs, films, videos, and treasured documents.
Examples of Records Having Permanent Value2
Minutes of meetings of boards, committees, working groups, task forces, etc.
Annual reports, staff reports, and special reports
Year-end financial statements and auditor's' reports
Maps, blueprints, and plans of buildings
Photographs, films or videos of staff, buildings, and events
Personnel records
Legal papers and contractual documents, such as charters, mergers, and acquisitions, bankruptcy proceedings, etc.
Personal papers of former company presidents or other policymakers
In-house newsletters, company histories, advertising, promotional literature, and other publications
Product and equipment design specifications
Once you have studied this listing, consider those items you feel capable of offering professional assistance for coordinating an archival program. Remember, companies do not attempt to take on the archival of all their records at the same time. Instead, they systematically go at piece-by-piece. So, identify your piece, or pieces, and just focus on them.
Getting Started
If you are stuck as to what to do next, consider conducting some research to get started. A quick search of 'oldest businesses in Central Florida,' where my company has its corporate headquarters, yielded list after list of organizations both publicly held and privately owned that have been in business for more than 50 years.
Some were very familiar having grown up in Florida. However, it is amazing to see the long listing of private businesses that have been around the area for decades. No matter public, or private, a company that has been in business for half-a-century is sure to have a treasure trove of cherished photographs and documents needing your preservation expertise.
Use your research to come up with some potential opportunities. Then, learn about the company's origin, founders, size, contributions to the area, and get a general overview of its products or services. This kind of information helps you to begin formulating a value proposition to present to the organization.
Typically, it is the senior executives (C-Suite level) of a corporation who are key players in the decision-making process to develop an archives mandate. Take time to learn about the involvement of the corporate leaders' role within the community. Your research will usually reveal they are active on boards, charitable foundations, civic groups, sports, religious, and other social activities.3 This intel helps you to better position your value proposition in a way that having the company's history archived can impact not only the organization but also the community it resides within.

Understanding Digital Asset Management (DAM) Systems
The businesses of today are now incorporating the digital media management software tools once used exclusively by publishing and media companies. DAM is a subset of enterprise content management (ECM), a business process for organizing text documents, email, and spreadsheets.4
Take some time to learn how using digital asset management makes it possible to accomplish business faster and more efficiently. Even if a company doesn't have a DAM, or ECM system in place, the benefits of protecting corporate assets will resonate with leadership.
These benefits include;
Anytime, Anywhere File Sharing & Access
Easy Asset Organization & Control
Marketing & Creative Collaboration
Digital Rights Management
Find Files Fast
Rich Media Asset Management
Deploy Brand Management
Digital Publishing & Distribution
(Above listing adopted from "What Is Digital Asset Management? – Webdam." 5)
[bctt tweet="It's time to consider the photo organizing needs of businesses! #photoorganizer" username="photoorganizers"]
Go For It! Start Photo Organizing for Businesses
Even if an organization has no formal preservation plan, most everyone in management can identify with the importance of such a program. And, when it comes to photographs there is no better asset to use in building rapport with clients and the community. Just imagine the possibilities of being able to have quick access to these visual image treasures in a neatly created digital image collection for advertising, social sharing, or community outreach!
As a professional in dealing with collections of photographs and treasured documents, the photo organizer can offer an extraordinary opportunity to either enhance or jump-start the launch of an initiative to establish the corporate mission of acquiring and making available records of the company of long-term or permanent value, to preserve the business memory of the enterprise.6
Adner, Ron. "Many Companies Still Don't Know How to Compete in the Digital Age." Harvard Business Review. N.p., 28 Mar. 2016. Web. 19 June 2017.
Business Archives. (Ottawa: The Association, ©2000), page 19.
Business Archives. (Ottawa: The Association, ©2000), page 10.
"What Is Digital Asset Management (DAM)? – Definition from WhatIs.com."SearchContentManagement. N.p., n.d. Web. 19 June 2017.
"What Is Digital Asset Management? – Webdam." Webdam. N.p., n.d. Web. 19 June 2017.
Business Archives. (Ottawa: The Association, ©2000), page 18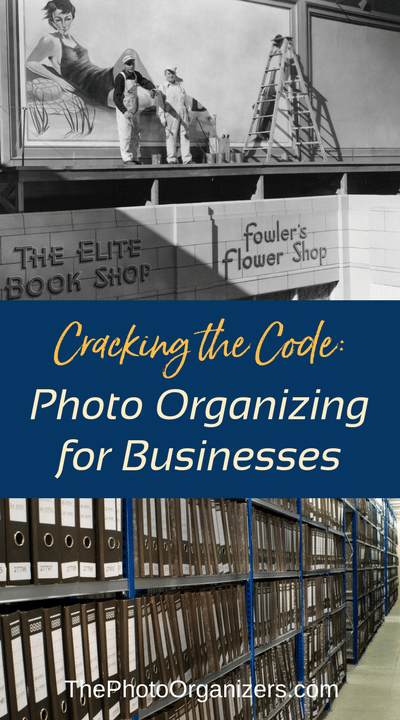 ---
If you need help organizing and preserving your lifetime of photos, videos, and keepsakes, find a photo organizer near you at the Association of Personal Photo Organizers.
---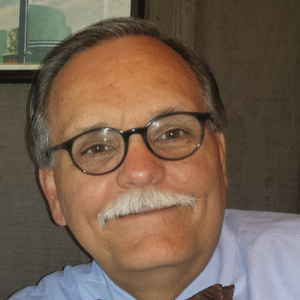 Trained as a radiologic technologist, Richard "Rick" Lippert of E-Z Photo has taken hundreds of thousands of pictures – of people's insides! But that was not always the case. As a small child, Rick and his dad would convert the bathroom of the family home into a photo darkroom where they developed the pictures they took with their 35mm film cameras. So, while he appreciates the art & science of medical imaging, Rick definitely enjoys his new found passion of helping people to keep, save, protect & share their treasured photos and documents through scanning