The holidays are fast approaching and they are a great time to share family stories. Photo Organizer Kathy Stone of Calgary Photo Solutions shares her tips for capturing these precious memories for generations to come.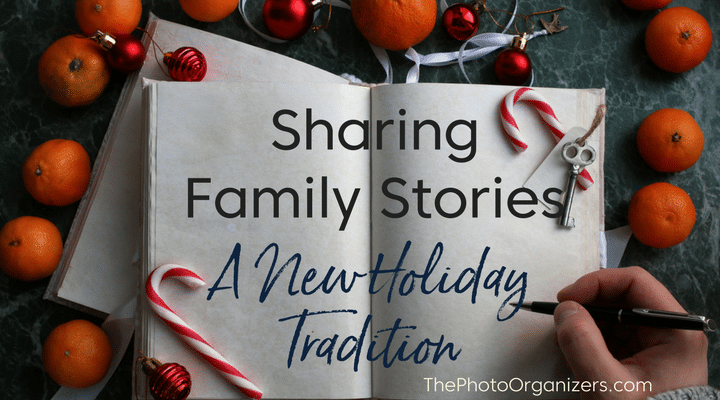 As the holidays approach, our thoughts turn to family, those nearby, those far away, and those no longer with us. We immerse ourselves in family traditions – what we celebrate, how we celebrate, what dishes must be served, and what we do after the meal – these are all a reflection of those who came before us.
Talk always turns to "do you remember the time…"  Sadly, as time and our older generations pass, we start to forget those stories.  We always think we will write the stories down, or will remember to ask Gramma what it was like to leave her entire family, take a ship across the ocean, then a train across the country, then settle on a farm in the middle of the prairies, but we get busy, put it off until next time, and forget the details.
Family Stories Lost
I will never know how my Grandmother felt when she came to Canada from England with her husband, two little children and settled on a farm, because I waited too long to ask her.  And waited too long to ask her children, because they have all passed.  Now we sit with boxes of photos and snippets of stories told and forgotten, trying to identify faces from the past, and imagine the stories behind the photos.
I decided not to let this happen with another family, and this past week I made a trek across the continent (well, I flew in a few hours), to sit with my mother-in-law and capture some family stories.  The time we spent looking at old photos and gathering the stories behind them was priceless.
Capture Family Stories
Take advantage of family gatherings over the holidays to capture and record some of those great family stories.  Here are a few tips to help you do this.
Use the voice recorder app on your phone to record stories. Ask questions such as: what was the town you grew up in like? How did you meet your spouse?  Where did you get married?  What is your favourite memory of your grandmother's house? I asked questions to expand on some of the stories she told me, and using the voice recorder made it seem like a conversation – the phone is not very intrusive.
Scan old family photos that you have access to, put them on a USB drive, pop it into a television, and look at the old photos. Showing the photos on a big screen made it easier for everyone to see them, and was a bit of a novelty.  Get ready to write down information, or use your voice recorder again.   I took my computer and an HDMI cable to show the photos to her on the TV while I added information she provided to the description (caption) field of the photo. For information on how to do this, see this great blog on metadata).  I had her identify who was in the photos, and approximate dates (to get through as many photos as possible, once someone, or an event, or a time period was identified, I skipped to the next unknown photo.  I will go back and add metadata to the correct fields when I am organizing the photos).
Use a photo safe pencil to write information on the back of printed photos.
Take a few photo organizing tools with you to make the job easier: a photo labelling pencil; cotton gloves for handling the photos;  latex or nitrile gloves and an N95 mask in case you encounter mould on the photos; some plastic bags or envelops to put photos in if you are taking them away.
If you encounter mold, use the phone scanning app to scan these photos and then dispose of them, due to the danger of the mold.
[bctt tweet="Take advantage of family gatherings over the holidays to capture & record your family stories. @yycphotoorganiz" username="photoorganizers"] 
You Will Never Regret Collecting Family Stories
 My visit with my mother in law was delightful.  Not only did she tell me some great stories (such as how there came to be a press photo of my father-in-law with a famous stripper who was on a book tour when the photo was taken), she gave me some stories she had written down, and I learned so much more about the family history.  She repeated over and over what a great visit it was, and was thrilled that someone wanted to hear all those family stories.  We live far apart, so haven't spent a great deal of time together – after this visit, I feel much closer to her, and all the rest of the family.
Happy Holidays!
---
---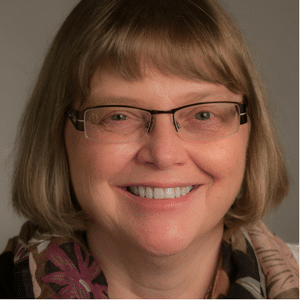 Kathy Stone is a Certified Personal Photo Organizer, and member of the Association of Personal Photo Organizers.  She founded Calgary Photo Solutions to help people preserve their photos and stories by providing a range of photo organizing services.  Kathy has been helping people organize and enjoy their printed and digital photos for over 17 years. Kathy's background includes more than 20 years' experience in training and development.  She is a Certified Adult Educator, and has presented at the Association of Personal Photo Organizers Conferences in 2014 and 2016.  Kathy has provided training on photo organizing and digital and print album making to numerous groups and individuals, and spoken to individuals and organizations about the importance of photo preservation.
---