Photos tell stories.  And a great way to share those stories is with a photo calendar.  At the top of the list of favorite photo gifts to give and receive has to be a calendar – practical, fun, and a wonderful way to share photos with those who live far away.  I have been giving photo calendars as gifts for many years, starting with paper calendars with printed photos on them and now evolving to digital calendars.
Photo Calendars: An Evolving Gift
I created calendars that were a "year in review" of our families' activities.  Each month had pictures of events that happened during those months – birthdays, holidays, vacations, sports, and school events – the hardest part each year was to narrow down the number of photos to 4 or 5 to represent each month.  I must admit, collages were my friend.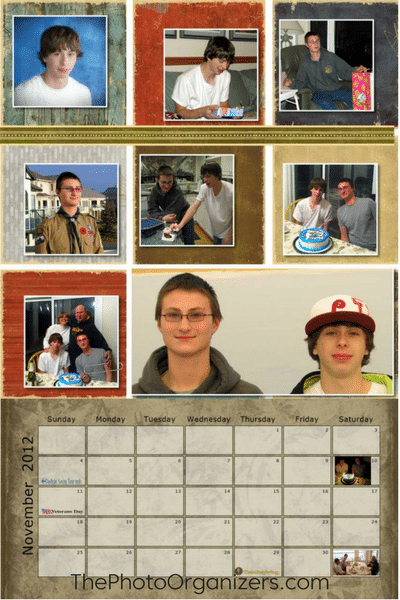 Then over the past years, something happened when I was creating the annual calendar.  I went from way too many photos, to just enough for each month, to "wow, there aren't any photos for March, June or August this year.  Why didn't I take photos in those months?  Then it hit me – my twin boys were now in their 20s and we just didn't take all those everyday photos anymore.  My collages turned to 1 or 2 large photos per month.  I had lovely scenery pictures from vacations and my photography hobby, but while a calendar of those shots appealed to me, it wasn't really that special for my mother-in-law or aunts.
Ideas for Memorable Photo Calendars
At the same time, I began to inherit all the family photos from my mother's family and my in-laws.  It occurred to me that I had found a new source of photos for my calendars!  The first thing that came to mind was the Vintage Calendars that were given away by drug stores and gas stations.  With a little research, I was able to find some samples for inspiration and the names of drug stores and gas stations in the towns that my family came from.  I am using scanned images of our old photos to make a digital photo calendar, but you could make an old-fashioned paper calendar using the old photos.  Here are some ideas to get you started creating memorable photo calendars.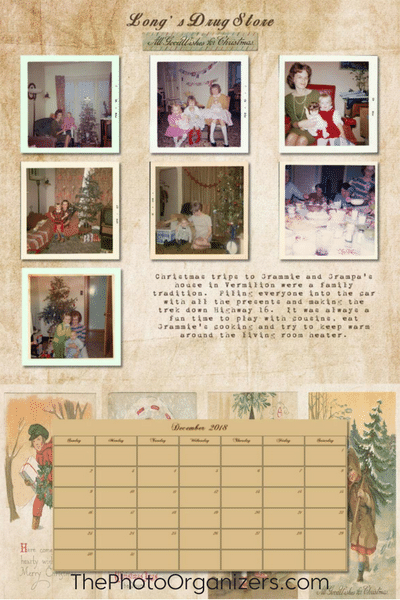 Chose a Theme
Choose a theme for your Calendars.  My grandfather is a Veteran of both World Wars.  In World War II, he guarded German POWs in a camp in the Canadian Rockies.  I created a calendar honoring his service, including the history of the Camp, and the stories I have been told.  I included photos of items that he saved that were created by the prisoners in the camp, including a ship in an old bottle, with my mother's name on the bow.  I used the name of the drugstore from their hometown on my replica calendar.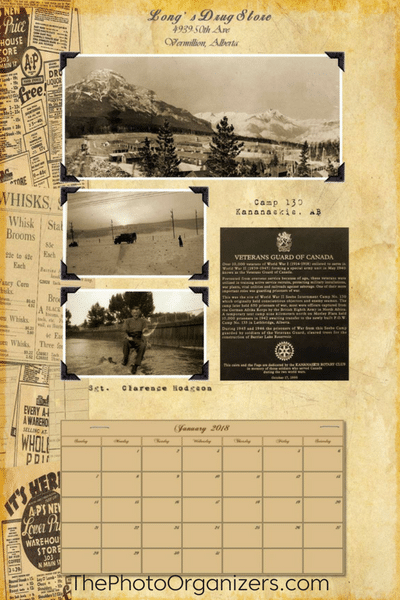 Other themes you could use are "This is Us":  photos of your family vacations when you were a child; family holiday celebrations such as Christmas at Gramma's house or Thanksgiving
Celebrations; photos of your ancestors showing the family lineage – the possibilities are endless!
Stories are Important Too
Include stories on your calendars – whatever information you can find or remember about the old photos will enrich the photos, and make the calendars even more of a treasured gift.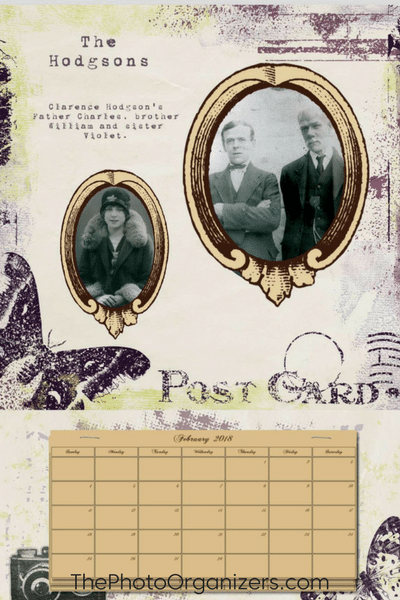 Creating a Digital Photo Calendar
There are many different software programs that you can use to create your calendar. I used Artisan® by Forever®.  You can find other software by searching "Create a Digital Calendar".
You can find vintage papers, newspapers, and catalogue images to use as backgrounds for your calendars online.  Search "vintage papers for scrapbooking", and you will find lots of sources, both free and for purchase.
Creating A Paper Photo Calendar
If you want to create a paper calendar, your local scrapbook or craft store would be your best source for supplies.
You can find digital versions of the months and days, to print out and incorporate into your paper calendar.  You could create a large single background, mount it on cardboard, then add tear-off months.
If you are making a paper calendar, use photo corners to create the old-fashioned look.  A stationary store can help you bind or mount your finished product.
Whether you make a paper calendar using old photos or scan your photos for a digital photo calendar, it will be a gift that brings smiles, laughter, fond memories, and even a few tears.
(Calendar content credit Storybook Legacy, Cottage Arts and Seatrout Scraps, exclusive Forever® Digital Art.)
---
---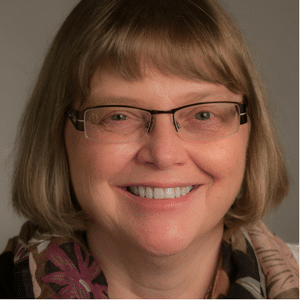 Kathy Stone is a Certified Personal Photo Organizer, and member of the Association of Personal Photo Organizers.  She founded Calgary Photo Solutions to help people preserve their photos and stories by providing a range of photo organizing services.  Kathy has been helping people organize and enjoy their printed and digital photos for over 17 years. Kathy's background includes more than 20 years' experience in training and development.  She is a Certified Adult Educator and has presented at the Association of Personal Photo Organizers Conferences in 2014 and 2016.  Kathy has provided training on photo organizing and digital and print album making to numerous groups and individuals, and spoken to individuals and organizations about the importance of photo preservation.
---